December 2016's PODCAST SPECIAL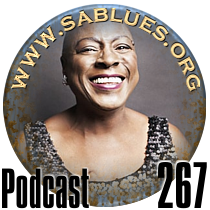 Podcast 267
from
www.sablues.org
A podcast special dedicated to those musicians who shuffled off this mortal coil in the year 2016.
Vale.
ARTIST | ALBUM | TRACK
1 Sharon Jones* & The Dap-Kings - Give the people what they want - Retreat!
2 Candye Kane - White Trash Girl - White Trash Girl.
3 Mose Allison - The Word from Mose Allison - Rolling Stone.
4 Leon Russell - Guitar Blues - My Hard Times.
5 Merle Haggard - Working Man's Journey - Workin' Man Blues.
6 Guy Clark with Peter Rowan - Dublin Blues
7 Ralph Stanley - Shine On - The Old Church Yard.
8 Fairport Convention - Full House - Sloth.
9 Jefferson Airplane - White Rabbit.
10 Long John Hunter - Border Town Blues.
11 Buckwheat Zydeco - Jackpot - Come Back Home Baby.
12 Lonnie Mack - Best of - Hound Dog Man.
13 Jennifer Warnes and Leonard Cohen - Famous Blue Raincoat - Joan of Arc.
14 Elvis Presley - Thats Alright (Mama) - 1954 First Release single.
15 The Beatles - Sergeant Pepper's - A Day In The Life.
16 Bap Kennedy - Let's start again - Radio Waves.
17 Emerson, Lake & Palmer - Fanfare For The Common Man.
18 This Mortal Coil - Blood - Mr. Somewhere.
*
pictured
Audio Stream Quality: MP3 CBR 44100Hz 320kbps.
DOWNLOAD
to your mobile media device.

Thanks to the musicians, promoters and distributors
who have allowed us to present their music.
Podcast 267.
December 2016's PODCAST SPECIAL
A podcast special dedicated to those musicians who "shuffled off this mortal coil" in the year 2016.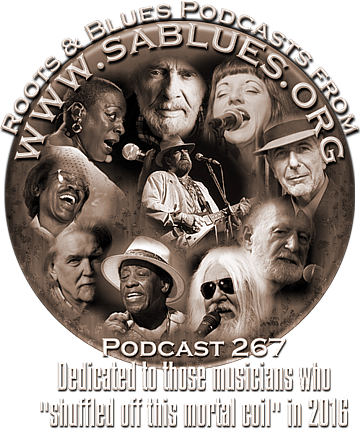 Vale:
Sharon Jones - Candye Kane - Mose Allison - Leon Russell - Merle Haggard - Guy Clark - Ralph Stanley - Dave Swarbrick - Paul Kantner - Long John Hunter - Buckwheat Zydeco - Lonnie Mack - Leonard Cohen - Scotty Moore - Sir George Martin - Bap Kennedy - Keith Emerson - Caroline Crawley all featured in Podcast 267
Subscribe to SA Roots& Blues
(It's FREE) and obtain your 'user name' and 'password' to the 'Subscribers' page and download the latest quality MP3 podcasts to your Player!
'Blues Time' comes your way once a month. It draws its play list from the genres of acoustic and electric blues. Each podcast highlights new and recent releases. Duration is about an hour.