BLUES TIME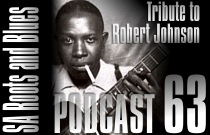 Press Play
Podcast 63 from SA Roots and Blues
In November of 1936 Robert Johnson walked into a room at the Gunter Hotel In San Antonio, Texas which Brunswick Records had set up as a temporary recording studio. This "Blues Time" podcast commemorates these landmark recordings in the history of roots and blues music by paying tribute to the music of Robert Johnson. This homage features:
1 Joe Louis Walker - Dust My Broom.
2 Rory Block - Preaching Blues.
3 Colin James - Kind-Hearted Woman.
4 Delta Boy - Terraplane Blues.
5 Buik 6 - Stones In My Passway.
6 Peter Green with Nigel Watson - Love In Vain Blues.
7 Betsy Pecanins - Love In Vain.
8 Cassandra Wilson - Come On In My Kitchen.
9 Gare Du Nord - Pablo's Blues.
10 Cowboy Junkies - 32-20 Blues. Taj Mahal - Walkin Blues.
Audio Stream Quality: MP3.
Bitrate:56kb/s. Sample Rate: 22050Hz. Channels: Stereo.
Download
quality MP3 of Podcast 63 to your mobile media device.

Thanks to the musicians, promoters and distributors
who have allowed us to present their music.
Subscribe to SA Roots& Blues
(It's FREE) and obtain your 'user name' and 'password' to the 'Subscribers' page and download the latest quality MP3 (MP3PRO VBR of 95-150 kbps)podcasts to your Player!
'Blues Time' comes your way once a month. It draws its play list from the genres of acoustic and electric blues. Each podcast highlights new and recent releases. Duration is about an hour.

'SA Roots and Blues' is a non profit organisation. Our aim is to promote roots and blues music to an ever increasing patronage.