FASCINATING, OBSCURE, MURKY, CONTENTIOUS AND DISCOURTEOUS!
Bulletins that delve into the history of roots, blues and rock music thanks to some extensive and at times ill founded research by Jerome Douvendahns.

ON THIS DAY IN NOVEMBER
1
|
2
|
3
|
4
|
5
|
6
|
7
|
8
|
9
|
10
|
11
|
12
|
13
|
14
|
15
|
16
|
17
|
18
|
19
|
20
|
21
|
22
|
23
|
24
|
25
|
26
|
27
|
28
|
29
|
30
On this daythe 1st of November
Belfast singer-songwriter Martin Christopher Kennedy, known as Bap Kennedy died on November 1st at the age of 54 from pancreatic and bowel cancer.
Born on this day back in 1924: Slim Harpo [James Moore], Lobdell, Louisiana, American blues musician.

On this day the 1st of November back in 1916 Marie Cahill recorded 'The Dallas Blues' for Victor Records in Camden, New Jersey, USA. This singing comedienne was popular both in vaudeville and on the Broadway stage. She recorded a number of her humorous vaudevillian monologues that were punctuated with highly inappropriate language. She later performed 'Dallas blues' as 'Debbie Does Dallas'.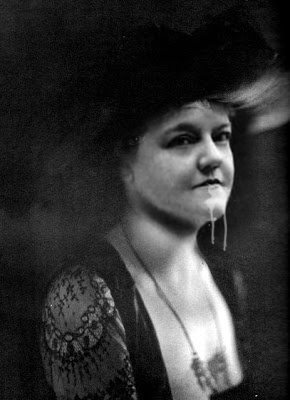 Debbie gone done Dallas
1965 November 1
Rochester, New York police halt a Rolling Stones concert until over 3,500 screaming fans return to order.
Waiting ...waiting ...waiting.
On this daythe 2nd of November
Mississippi John Hurt died on this day the 2nd November 1966 (b. March 8, 1892).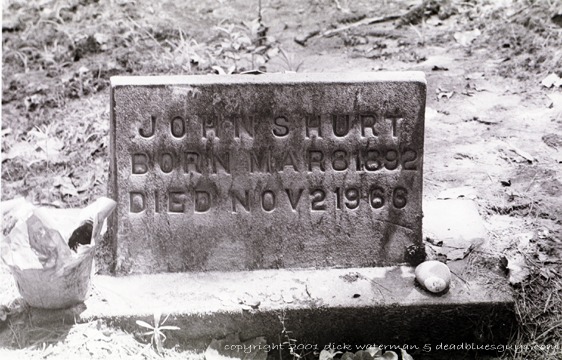 John Shurt! Saint James Cemetery, Avalon, Mississippi USA
2 Nov 1936 Robert Johnson records in San Antonio, Texas.
Robert Johnson was a very influential musician in his time and influenced the developement of the blues.

On this day the 2nd of November back in 1956 'Rip It Up' by Little Richard was released in the UK on the same day as Bill Haley's cover version.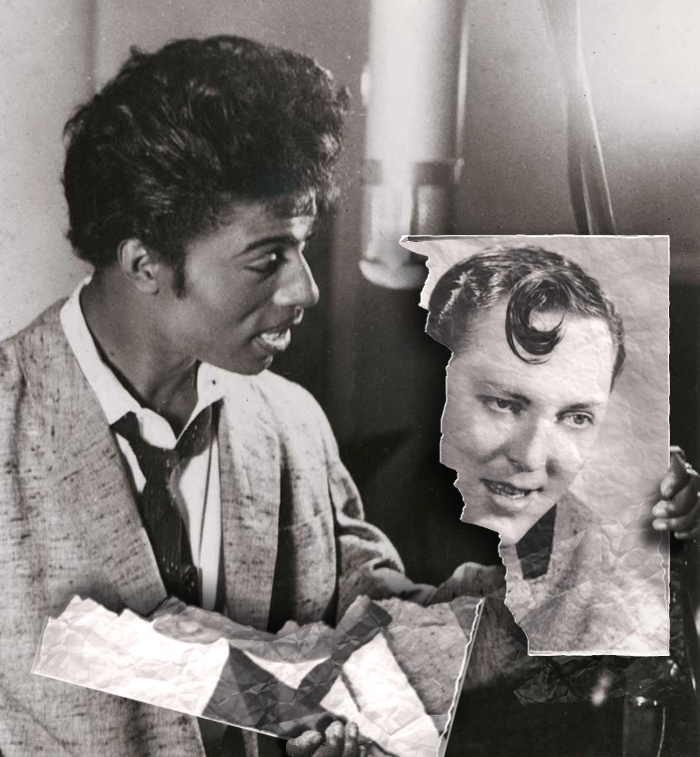 On this day the 3rd of November
2002: R.I.P. Lonnie Donegan.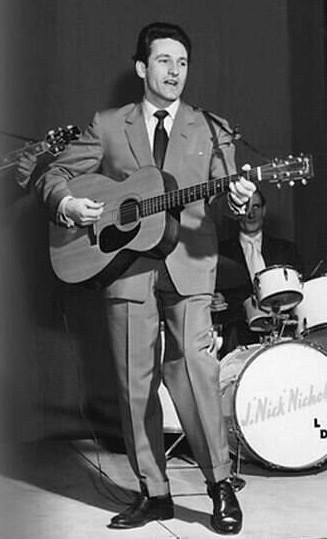 Back in 1957, Sun Records released 'Great Balls Of Fire', by Jerry Lee Lewis. The single went on to sell over five million copies worldwide, and was a No.1 hit in the UK and No.2 in the US.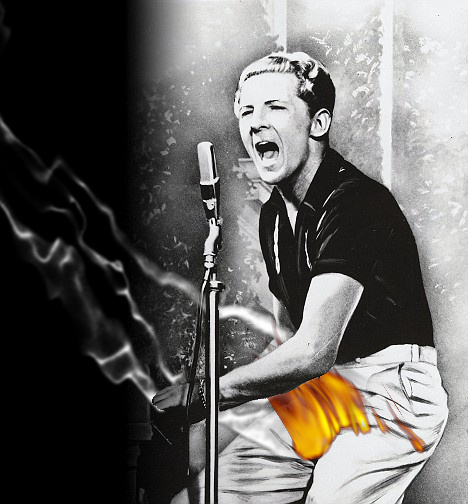 Photo caption: Great Balls On Fire!
November 3 1967
Pink Floyd made their US debut at the Winterland Ballroom in San Francisco. The tour came to an early end when Syd Barrett displayed increasingly strange behavior, refusing to lip sync to "Arnold Layne" on American Bandstand and refusing to answer questions on The Pat Boone Show.
...strange behavior!?! It was noble behavior to refuse to lip sync. Seems perfectly acceptable behavior to me to ignore Pat Boone!
On this day the 4th of November
2014. R.I.P. Jack Bruce.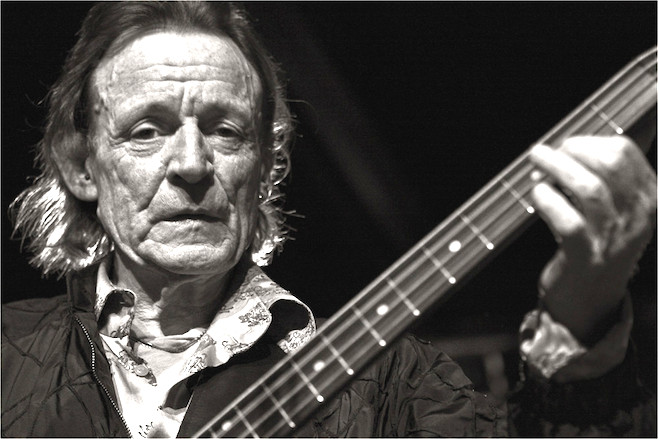 On this day the 4th of November back in 1925 Lonnie Johnson recorded 'Falling Rain Blues' in St. Louis, Missouri, USA, for Okeh Records.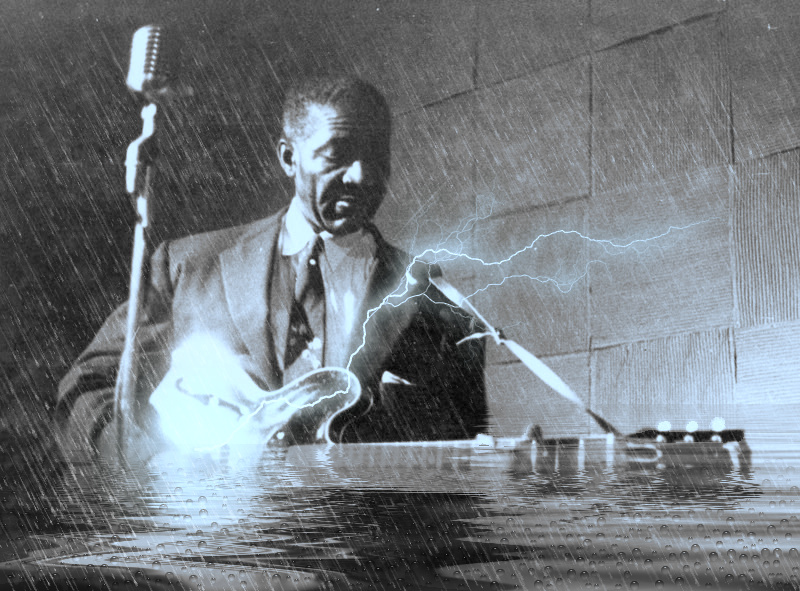 1991 November 4
Bobby "Blue" Bland, Booker T. & The M.G.s, Johnny Cash, Jimi Hendrix, The Isley Brothers, Sam & Dave and The Yardbirds are elected to the Rock & Roll Hall Of Fame.
On this day the 5th of November
On this day the 5th of November back in 1962 Sam Cooke, The Crystals and The Coasters played the last of seven nights at The Apollo Theatre, Harlem, New York City, USA. After this demanding schedule Sam was cooked, The Crystals smashed but the Coasters who had been pacing themselves all week coasted through their final performance.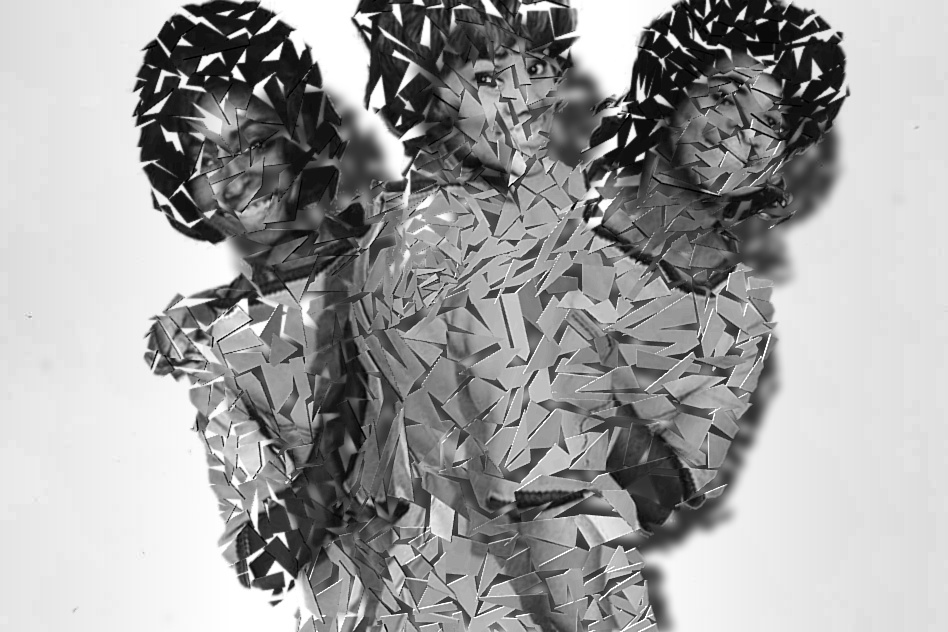 The Crystals smashed after 7 straight performances!
November 5 1960
33 year old Johnny Horton, who had a number one hit with "Battle of New Orleans", died when his Cadillac was hit by a drunken truck driver in Milano, Texas. Ironically, Johnny had just played his last show at the Skyline in Austin, where Hank Williams had played his last show as well. Horton's widow, Billy Joe, was also Hanks Williams' widow.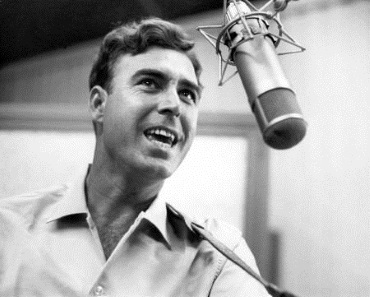 2005 November 5
Link Wray, the electric guitar innovator who is often credited as the father of the power chord, died at his home in Copenhagen of natural causes. He was 76. His 1959 instrumental, "Rumble" was banned by many US radio stations, even thought it had no lyrics what so ever.
On this day the 6th of November
October 16, and November 6, 1928
Vocalion recorded Georgia Born Tampa Red "It's Tight Like That" in Chicago on two separate dates, October 16, and November 6, 1928. This song is considered a predecessor to urban blues and spawned numerous imitators of the song and the style. It features the guitar of Hudson Whittaker: "Tampa Red", and the piano of Thomas A. Dorsey: "Georgia Tom", with both singing the vocals. Recorded on the latter date, "It's Tight Like That" was one of the biggest blues hits of the 1920s, and remains a hokum blues staple.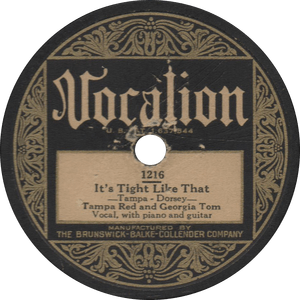 On this day the 6th of November back in 1952 T-Bone Walker recorded "Pony Tail" in Los Angeles, California, USA, for Imperial Records.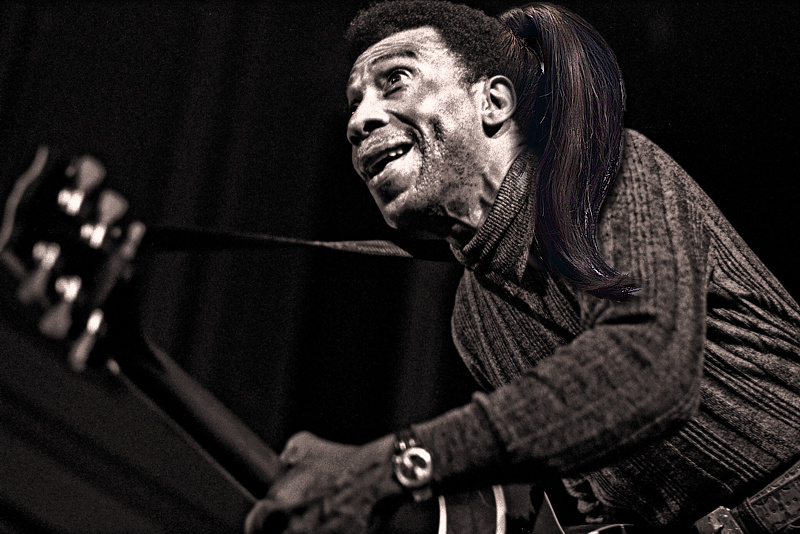 1972 November 6
DRUGS and ALCOHL DIDN'T DO HIM IN. IT WAS COFFEE!
After a show at Imperial College in London, New York Dolls' drummer, 21 year old Billy Murcia, is accidentally suffocated when his girlfriend tries to wake him by forcing him to drink coffee after he passed out from drugs and alcohol.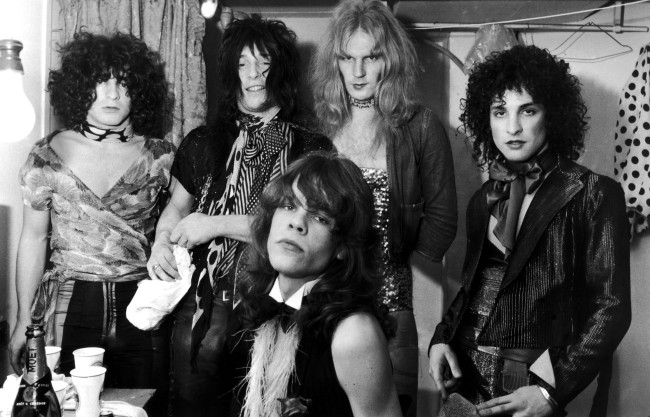 Pick who has an aversion to coffee.
On this day the 7th of November
1975: A new world record was set for continuous guitar string plucking by Steve Anderson who played for 114 hours 17 minutes. "Pluckin' Hell" exclaimed Steve at the end of it!

My fingers? You should see the strings!
1958 : Eddie Cochran's Summertime Blues debuts in the UK, four months after its US release; it will become one of rock's most covered songs.
1974 November 7
Rolling Stone reports that Ted Nugent has won the National Squirrel-Shooting Archery Contest by picking off a squirrel at 150 yards. Nugent also wiped out 27 more of the small mammals with a handgun during the three day event.
He put his success down to a squirrel grip!
1988 November 7
After using his guitar in court to show a jury how several hit songs have contained the same short series of notes, John Fogerty was found not guilty of plagiarizing his own record, "Run Through the Jungle" when he wrote "The Old Man Down The Road". His former record label, Fantasy Records, had brought about the suit which ended up costing Fogerty $400,000 in legal fees.
... plagiarizing one's own music! Do you believe it! Fantasy Records ...well named.
Leonard Cohen, the hugely influential singer and songwriter whose work spanned nearly 50 years, died Monday ( 7th November 2016 ) at the age of 82.
"It is with profound sorrow we report that legendary poet, songwriter and artist, Leonard Cohen has passed away," the statement read. "We have lost one of music's most revered and prolific visionaries. A memorial will take place in Los Angeles at a later date. The family requests privacy during their time of grief." A cause of death was not given.

Cohen was the sexy, late-blooming gloom-monger among a small, elite coterie of singer-songwriters who came to define the Sixties and early Seventies. His rumbling voice, Spanish-y guitar lines and deeply poetic lyrics transubstantiated the sacred into the profane and vice versa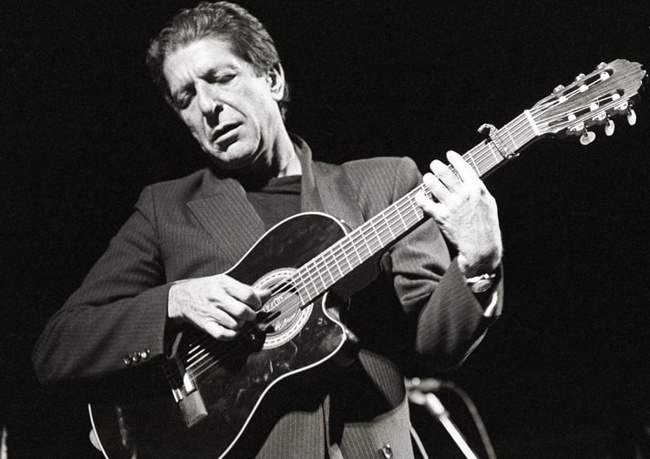 On this day the 8th of November
James "Kokomo" Arnold (February 15, 1896 or 1901) died on this day November 8, 1968. he was an American blues musician. A left-handed slide guitarist, his intense style of playing and rapid-fire vocal delivery set him apart from his contemporaries. He got his nickname in 1934 after releasing "Old Original Kokomo Blues" for Decca Records, a cover version of Scrapper Blackwell's blues song about the city of Kokomo, Indiana.
1949: Born on this day, Bonnie Raitt, Blues singer songwriter, slide guitarist, (1994 UK No.31 single 'You', 1990 US No.1 album 'Nick Of Time').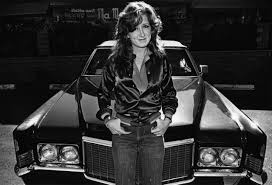 Baby you can drive my car!
1988: Jerry Lee Lewis declared bankruptcy. If you have been following this blog, you would have noticed he features a lot and things just keep getting worse for poor ol' Jerry Lee!
2000: The Secure Digital Music Initiative announced that two of its proposed technologies did not survive being attacked as part of the "Hack SDMI" challenge. The competition invited all comers to attempt removal of copyright protection from particular files.

On this day the 9th of November
1967: In a battle of egos, The Byrds's Roger McGuinn boots David Crosby from the group. Crosby goes on to form The Cossacks and later Crosby, Stills, Nash & Young.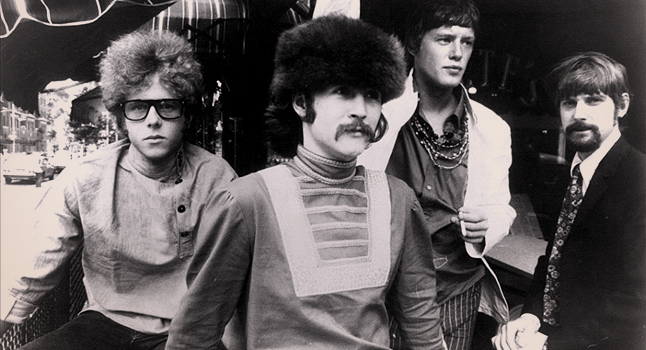 The Byrds
The Cossacks ( Left to right: Crosby, Garcia, Stills ).
On this day the 10th of November
1967: The first issue of Rolling Stone Magazine was published in San Francisco. It featured a photo of John Lennon on the cover. The first issue had a free roach clip to hold a marijuana joint. Stoners soon disgarded the magazine when they found it wasn't much good for rolling their joints with.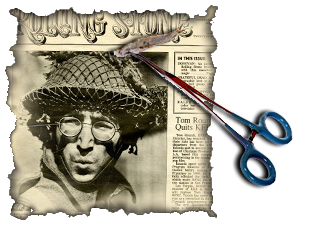 On this day the 10th of November 2015, Allen Toussaint died in the early hours while in Madrid, Spain, on tour. Following a concert at the Teatro Lara on Calle Corredera Baja de San Pablo, he suffered a heart attack at his hotel and was pronounced dead on his arrival at hospital. He was 77.In 1998 Toussaint was inducted into the Rock and Roll Hall of Fame and in 2009 into the Louisiana Music Hall of Fame. On May 9, 2011, he was inducted into the Blues Hall of Fame. In 2013 he was awarded the National Medal of Arts by President Barack Obama.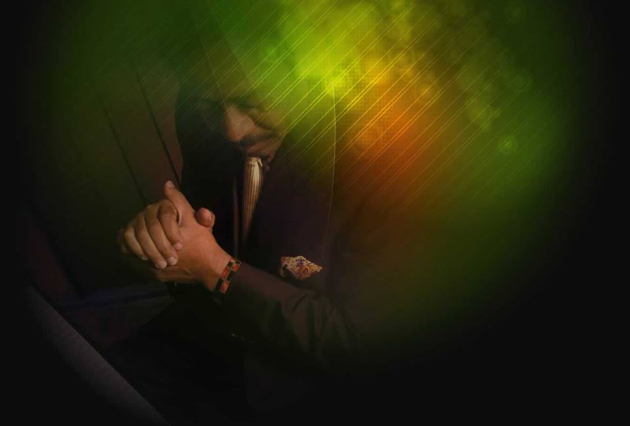 On this day the 11th of November
On this day the 11th of November back in 1937 Sonny Boy Williamson 1st recorded 'Frigidaire Blues' at the Leland Hotel, Aurora, Illinois, USA. Sonny Boy recorded more than 120 sides for Bluebird/Victor between 1937 and 1947, many of them turning up in the post war repertoires of various Chicago blues giants. Sonny Boy Williamson's life was cut tragically short on June 1st 1948 when, on his way home from a Chicago nightclub, he was mugged and beaten to death aged just 34.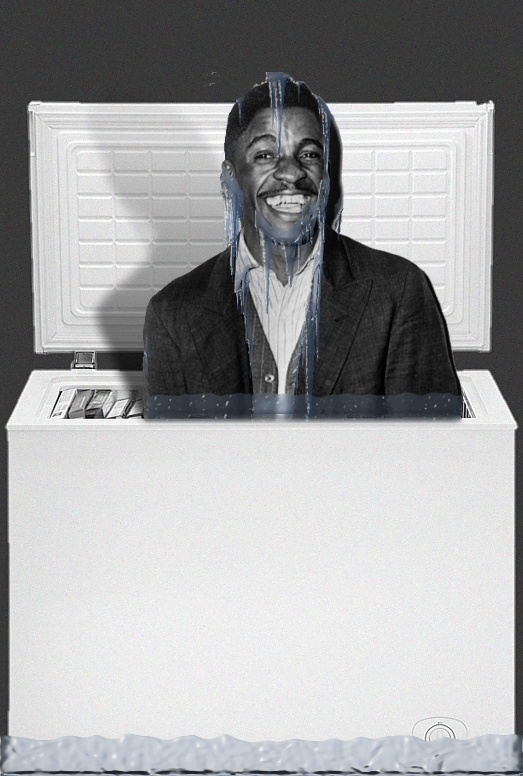 Sonny Boy Williamson performing "Frigidaire Blues".
On this day the 12th of November
1968 : Jimi Hendrix's third album, Electric Ladyland, showed the guitarist on the cover along with a collection of naked women. You can only get it in England ( the cover that is). Affronted by so many naked women, the American version was released with a different cover.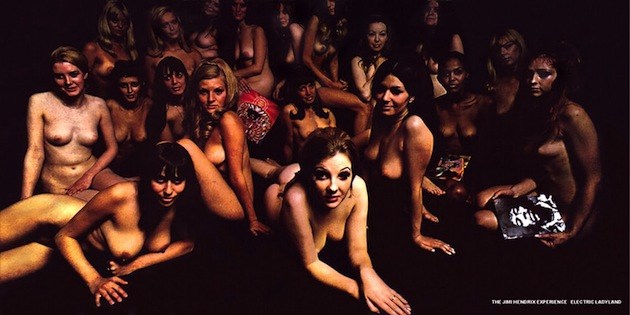 Electric Ladyland English cover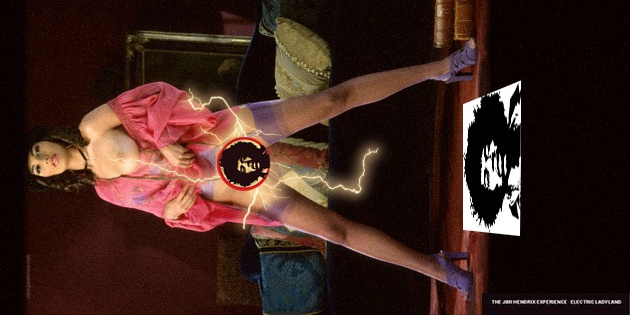 US Electric Ladyland cover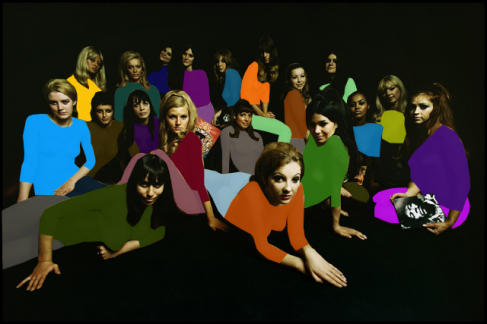 Revised English cover released during the Thatcher years.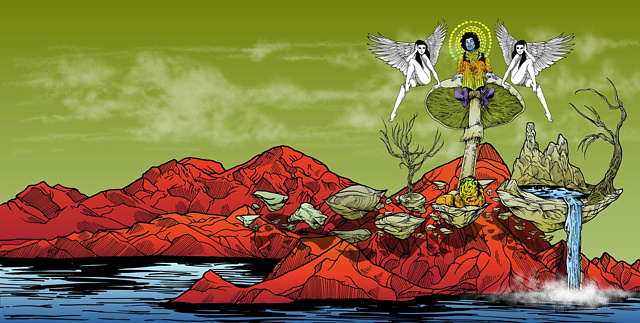 The Electric Fairy Land release.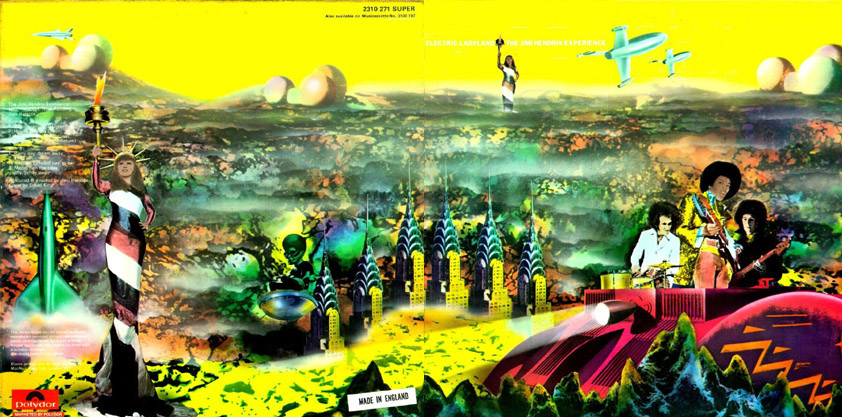 Electric Ladyland later edition.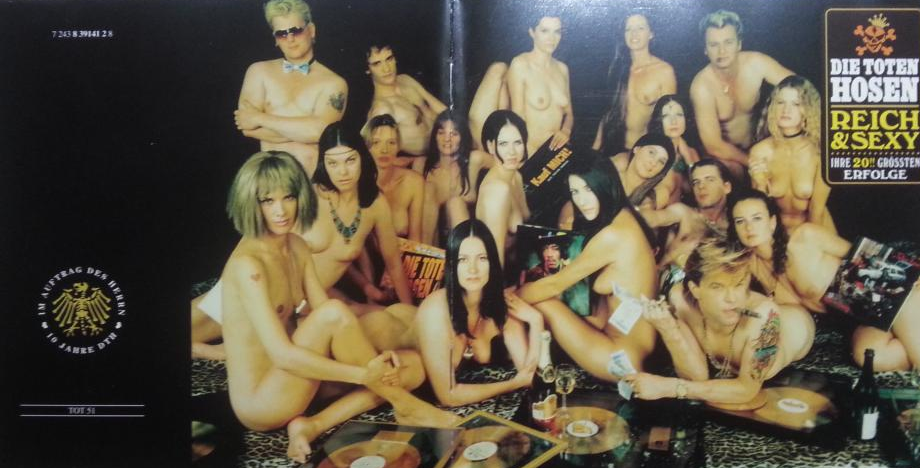 Electric Lad Land release!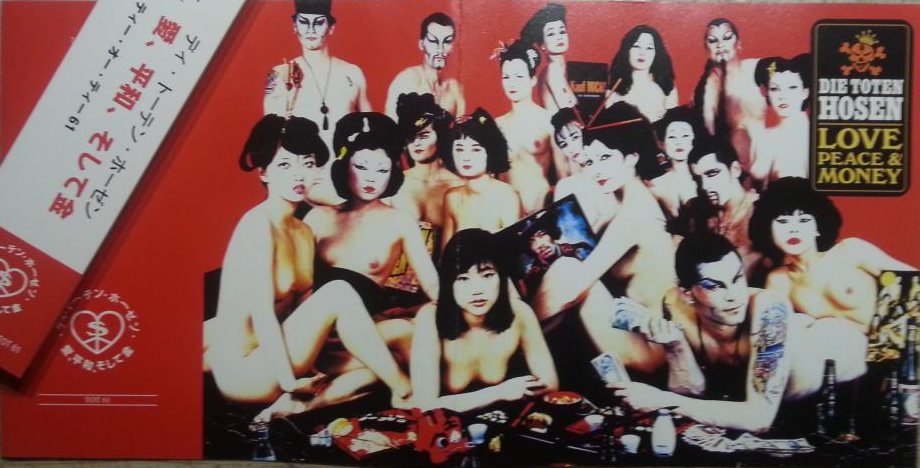 Electric Lad Land for the Japanese market.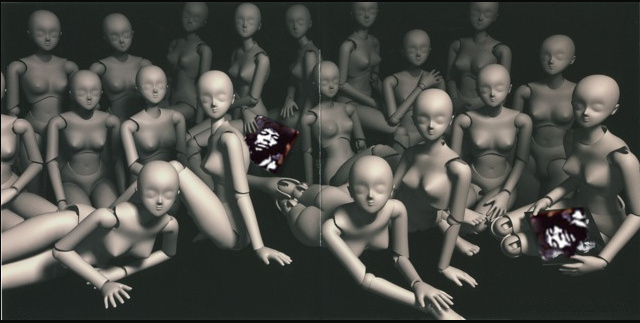 It's the cover of ELECTRONIC LADYLAND by AUTOBAHN!
2008 November 12
Jimi Hendrix Experience drummer Mitch Mitchell was found dead in a Portland, Oregon hotel room. He had just completed the Experience Hendrix Tour and was starting a brief vacation before returning to his native England. The Multnomah County Medical Examiner's office later ruled that the 62-year-old Mitchell had died of natural causes.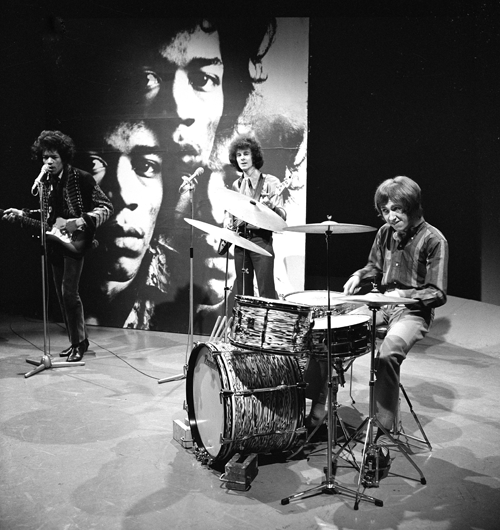 On this day the 13th of November
1942 : Blues singer and guitarist John Hammond Jr. born in New York City, New York.
I MET MY THRILL
Billboard magazine's number-one rhythm and blues hit of 1956 on November 13: "Blueberry Hill" by Fats Domino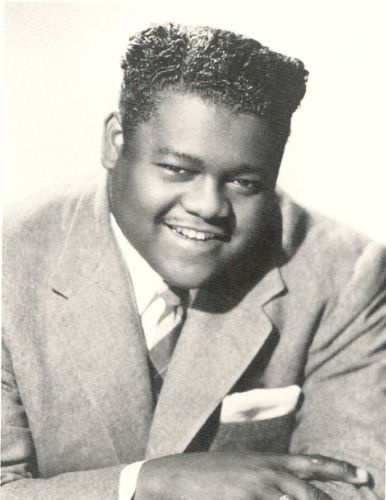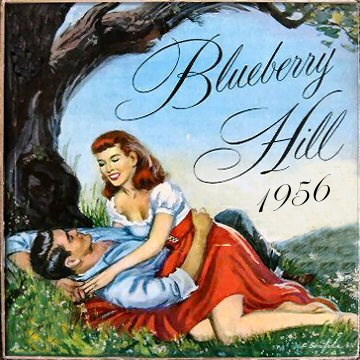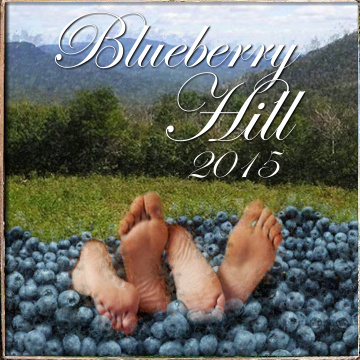 1973: Jerry Lee Lewis's son Jerry Lee Jr. was killed in a highway accident near Hernando, Mississippi. The elder Lewis had already lost his only other son, Steven Allen, in a 1962 drowning.
R.I.P.---Leon Russell, musician and hit songwriter, dies at 74
Leon Russell, a gravelly voiced singer and pianist who wrote many pop and rock standards in the 1970s, including "This Masquerade," "Love's Got a Hold On Me" and "A Song For You," died Sunday (13th November 2016 ) at his home in Nashville. He was 74.His wife, Jan Bridges, confirmed his death to news outlets but did not give a cause of death. Russell had been treated for a brain fluid leak in 2010. In July, he had a heart attack and recently had canceled several concerts.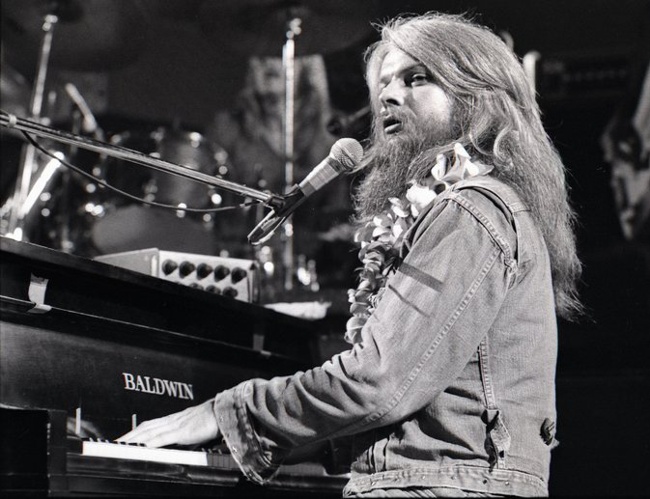 On this day the 14th of November
1961: Before a show in Indianapolis, Ray Charles was arrested when marijuana was found in his hotel room. Charges are dropped on a technicality. .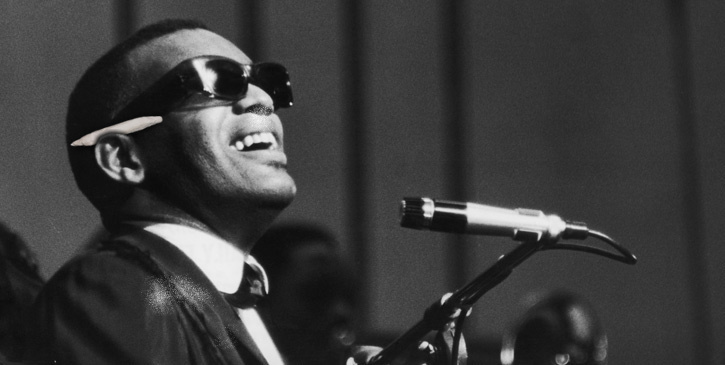 Marijuana? I dont see no marijuana in no room!
At least 129 people have died and 352 injured in the series of six terrorist attacks in Paris on Friday night 14th Nov 2015. Of the injured, 99 are in critical condition. "It is an act of war that was waged by a terrorist army, a jihadist army, by Daesh ( as in "douche" bag) against France," President François Hollande said.
On this day the 15th of November
Died: November 15, 2016, Mose Allison at Hilton Head Island, South Carolina, United States.
Mose John Allison, Jr. (b. Nov. 11 1927) was an American jazz and blues pianist, singer, and songwriter. He became notable for playing a unique mix of blues and modern jazz, both singing and playing piano.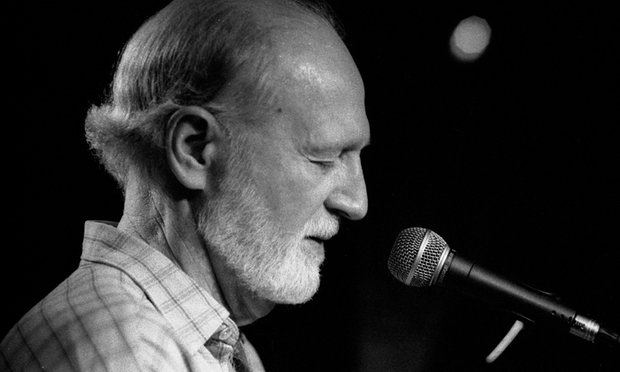 1990 : German producer Frank Farian admitted that Milli Vanilli (Robert Pilatus and Fabrice Morvan) didn't actually sing on any of their hit records. A scandal ensued and the duo were stripped of the Best New Artist Grammy. Marcel Marceau thought they were pretty good!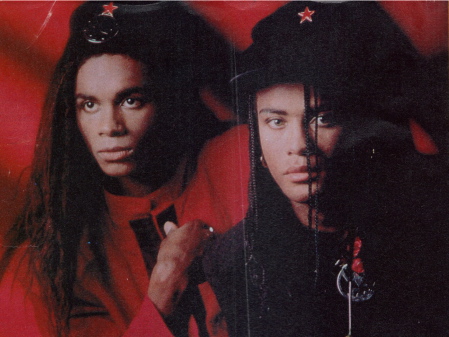 It's Milli Vanilli miming! Mmmmmm!
>
On this day the 16th of November
1968: The Jimi Hendrix Experience went to No.1 on the US album chart with 'Electric Ladyland'. The double album included 'Crosstown Traffic,' 'Voodoo Chile' and 'All Along the Watchtower' and featured guest appearances by Dave Mason, Steve Winwood and Al Kooper. No female chorus line?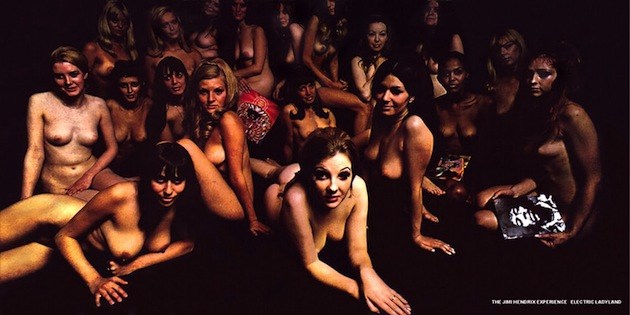 On this day the 17th of November
Billboard magazine's number-one rhythm and blues hit of November 17 1951 : "I'm in the Mood" by John Lee Hooker
Back in 1955 Ray Charles played in the Town Hall Ballroom, Philadelphia, Pennsylvania, USA. After the first show, he was arrested on drugs charges.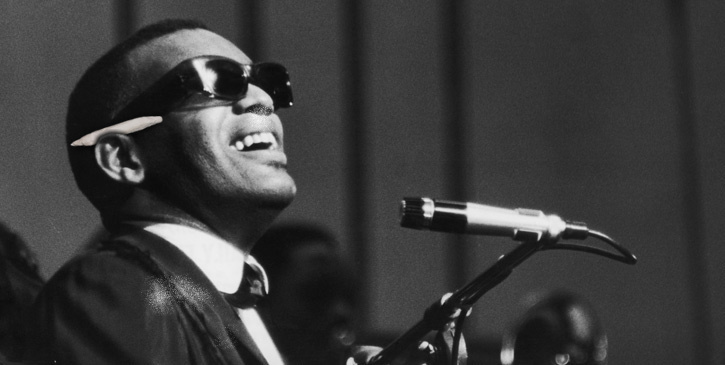 Drugs! Where?
Nov 17 1963
John Weightman the Headmaster of a Surrey Grammar School, banned all pupils from having Beatle haircuts saying, "this ridiculous style brings out the worst in boys physically. It makes them look like morons."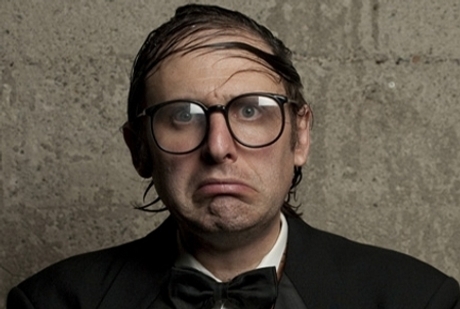 Headmaster John Weightman declares ""It makes them look like morons."
On this day the 18th November
Died: November 18, 2016, Sharon Jones, Cooperstown, New York, United States.
Sharon Lafaye Jones (Born: May 4, 1956, North Augusta, South Carolina) was an American soul and funk singer. She was the lead singer of Sharon Jones & The Dap-Kings, a soul and funk band based in Brooklyn, New York. , United States. I was lucky enough to catch Sharon Jones & the Dap-Kings performance at The Gov' here in Adelaide back in 2010.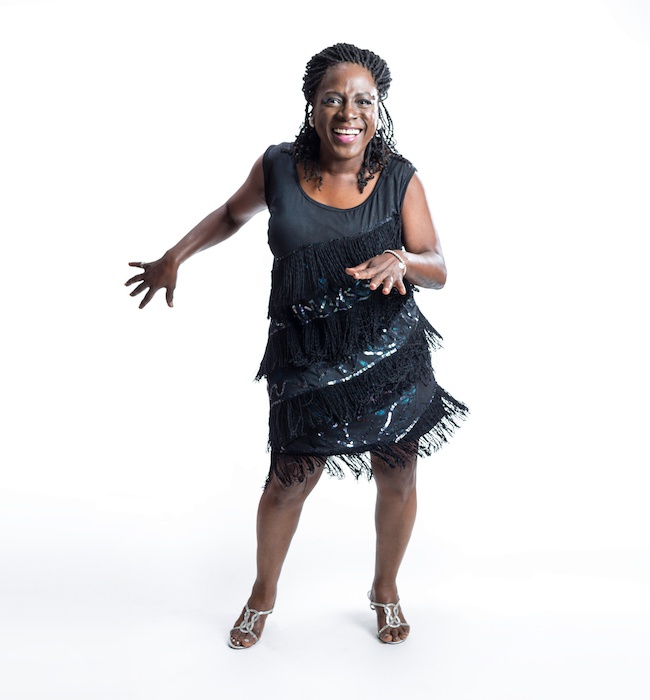 Back in 1936 Hank Ballard, r'n'b star and inventor of The Twist, was born in Detroit, Michigan, USA.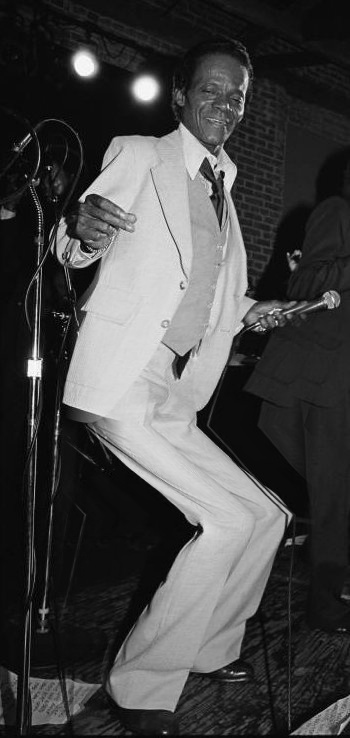 Twisting Hank Ballard.
Nov 18th 1971
Memphis blues singer and musician Herman 'Junior' Parker died aged 39 during surgery for a brain tumor. Parker was discovered in 1952 by Ike Turner, who signed him to Modern Records. Parker then signed to Sun Records in 1953. There they produced three successful songs including 'Feelin' Good' a No.5 on the Billboard R&B charts.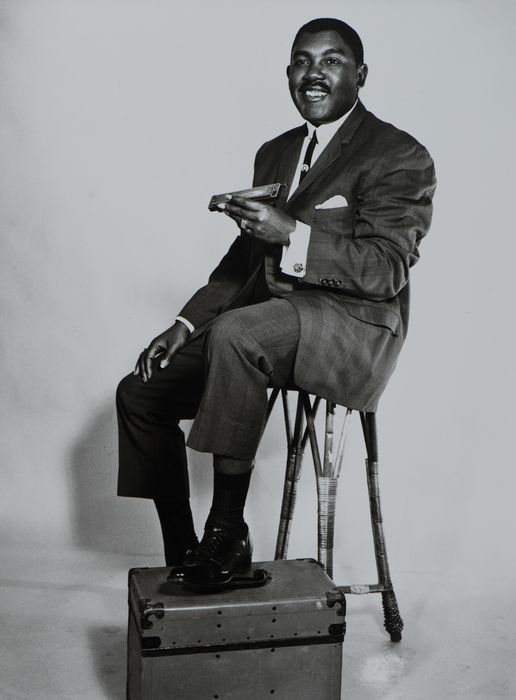 On this day the 19th of November
Back in 1963 Mary Wells supported Sam Cooke for a week at The Apollo Theater, Harlem, New York City, USA.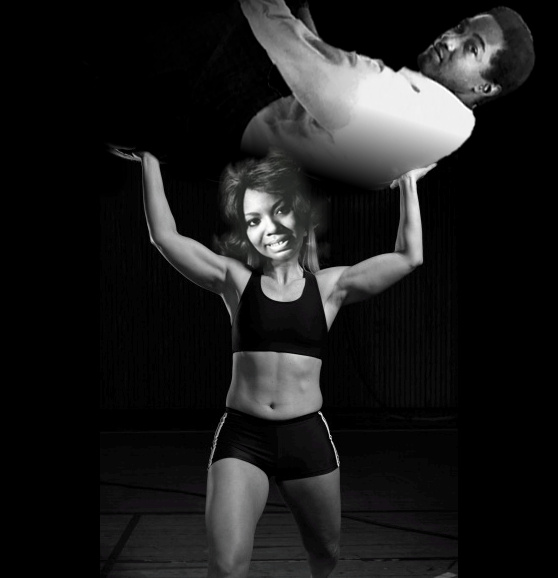 Mary well and truly supporting Sam
November 19th 1955
Carl Perkins recorded 'Blue Suede Shoes' at Sun Studios in Memphis. The rock 'n' roll classic became a US No.2 & UK No.10 hit for Perkins in 1956, and has been covered by many acts including Elvis Presley and John Lennon.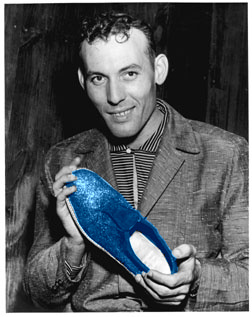 November 19th 2001
Mick Jagger released his new solo album 'Goddess In The Doorway'. First day sales stood at 954 copies.

November 19th 2016
Mick Jagger solo album 'Goddess In The Doorway' sales still at 954 copies.

On this day the 20th of November
Back in 1959 Alan Freed, who was an influential DJ on the radio station WABC and host of the TV show Alan Freed's Big Beat Party, was fired from both outlets when he refused to sign a statement saying he took payola, which was the practice of record companies paying for airplay.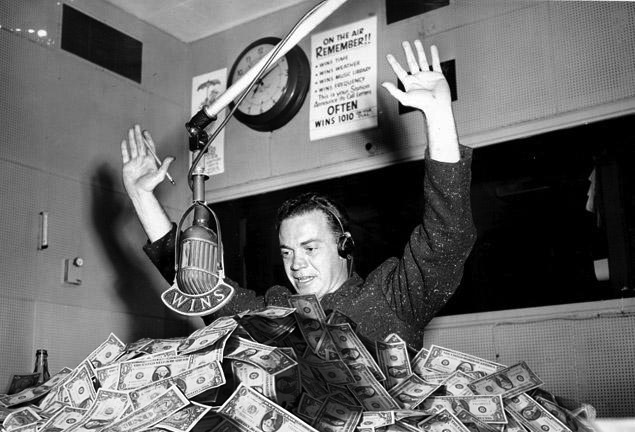 November 20th 1955
Bo Diddley appeared on US The Ed Sullivan Show television show. The show had requested that he sang his version of 'Sixteen Tons', but, when he appeared on stage, he sang his own song 'Bo Diddley' resulting in him being banned from further appearances on the show.
November 20th 1974
Drummer with The Who, Keith Moon collapsed during a concert after his drink was spiked with horse tranquilliser. Horse tranquilliser! Moon was renowned for horsing around on stage but this is rediculous.19 year-old stallion Scott Halpin who was in the audience, volunteered to replace him on drums for the remaining three numbers.
On this day the 21st of November
back in 1975 Elton John received a star on Hollywood's Walk of Fame.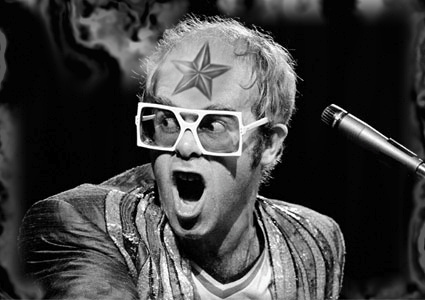 Elton receives his star
On this day the 22nd of November
Back in 1976 Jerry Lee Lewis was arrested for drunk driving in Memphis after driving his Rolls Royce into a ditch. When questioned by police he said that the car was a lemon and he wanted to ditch it!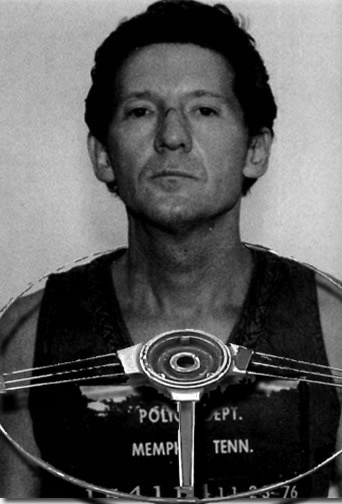 November 22nd 1990
Bill Wyman announced that his 17-month marriage to model Mandy Smith was over. With the consent of her mother, Smith had started dating the 47-year-old Rolling Stones bassist when she was aged 13. An emaciated Bill said did his best to sustain the marraige!

November 22nd 1997
INXS singer Michael Hutchence was found dead in his hotel suite in Sydney. He was 37. Hutchence body was found at 11.50am naked behind the door to his room. He had apparently hanged himself with his own belt and the buckle broke away and his body was found kneeling on the floor and facing the door. It had been suggested that his death resulted from an act of auto eroticism, no forensic or other evidence to substantiate that suggestion was found.
...In other words he didn't come to this end.
On this day the 23rd of November
Back in 1976 Jerry Lee Lewis was arrested outside of Elvis Presley's Graceland mansion after waving a pistol and demanding to see "The King." Elvis, indisposed in his bathroom at the time, almost had the shit scared out of him because he didn't have any of his guns with him at the time.

You can see with the other references on this page to Jerry lee Lewis 3 | 8 | 13 | 22
November wasn't a good month for him!
November 23 1889
The first jukebox made its debut in San Francisco, at the Palais Royale Saloon.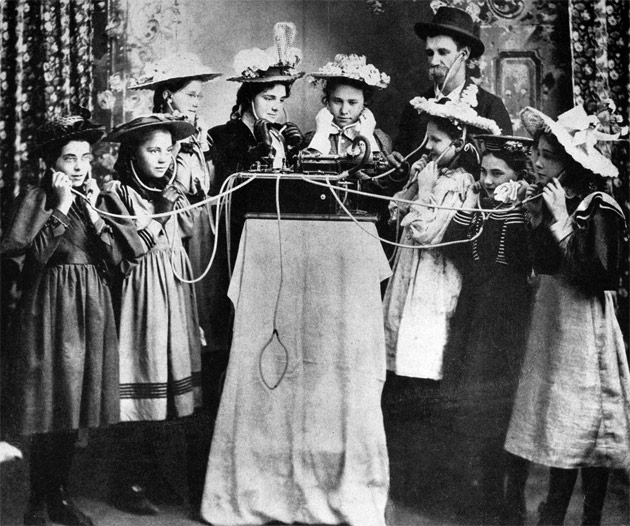 On this day the 24th of November
November 24 1985
Singer Big Joe Turner died of a heart attack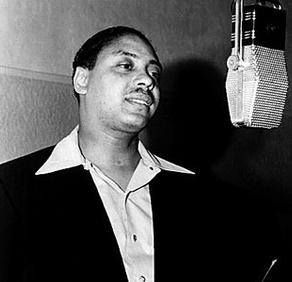 Back in 1959 teen heart throb Johnnie Ray was arrested in London for soliciting an undercover officer in a gay bar.
He was later found not guilty.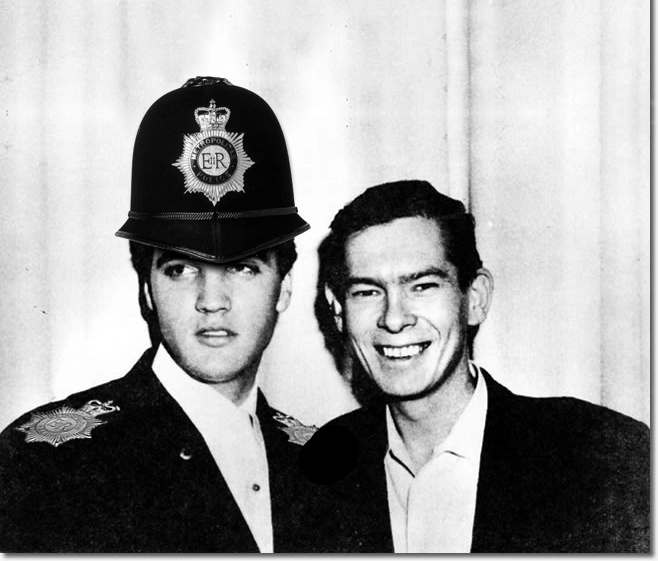 Photo caption: Ray with arresting officer.
On this day the 25th of November
Back in 1968 the Cream played at London's Royal Albert Hall to a fanatic crowd of over 10,000 who chanted "God save the Cream" as the group left the stage. There was no divine intervention. This was The Cream's last concert. Curdled after ongoing internal churnings, they each went their own whey.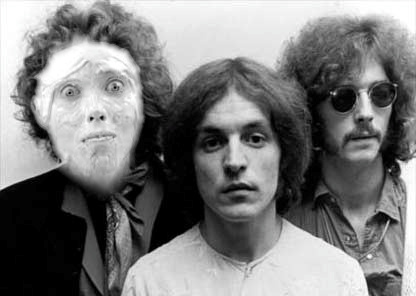 November 25, 1976: The Band's iconic Last Waltz farewell concert at San Francisco's Winterland Ballroom.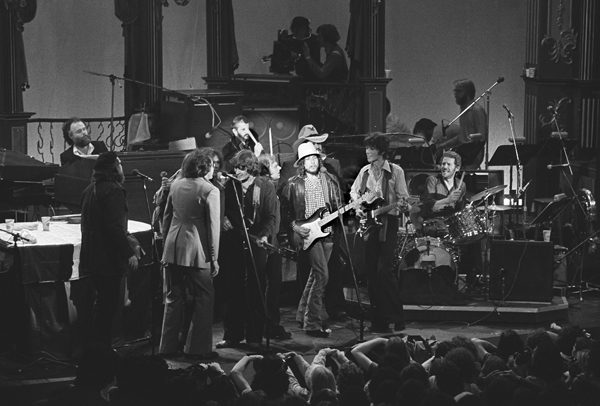 Robertson Helm fued.
Robertson's dispute with Helm is one of music's longest-running feuds, dating back more than 35 years. They last played together at the Band's final concert, The Last Waltz, in 1976. Helm was furious at Robertson's decision to "destroy" the Band, he wrote in his autobiography, and participated in the concert on the basis of his attorney's advice: "Do it, puke, and get out of the way." They also clashed over royalties. "[Robbie] and [manager] Albert [Grossman] get all the money, and the rest of us get all the leftovers, and he was supposed to be one of us," Helm said in 1998.
The Band went on to make 3 albums after 1976 without Robertson.
Jerico 1993, High on the Hog 1996 and Jubilation 1998.
I would recommend all albums to you, especially Jerico. It rekindles the musical calibre and magic of the Band's earlier albums. If you were expecting this of Robinson then you would be well advised to steer well clear of his post band productions.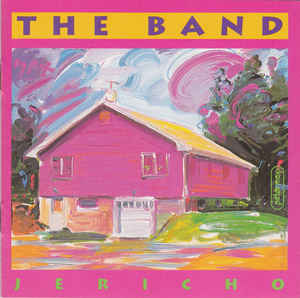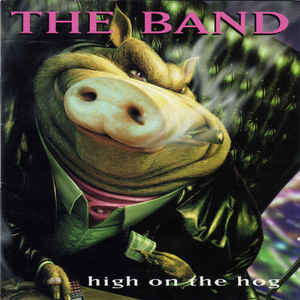 On this day the 26th of November
Back in 1955 Bill Haley's Rock Around The Clock became the first rock and roll record to hit #1 in the UK, thanks to its inclusion in the movie Blackboard Jungle. On this day back in 1979 in London, Bill Haley, on what would be his last tour of the UK, played for Britain's Queen Elizabeth II at the Royal Command Performance. Bill hit rock bottom after that as did the Queen's Royal Command Performance in 2001 when Elton John, Cher and Donny Osmond performed.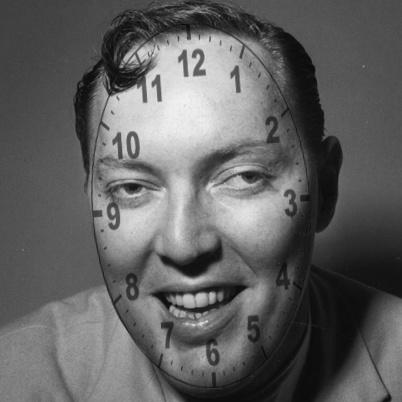 November 26th 1988, Russian cosmonauts aboard Soyuz 7 took into space a cassette copy (minus the cassette box for weight reasons) of the latest Pink Floyd album Delicate Sound Of Thunder and played it in orbit, making Pink Floyd the first rock band to be played in space. David Gilmour and Nick Mason both attended the launch of the spacecraft. The claim was disputed by Jim Ford of Horace, Nebraska, USA who claimed that two years earlier aliens stole his entire Kiss collection. Police later recovered the collection in the neighbour's bin.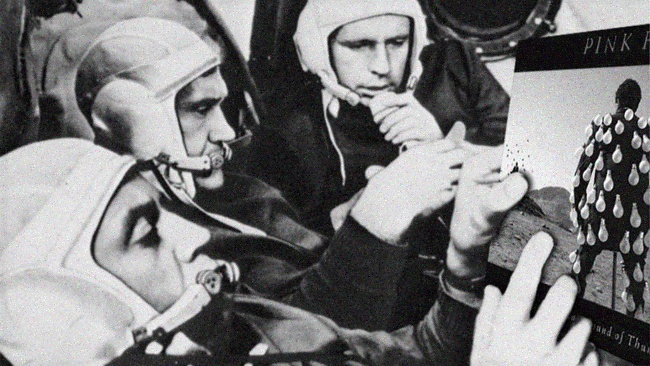 When Soyuz 8 was launched they took the album version of Delicate Sound Of Thunder with them. Unfortunately in deep space it didn't play too well on their record player.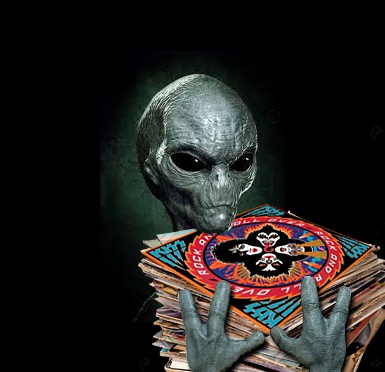 Jim still maintains it was the aliens that made off with his Kiss albums.

>
On this daythe 27th of November
Back in 1964 Mick Jagger was fined 16 pounds for driving offenses in Totenhall, England. Good thing the Officer from Totenhall didn't discover the 16 grams in the glove box or the 16 ounces in the boot!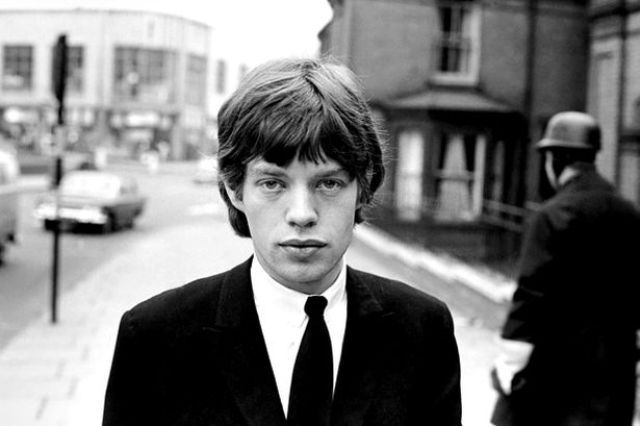 Photo caption: Mick's parked car in the background and the Totenhall Officer leaving after issuing a fine for such appalling parking!
On this day the 28th of November
Back in 1955 Little Richard recorded the original version of Long Tall Sally at Radio Recorders, Hollywood.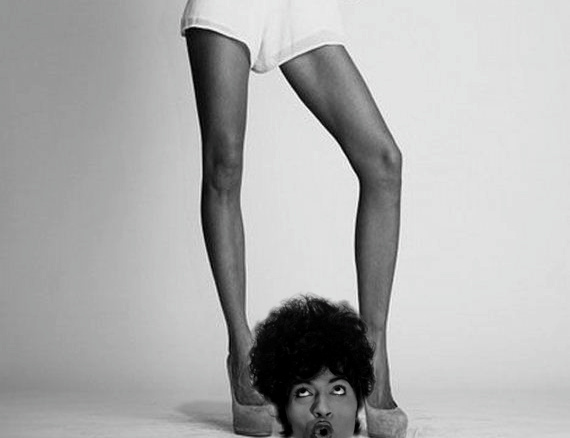 On this day the 29th of November
Rudolph the Red-Nosed Reindeer was invented in 1939 by Chicago copywriter Robert L. May for a booklet given away to customers by his employer, the Montgomery Ward department stores. May asked his brother-in-law, songwriter Johnny Marks, to put the story to music and lyrics. The result was "Rudolph the Red-Nosed Reindeer," which was a radio hit for cowboy singer Gene Autry in 1949.
Gene Autry "with your nose so bright" thanks to Jack.

November 29 1979
The original four members of KISS performed their last show together until 1996 when they reunited for a makeup tour.
Makeup tour! Get it?
On this day the 30th of November
1991: Milli Vanilli singer Rob Pilatus attempted suicide while staying at The Mondrain Hotel, Los Angeles by taking an overdose of sleeping pills and slashing his wrists. Seven years later Pilatus was found dead from a suspected alcohol and prescription pill overdose in a hotel room in the Frankfurt area. Doctors orginally thought he was faking it but later confirmed his death and ruled it accidental and some what over dramatised.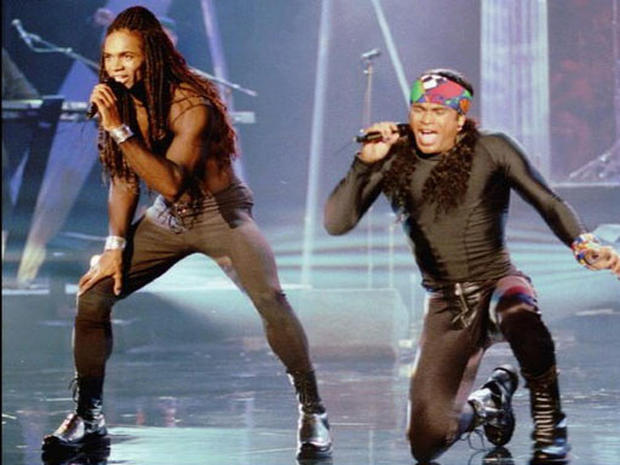 Tried hard with little success!