Press Play Button to view YouTube promo for Podcast 179.
Subscribe to SA Roots& Blues
(It's FREE) and obtain your 'user name' and 'password' to the 'Subscribers' page and download our latest quality MP3 podcasts to your MP3 Player!
About SARB Podcasts.
Jerome Douvendahns presents 2 podcasts each month:
'Blues Time' draws its play list from acoustic and electric blues.
'The Roots and Blues Hour' presents a selection from the genres of roots, alt. country, progressive folk and alt. rock. Each podcast highlights new releases from their respective genres. Per month we averaged over 2000 downloads for each of our podcasts and that is just from our server!

'SA Roots and Blues' is a non profit organisation. Our aim is to promote roots and blues music to an ever increasing patronage. Our thanks goes to those musicians, promoters and distributors who have kindly allowed us to present their music to our subscribers. We hope this added exposure benefits the musicians in some way ...and as a subscriber, this is where your responsibility starts!
Podcast Feed For 'www.sablues.org'
Add this URL to your Podcast Software:


www.sablues.org/sablues_pod1.xml
xml file viewable in most up-to-date browsers

itunes, ipod and ipad users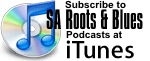 Subscribe to our Podcasts at iTunes

Listen
to Podcasts from www.sablues.org on your Android or iPhone with Stitcher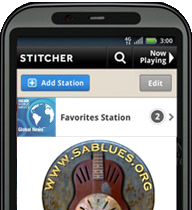 Download STITCHER RADIO APP (it's FREE)
http://stitcher.com/download.php
Listen to Podcasts from www.sablues.org
http://stitcher.com/s/player.php?eid=20927064&refid=stp

Social networkers join the group:
I listen to Podcasts from sablues.org


View and DOWNLOAD Past Podcasts!
'A truly GREAT presentation! Your dialog is as interesting as the music you play! I loved the WHOLE SHOW!'
Paul Evans

'Thanks for updates! Podcast 80 is great! I live in CANADA and plan to visit one day, maybe 'retire' there.'
Wayne Speller

'Hi Jerome, have been hanging out for the latest podcast, it was worth the wait! Keep up the great work.'
Hugh Williams

'Just want to say thank you for the very very fine podcasts which South Australian Roots & Blues produces. I've been listening for over a year now, and have never ceased to be impressed with the high level of scholarship and professionalism which goes into making each one. I know it takes a great deal of effort to make the podcasts and that it is a labor of love of the blues, a love which I share.'
Nick Teele

I have found yet another fine Blues podcast to add to my collection. Thanks for all your hard work on the show and for providing us with the download. I drive a truck for a living and driving with the Blues is the only way to go. Thanks again and Keep on Rockin' those tunes!
Jerry in St. Louis, Missouri.

Hi Jerome. Big fan of the show. I listen every month, send it to my ipod and listen again while bicycling and working out. Thanks for playing the cut from Dylan's new album, which leads me to a question that I am sure you've been asked before. Did Dylan "borrow" your "It's nighttime in the big city" show open for his Theme Time Radio Hour on XM, which begins with "It's nighttime in the city"? Bob is well-known for absconding with other artists' ideas...and I don't hold it against him. I love his body of work too much to ever be pissed at him. But I am curious. Keep up the good work, Jerome. The show is great. What a voice and delivery you have. Very unique! I too just had a zero birthday (60). Each day is still a mystery filled with wonder.
Howard Modell



View and DOWNLOAD Past Podcasts!
Click on any of the
Podcast Banners on right
and listen to that podcast as an AUDIO STREAM
Quality: MP3. Bitrate 56kb/s.
Sample Rate 22050Hz. Stereo.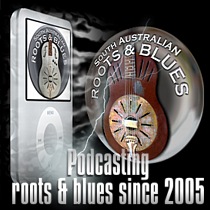 PLAY PODCASTS
Click on any of the Podcast Banners below and listen to that podcast as an
AUDIO STREAM
Quality: MP3. Bitrate 56kb/s.
Sample Rate 22050Hz. Stereo.
Flash Player required for play.