The A B C of The BLUES presented by Jerome Douvendahns.
Part 1 covers the letters A through to I.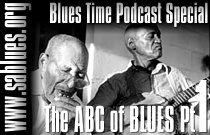 www.sablues.org PODCAST PLAYER


Press play

PODCAST PLAYER

Jerome Douvendahns presents
THE A B C OF BLUES Pt 1.


The A B C of THE BLUES: Part 1 |
Part 2
|
Part 3
|
Part 4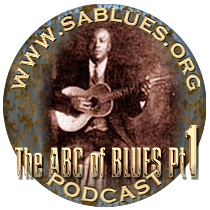 Jerome Douvendahns presents THE A B C of The BLUES.
In this series of podcast specials Jerome delves into the archives and initiates the A B C of blues.

He goes through the alphabet and for each letter selects an artist or two whose name starts with that letter, artists who in some way are indicative of primary aspects of the blues genre and plays a blues recording by that particular artist. This fascinating historical perspective presents some known and little known musicians and some rare and obscure recordings.

The A B C of Blues. Part 1.
Part 1 covers A through to I.
Playlist: Artist - Track
1 Alvin Youngblood Hart - Pony Blues.
2 Boo Boo Davis - Tell me what to do.
3 Big Bill Broonzy – How you want it done.
4 Charles Caldwell - Hadn't I Been Good to You.
5 David Honeyboy Edwards - Roll & Tumble Blues.
6 Eddie One String Jones - Rolling And Tumbling Blues.
7 Elmore James - It Hurts Me Too.
8 Freddy King - Look Ma, I'm cryin'.
9 Garfield Akers - Cottonfield Blues Pt2.
10 Georgia Pine Boy - One More Greasing.
11 Henry Thomas - Bull Doze Blues.
12 Howlin' Wolf - Smokestack Lightnin'.
13 Ishmon Bracey - Brown Mama Blues.
Download
Part 1 of The A B C of The Blues
from Subscribers page.
The A B C of THE BLUES: Part 1 |
Part 2
|
Part 3
|
Part 4