The A B C of BLUES presented by Jerome Douvendahns.
Part 2 covers J K and L.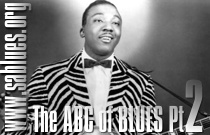 www.sablues.org PODCAST PLAYER


Press Play

PODCAST PLAYER

Jerome Douvendahns presents
THE A B C OF BLUES Pt 2.


The A B C of THE BLUES:
Part 1
| Part 2 |
Part 3
|
Part 4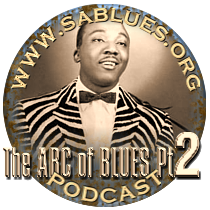 Jerome Douvendahns presents THE A B C of BLUES Pt 2.
In this series of podcast specials Jerome delves into the archives and initiates the A B C of blues.

He goes through the alphabet and for each letter selects artists whose names starts with that letter, artists who in some way are indicative of primary aspects of the blues genre and plays a significant blues recording by those particular artists. This fascinating historical perspective presents some known and little known musicians and some rare and obscure recordings.

The A B C of Blues. Part 2.
Part 2 covers J K and L.

Playlist: Artist - Track
1 Joe Hill Louis - She Treats Me Mean And Evil.
2 J.B. Lenoir* - Down In Mississippi.
3 Junior Wells - Hey Lawdy Mama.
4 John Lee Hooker - Boogie Chillun.
5 Jessie Mae Hemphill - Shake your booty.
6 Kid Bailey - Rowdy Blues.
7 Kokomo Arnold - The Twelves.
8 Koko Taylor - Piece of man.
9 Leadbelly - The Borgeois Blues.
10 Little Axe - Grinning.
11 Lightnin' Hopkins - Big Black Cadillac Blues
12 Louisiana Red - Alabama Train.
13 Little Brother Montgomery - Vicksburg Blues.
14 Little Milton - If walls could talk.
* pictured
Download
Part 2 of The A B C of The Blues
from Subscribers page.
The A B C of THE BLUES:
Part 1
| Part 2 |
Part 3
|
Part 4