The A B C of BLUES presented by Jerome Douvendahns.
Part 3 covers M N O P and Q.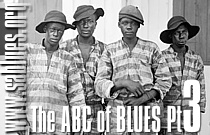 www.sablues.org PODCAST PLAYER


Press Play

PODCAST PLAYER

Jerome Douvendahns presents
THE A B C OF BLUES Pt 3.


The A B C of THE BLUES:
Part 1
|
Part 2
| Part 3 |
Part 4
Jerome Douvendahns presents THE A B C of BLUES Pt 3.
In this series of podcast specials Jerome delves into the archives and initiates the A B C of blues.

He goes through the alphabet and for each letter selects artists whose names starts with that letter, artists who in some way are indicative of primary aspects of the blues genre and plays a significant blues recording by those particular artists. This fascinating historical perspective presents some known and little known musicians and some rare and obscure recordings.

The A B C of Blues. Part 3.
Part 3 covers M N O P and Q.

Playlist: Artist - Track
1 Muddy Waters - Mannish Boy.
2 Mississippi Fred McDowell - Wished I Was In Heaven Sitting Down.
3 Mississippi John Hurt - Frankie.
4 Mississippi Sheiks - Lonely One in This Town.
5 Memphis Jug Band - Memphis Shakedown.
6 Memphis Minnie - Crazy Cryin' Blues.
7 Memphis Slim - Everyday I Have The Blues.
8 Ma Rainey - Booze and Blues.
9 Mamie Smith and Her Jazz Hounds - Crazy Blues.
10 Mance Lipscomb - Motherless Children.
11 North Mississippi Allstars - Make Me Down A Pallet On Your Floor.
12 Oscar Myers - Busted Boiler Blues.
13 Otis Taylor - My Soul's in Louisiana.
14 Othar Turner - When I Lay My Burden Down.
15 Professor Longhair - 501 Boogie.
16 Prisoners Angola State Penitentiary* - Early in the Mornin'.
17 Queen Ida - Hard Headed Woman.
*pictured
Download
Part 3 of The A B C of The Blues
from Subscribers page.
The A B C of THE BLUES:
Part 1
|
Part 2
| Part 3 |
Part 4