Feb 2017's BLUES TIME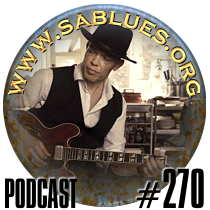 Podcast 270 from www.sablues.org
1 Thorbjorn Risager* and The Black Tornado - Change My Game - Maybe It's Alright.
2 Kathy & The Kilowatts - Let's Do This Thing - One Lie Leads To Another.
3 Knucklebone Oscar - King Of Helsinki - Better Then Your Man.
4 Starlite Campbell Band - Blueberry Pie - Walkin' Out The Door.
5 Joanne Shaw Taylor - Wild - Get You Back.
6 Bow Thayer - The Source And The Servant – Goin' Down The River.
7 BLu ACiD featuring John Blake - Gallows Tree.
8 Chris Stapleton - Traveller - Tennessee Whiskey.
9 Lal and The People - Bad Case Of Blues - No Place To Go.
10 Ruby And The Revelators - Walk with me.
11 Patty Reese - Let In The Sun - Is It Too Late For Me.
12 Honey Creek - Devil's Lullaby - Favourite Kind Of Sin.
13 Rosie Flores - Working Girls Guitar - Working Girls Guitar.
14 Paul DesLauriers - Restless – I'm Your Man.
15 Mr Airplane Man - The Lost tapes - Commit a Crime.
16 Jack Rose -Dark was the night cold was the ground.
*pictured
Audio Stream Quality: MP3 CBR 44100Hz 320kbps.
DOWNLOAD
to your mobile media device.

Subscribe to SA Roots& Blues
(It's FREE) and obtain your 'user name' and 'password' to the 'Subscribers' page and download the latest quality MP3 podcasts to your Player!
'Blues Time'
comes your way once a month. It draws its play list from the genres of acoustic and electric blues. Each podcast highlights new and recent releases. Duration is about an hour.
Thanks to the musicians, promoters and distributors
who have allowed us to present their music.

Podcast 270. Feb. 2017's edition of Blues Time
Honored to be featured in the South Australian Roots and Blues podcast.
:) Cheers! Lal
Fantastic! Thank you so much for playing us!!
Kathy Murray & the Kilowatts
Thank you so much Jerome!! :) :)
Starlite Campbell Band