The Roots and Blues Hour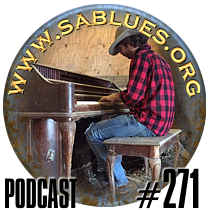 Podcast 271
from
www.sablues.org
PLAYLIST: ARTIST - ALBUM - TRACK.
1 Luke Winslow-King - I'm Glad Trouble Don't Last Always - On My Way.
2 Becky Warren - War Surplus - Dive Bar Sweetheart.
3 Brandon Taylor* - Radio Ghost - Baby Blue.
4 Otis Gibbs - Mount Renraw - 800 Miles.
5 Margo Price - Midwest Farmer's Daughter - How the Mighty Have Fallen.
6 Big Smoke - Time Is Golden - Wrong.
7 Shovels & Rope - Little Seeds - I Know.
8 The Record Company - Give It Back To You - Hard Day Coming Down.
9 Renee Austin - Sweet Talk - Bottom of a Heart.
10 Manitoba Hal - Live In Ghent - Somebody On Your Bond.
11 Chelle Rose - Blue Ridge Blood - Not Your Girl.
12 The Small Glories - Wonderous Traveler - Something to Hold Onto.
13 Elise Davis - The Token - Diamond Days.
14 Lucas Haneman Express - Tearing Up The Rails - Run To You.
15 The Glenn Marais Band - The Mojo Train - Down in New Orleans.
16 The Masonics - Obermann Rides Again - Your Dangerous Mind.
*pictured
Audio Stream Quality: MP3 CBR 44100Hz 320kbps.
DOWNLOAD
to your mobile media device.

Subscribe to SA Roots& Blues
(It's FREE) and obtain your 'user name' and 'password' to the 'Subscribers' page and download the latest quality MP3 podcasts to your Player!
'The Roots and Blues Hour'
Once a month Jerome Douvendahns presents a rich mature selection from the genres of roots, alt. country, blues, folk and indie alt. rock. Each podcast highlights new and recent releases from these genres. Podcast duration is about an hour.
Thanks to the musicians, promoters and distributors
who have allowed us to present their music.

Podcast 271. Feb. 2017's edition of THE ROOTS & BLUES HOUR