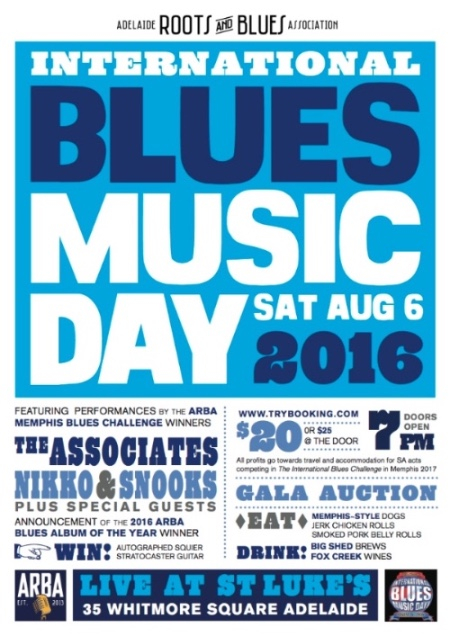 The ARBA Memphis Retrospective (learn the inside story!)
Saturday May 7th 2016
Pre-book online $15.00.
Book:
https://www.trybooking.com
At The door (if available) $20.00
7.00pm Doors
8.00pm Mick Kidd and Dave Blight
9.00pm Musicians interviewed by Radio Adelaide's "Big" Mike Hotz.
9.45 Lazy Eye
10.30 Encore and jam
Big Shed Brewing. Fox Creek Wines. Memphis style food
St Luke's Hall. 35 Whitmore Square
Profits to allow ARBA to continue to support local musicians.
2016 MEMPHIS BLUES CHALLENGE
DRAW FOR THE ARBA 2016 MEMPHIS BLUES CHALLENGE ANNOUNCED!
HEAT ONE SEMAPHORE WORKERS CLUB FRI 17TH JUNE
ACT ONE: Ciaram Granger Duo
ACT TWO: Zkye Blue
ACT THREE: Jesse Deane-Freeman
ACT FOUR: Dukes of Jump
ACT FIVE: Frets Patrick
ACT SIX: The Associates
HEAT TWO SEMAPHORE WORKERS CLUB SUN 19TH JUNE
ACT ONE: A.P D'antonio
ACT TWO: Thirty Two Twenty
ACT THREE: Three Brothers Duo
ACT FOUR: Muddy Road
ACT FIVE: Nikko and Snooks
ACT SIX: Steve Brown Band

The month of May in Roots, Blues & Rock History
Obscure, murky, contentious and discourteous bulletins that delve into the history of roots, blues and rock music thanks to some extensive and at times ill founded research by Dr Jerome Douvendahns.
May's ROOTS & BLUES HOUR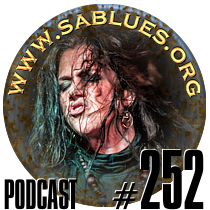 Play
|
Download
Featuring: Sari Schorr* - Wild Belle - Waydown Wailers - The Jayhawks - Willie Sugarcapps - Eric Lidell - Eilen Jewell - Too Slim and The Taildraggers - Lera Lynn - Halfway - Danny Marks - Honey Island Swamp Band - Escondido - John Doe - Beaver and Krause - Wire.
*pictured
Download MP3 from
'Subscribers'
page.
Click

for RSS. Click

for iTunes.
May's BLUES TIME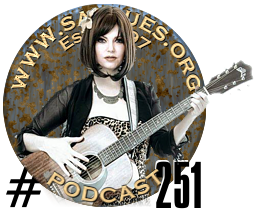 Play
|
Download
Featuring: Moreland and Arbuckle - Hipbone Slim and the Kneetremblers - Ginger St James* - The Jimmys - Too Slim and The Taildraggers - Anders Osborne - Bill Durst - Guy King - Janiva Magness - Riff Riders - Danny Marks - Curtis Salgado - CC Bronson - Shaun Murphy - Shari Puorto - Brick Walker.
*
pictured
Download MP3 from
'Subscribers'
page.
Click

for RSS. Click

for iTunes.



www.sablues.org
South Australian Roots & Blues
Subscribe to sablues.org
It's FREE! Be informed via our E-Newsletter about  latest Podcasts, upcoming Gigs and special ticket offers. Subscribe and gain access to the 'Subscribers' page where you can download the latest Podcasts and other goodies!

Join the facebook group
I listen to podcasts from sablues.org
itunes, ipod and ipad users


Subscribe to podcasts at iTunes

View the
'sablues channel'
on
YouTube
.
80,000+ views.
Latest VIdeo
"
Bright Shadows
"
by Beaver and Krause

View sablues.org's
Music Videos

Stitcher App
for your Android or iPhone
Listen to sablues.org
Podcasts via Stitcher
Notify
"Change of Email Address"
click
here
'
Unsubscribe
' from our E-Newsletter click
here
The Adelaide Roots & Blues Association
www.adelaiderootsandblues.org
Weekly blues gig blog:
adrootsandblues.blogspot.com
ARBA on
Facebook