DEEP SOUTH FESTIVAL
The Gov from Friday 25 to Sunday 27 November
We've mixed up the format this year with all performances in The Venue throughout the weekend to create a more focused experience and let the audience settle in to enjoy a showcase of musicians. Each day has a distinctly different sound and feel, with music, food and set design curated to match. We kick off as usual with Women Sing The Blues on Friday 25 November, featuring Gail Page Band, Chris E Thomas (NZ) and Kelly Menhennett. This night has consistently sold out in previous years and is always a riot! Saturday evening it's an R&B Extravaganza, headlined by Hat Fitz Cara (Qld) and Lloyd Spiegel (Vic) alongside local superstars Zkye, The Streamliners and more. Sunday afternoon get Up Close & Personal with a series of fantastic duos, headlined by Phil Manning (Vic) alongside local legend Chris Finnen.
DEEP SOUTH FESTIVAL 2016
The Gov | 25-27 Nov
3-DAY FESTIVAL PASS: $125 | 2-DAY PASS (SAT-SUN): $90
FRI: $44 SHOW ONLY | $79 DINNER & SHOW
SAT: $54 | $84 DINNER & SHOW
SUN: $44 |$64 DINNER & SHOW
*BOOKING FEE APPLIES TO ALL TICKET PURCHASES*
Meal upgrades available: Phone 8340 0744
Fri: Doors at 6pm Dinner / 7:30pm GA
Sat: Doors at 5pm
Sun: Doors at 12pm
Get tickets now!
The Adelaide Roots & Blues Association
www.adelaiderootsandblues.org
Weekly blues gig blog:
adrootsandblues.blogspot.com
ARBA on
Facebook

The month of SEPTEMBER in Roots, Blues & Rock History
Obscure, murky, contentious and discourteous bulletins that delve into the history of roots, blues and rock music thanks to some extensive and at times ill founded research by Dr Jerome Douvendahns.
October''s BLUES TIME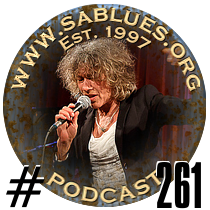 Play
|
Download
Featuring: Liz Manderville - Barrelhouse* - Sari Schorr - Guy Forsyth Band - Hard Swmmin Fish - Deb Ryder - Ronnie Earl and the Broadcasters - Madeleine Peyroux - Otis Clay - Bev Zizzy - Jason Elmore & Hoodoo Witch - Mary Jo Curry - In Layman Terms - Tom Waits - MFC Chicken.
*pictured
Download MP3 from
'Subscribers'
page.
Click

for RSS. Click

for iTunes.

Sept's ROOTS & BLUES HOUR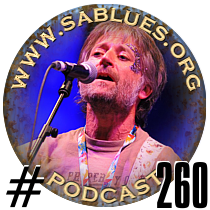 Play
|
Download
Featuring: Andrea Schroeder - King Creosote* - Erin Rae and The Meanwhiles - Richard Shindell - Drive-By Truckers - Eagle and The Wolf - She Could Be Trouble - Halfway - The Vaudevillian - Elouise - The Stray Birds - Lydia Loveless - Broken Sun - Chatham County Line - Seth Walker - Jodi Martin - Chris Forsyth & Koen Holtkamp.
*pictured
Download MP3 from
'Subscribers'
page.
Click

for RSS. Click

for iTunes.

Delve into our archives to view, play and download

PAST PODCASTS

from 2014, 13, 12, 11, 10, 09, 08 and 07.

www.sablues.org
South Australian Roots & Blues
Subscribe to sablues.org
It's FREE! Be informed via our E-Newsletter about  latest Podcasts, upcoming Gigs and special ticket offers. Subscribe and gain access to the 'Subscribers' page where you can download the latest Podcasts and other goodies!

Join the facebook group
I listen to podcasts from sablues.org
itunes, ipod and ipad users


Subscribe to podcasts at iTunes

View the
'sablues channel'
on
YouTube
.
80,000+ views.
Latest VIdeo
"
Creatures
"
by Andrea Schroeder

View sablues.org's
Music Videos

Stitcher App
for your Android or iPhone
Listen to sablues.org
Podcasts via Stitcher
To notify
change of email address
click
here
'
Unsubscribe
' from our E-Newsletter click
here