Jan's BLUES TIME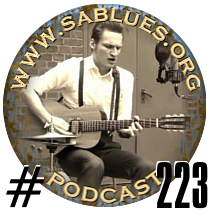 Play
|
Download
Featuring: Bror Gunnar Jansson* - Kyle Jester - Tom Feldmann - Steve Hill - RC and the Moonpie Band - The Reverend Shawn Amos - Paul Kelly Merri Soul Sessions - Thorbjørn Risager And The Black Tornado - The Halley Devestern Band - Donna Jean Godchaux Band - Mark Nomad - Charlie Musselwhite - Kirby Sewell Band - Mojo Slide - Black Diamond Roots Band - Exeter Blues - Little Axe.
*pictured
Download MP3 from
'Subscribers'
page.
Click

for RSS. Click

for iTunes.

Dec's Roots & Blues Hour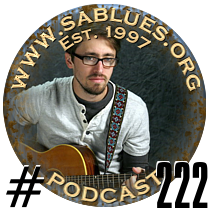 Play
|
Download
Featuring:Hayward Williams* -Thorbjorn Risager And The Black Tornado -Jon Allen -Dulcie Taylor -Nick Waterhouse -Elliot Brood -Jess Klein -Audrey Auld -Kris Pohlmann -Angaleena Presley -Peggy Seeger -Lucinda Williams -Maggie Bjorklund -Jean Louis Murat -The Hired Guns -Bela Fleck and Abigail Washburn –Andrea Schroeder -The Delines -Bill Frisell.
*pictured
Download MP3 from
'Subscribers'
page.
Click

for RSS. Click

for iTunes.


www.sablues.org
South Australian Roots & Blues
Subscribe to sablues.org
It's FREE! Be informed via our E-Newsletter about  latest Podcasts, upcoming Gigs and special ticket offers. Subscribe and gain access to the 'Subscribers' page where you can download the latest Podcasts and other goodies! Tell others about sablues.org

Join the facebook group
I listen to podcasts from sablues.org

JDbluesdoctor
Jerome Douvendahns on Twitter
https://twitter.com/JDbluesdoctor

View the
'sablues channel'
on
YouTube
.
80,000+ views. Check the comments for the popular videos. Hilarious!
itunes, ipod and ipad users


Subscribe to podcasts at iTunes

Download
Stitcher App
for your
Android or iPhone and
listen to
Podcasts fom www.sablues.org
If you wish to notify sablues.org of a
'
Change of Email Address
' click
here
If you wish to '
Unsubscribe
' from our
E-Newsletter click
here
Adelaide Blues Bands listing + links to their Werbsite, FaceBook, ReverbNation etc.
Adelaide Blues Bands