Contact SARB
If it's to do with roots and blues music then "SA Roots and Blues" can help! Contact us now if you want to us bring it to the attention of an ever increasing patronage of roots and blues music in South Australia.

Direct correspondence, enquiries and contributions via:
Email:
sablues@sablues.org
Post
:
SA Roots and Blues
49 Bowen Road
Tea Tree Gully SA 5091
Australia
Mobile:
Contact David on 0408 085 821
You sent it ...we'll promote it!
Attention Musicians, Promoters and Distributors!
Post hardcopy review items ( CDs, DVDs, Books, magazines etc ) to:
SA ROOTS AND BLUES
49 BOWEN ROAD
TEA TREE GULLY SA 5091
AUSTRALIA

Send digital press kits and softcopy promotional material via emai to:
sablues@sablues.org
www.sablues.org webalizer stats for Oct 2012:
Daily Avg Hits: 8558
Daily Avg Visits: 282
Monthly download: 121252195 KBytes
Monthly Total Visits: 8761
Monthly Total Hits: 265310
Our Podcasts receive over 2000 downloads/month.
Our podcast RSS feed gets over 20,000 hits/month. Our fortnightly
Newsletter
is emailed to our 1000+ subscribers. Subscribing to SARB is free.
The "SA Roots and Blues" network includes Promoters, Venue Operators, Community Radio Presenters, Record Store Propietors, Musicians and Patrons. We spread the word effectively and fast!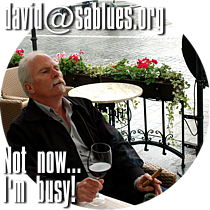 David Stoeckel.
Editor of "SA Roots and Blues".
SA Roots and Blues
We are a non-profit, non-commercial organisation. Running costs are met by the editor. All time is given freely. We do accommodate a small amount of advertising ( primarily to help cover our web hosting costs). You can bring your music related product or service to the attention of our ever increasing patronage through advertising and thereby assist us in promoting roots and blues music in South Australian. View our reasonable
Sponsorship and Advertising Options
.