FASCINATING, OBSCURE, MURKY, CONTENTIOUS AND DISCOURTEOUS!
Bulletins that delve into the history of roots, blues and rock music thanks to some extensive and at times ill founded research by Jerome Douvendahns.

On this day in September
1
|
2
|
3
|
4
|
5
|
6
|
7
|
8
|
9
|
10
|
11
|
12
|
13
|
14
|
15
|
16
|
17
|
18
|
19
|
20
|
21
|
22
|
23
|
24
|
25
|
26
|
27
|
28
|
29
|
30
Trigger Warning: www.sablues.org advises that Jerome's research may cause offence to those of the PC persuasion! Be advised that Jerome's research has no profanity, no gratuitous violence, no overt portrayal of sexual activity and no lurid nudity but don't let that deter you, please read on!
On this day the 1st of September
OL' SID IS STILL A ROCK N ROLLER!
Back in 1955 and after complaints from his neighbours, Rock 'n' Roll fan Sidney Adams was fined £3 and 10 shillings, ($9.80) by a London Court after playing Bill Haley's 'Shake Rattle and Roll' all day at full volume. Ol' Sid' is still playing 'Shake Rattle and Roll'. Most of the neighbours have moved out. The Court is still bogged down with Ol' Sid's Appeals.
Sidney Adams at his most recent court appearance.
IS SAM IN?
Back in 1956, 19 year old Jerry Lee Lewis arrived at Sun Records hoping for an audition, only to find that owner Sam Phillips was on vacation in Florida. Jerry Lee recorded some demos that Phillips would hear when he returned.
Jerry eventually catches up with Sam on his return from Florida.
BLUES FOR ALLAH
On this day the 1st of September back in 1975 The Grateful Dead released a new album entitled 'Blues For Allah'. The subdued vocals and meandering melody of the title suite did little to win him over to the blues!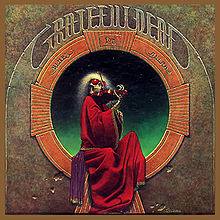 On this day the 2nd of September
2 Sep 1923 First use of a guitar side on a record
Kentucky born, Sylvester weaver was tyhe first to record the style known as slide guitar using a knife or a broken off bottle top as a slide on the guitar's fret board.
UNION BLACK BAN
On this day the 2nd of September back in 1956 blues singer and pianist Charles Brown played at the Labor Union Hall, New Orleans, Louisiana. His soft-toned, slow-paced blues-club style didn't go over too well with the with the unionists. A black ban was then imposed. The big bosses loved Charlie's style and soon after started revising the artists they had black listed.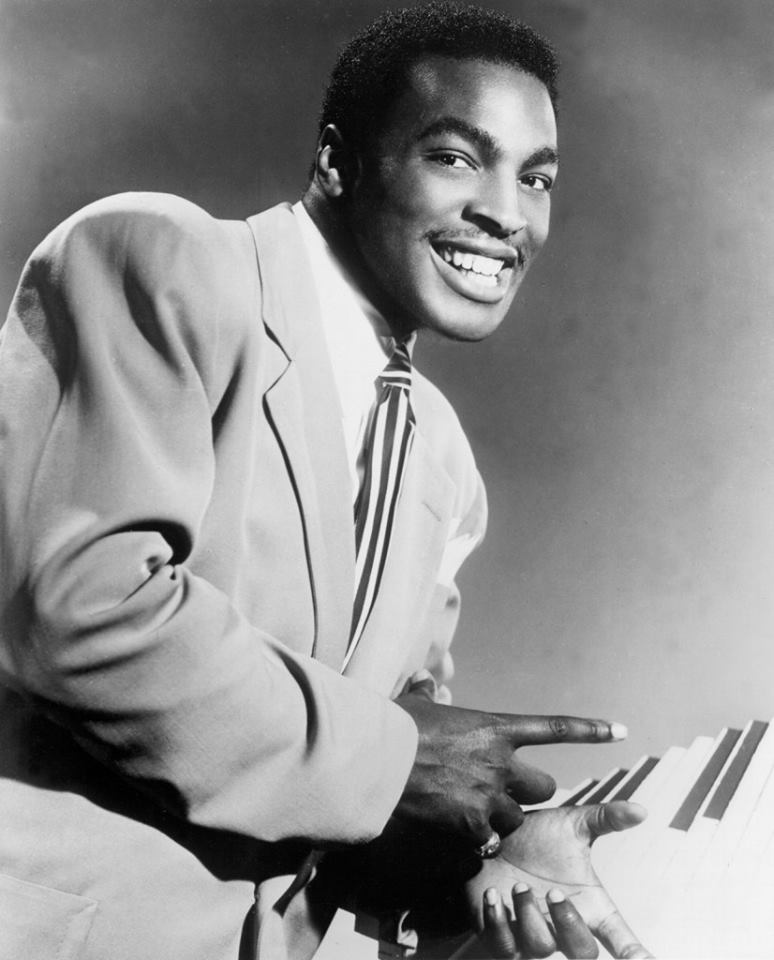 Charles Brown

$70,000 MISAPPROPRIATED?
On this day back in 1971 Grateful Dead's former manager was arrested after disappearing with over $70,000 of the band's money. The band claimed they had given him permission to head on down to Mexico to pick up their week's supply of weed!
The arresting officer later contacted the band to inform them that for $$70,000 he could get a year's supply not just for the band, but the roadies, sound crew and management as well! His offer was later revised when he caught up with Jerry Garcia.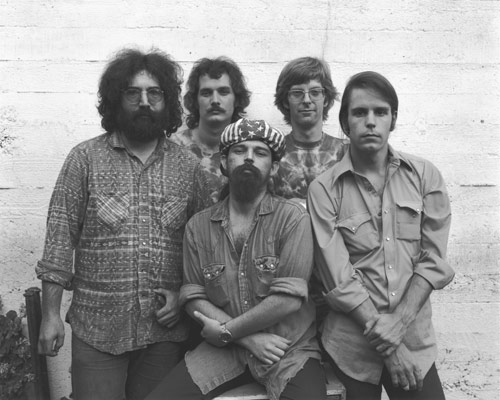 The Dead minus their manager!


On this day the 3rd of September
3 Sep 1902 First Recordings of African American music
In 1902 Victor Records issues the first known recordings of African American field hollers known as "Camp Meeting Shouts"
2 Sep 1929 Great Depression sends blues north
During the great depression many southern African Americans migrated north to cities such as New York and Chicago.
POP GOES THE BLUES
Born on this day back back in 1934 in Gilmer Texas: One of the three kings! One Freddie King. he based his guitar style on Texas and Chicago influences and was one of the first bluesmen to have a multi-racial backing band at live performances. He had a more aggressive and creative style of improvisation than the other kings ( B.B. King and Albert King ) considered by many to be a more exploratory and less traditional approach. Despite an often avowed desire to play slide guitar, King confessed that he could not due to his large fingers preventing him from a light enough touch. His early instrumental hits coined the term "Pop Blues".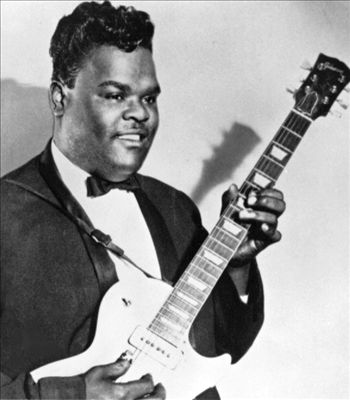 Freddie 'fat finger' King
ROY PISSED OFF WITH AGENT
On this day the 3rd of September back in 1954 Roy Brown played at Springbrook Gardens, Lima, Ohio, USA. Roy was really pissed off with his agent because he thought he was going to do some "Good Rocking Tonight" down in Peru and later head on over to South Africa to party with The Springboks.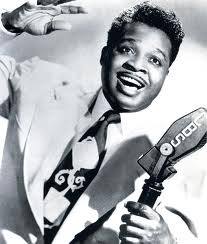 Roy Brown wasecstatic when he thought he was going to Peru and South Africa.
AL WILSON GOING UP THE GARDEN PATH
On this day back in 1970, Alan Wilson guitarist and songwriter with Canned Heat was found dead at fellow band-members Bob Hite's garden in Topanga Canyon, Los Angeles aged 27. With Canned Heat, Wilson performed at two prominent concerts of the 1960s era, the Monterey Pop Festival in 1967 and Woodstock in 1969. Canned Heat appeared in the film Woodstock, and the band's 'Going Up the Country,' which Wilson sang, has been referred to as the festival's unofficial theme song. Wilson also wrote 'On the Road Again,' Canned Heat's second-most familiar song.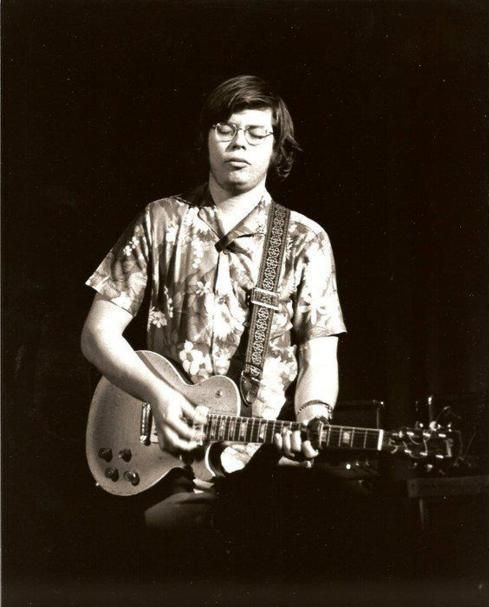 Al Wilson going up the country before going up the garden path
ARTHUR BROWN EXTINGUISHED IN SOLITARY
Speaking of heat, on this day back in 1970, Arthur Brown was arrested at the Palermo Pop '70 Festival in Italy, after he set fire to his helmet (during the performance of his hit 'Fire') and stripped naked during his stage performance. He claimed that he took his clothes off because they were alight! Despite his plea the singer was put in solitary confinement and was released after four days when he was finally extinguished.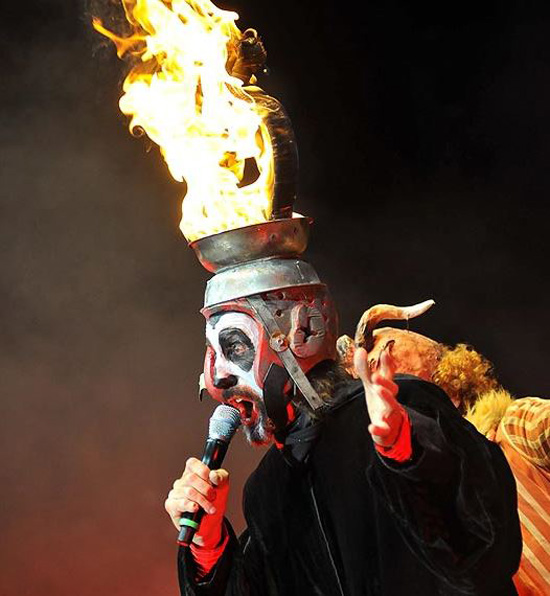 Mama Mia!

VALE Walter Becker.
September 3, 2017. Walter Becker, guitarist, bassist and co-writer for Steely Dan, died. He was 67. No cause of death was announced. He was inducted into the Rock and Roll Hall of Fame with Fagen in 2001. Dubbed Steely Dan after a sex toy in William S. Burroughs' black-hearted novel "Naked Lunch," the unit debuted in 1972 with the LP "Can't Buy a Thrill." The Steely Dan albums "Aja" and "Gaucho" hold a special place in my collection.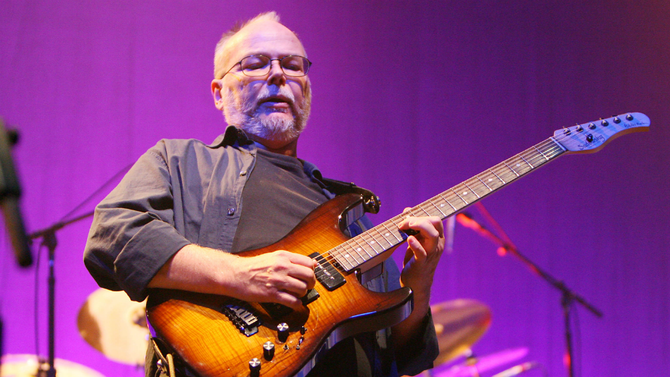 On this day the 4th of September
JAY MCSHAN INITIATES HAND PATTIN' RHYTHMS WITH PRISILLA
On this day the 4th of September back in 1955 R'n'B combo The Jay McShann Orchestra recorded 'Hands Off' for Vee-Jay Records in Chicago, Illinois, USA. The track featured Priscilla Bowman on vocals. McShann, "Hootie" to his friends, 'Oh Roodie' by Prisilla, was a touchy feely sort of guy whose big band delivered some hard swinging music with contagious hand pattin' rhythms.'Hands off' was inspired by Hootie's hand pattin' all over Priscie.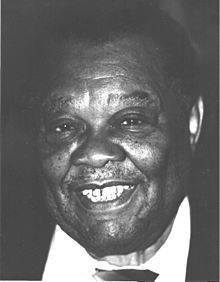 Hootie hand pattin' Jay McShann

GUARD DOG MISSING ...AGAIN!
On this day back in 1965, The Who had their van stolen containing over £5000 worth of equipment outside the Battersea Dogs Home. The band were inside the home at the time buying a guard dog. The van was later recovered, minus the gear. The stash was still in the spare tyre well.
The Who are still trying to find their new Guard Dog. The Battersea Dogs Home have since sold it five times over!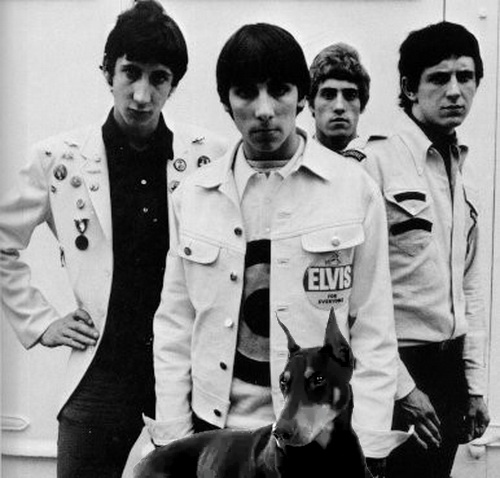 The Who

On this day the 5th of September
TIGER IN YOUR TANK
On this day the 5th of September back in 1960 Muddy Waters released a new single, 'Put a Tiger In Your Tank', on Chess Records in the USA. Josh White's full tank lasted until 1969 when on this very day he died during open heart surgery, in Manhasset, New York State, USA.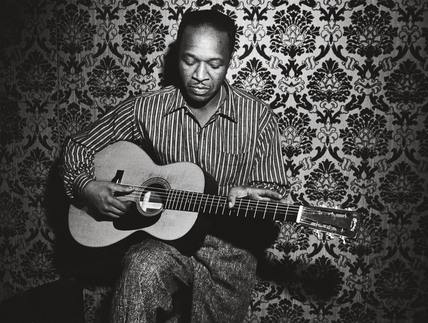 Josh White
On this day the 6th of September
Sept 6 1946
Mississippi Born Arthur 'Big Boy' Crudup records "That's Alright Mama" for Blue Bird records in Chicago.
ARABIC ORDER AIN'T WHAT IT USED TO BE.
On this day the 6th of September back in 1957 the package tour 'The Biggest Show Of Stars' featured Buddy Holly and The Crickets, Paul Anka, The Everly Brothers, Chuck Berry, The Bobettes, The Drifters, Frankie Lymon And The Teenagers, LaVern Baker, Jimmy Bowen, Sam 'The Man' Taylor and Clyde McPhatter (is that all!) They all played at The Syria Mosque, Pittsburgh, Pennsylvania. All those rockers in a mosque? Constructed in 1911 the 'temple' was originally built as a 'mystical' shrine for the Ancient Arabic Order of 'Shriners', a fraternity based on fun, fellowship and the principles of brotherly love, relief and truth. Arabic order ain't what it used to be.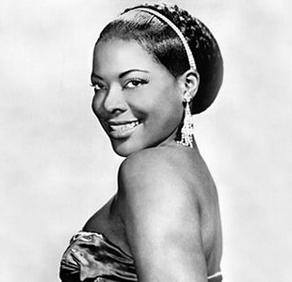 Photo caption: LaVern Baker ...ever so pleased to be touring with all those boys.

CPR for XCCR!
1990, Tom Fogerty guitarist with Creedence Clearwater Revival died aged 49, due to complications from AIDS acquired during a blood transfusion. During 1969 CCR scored three US Top Ten albums and four Top 5 singles. Tom released several solo albums.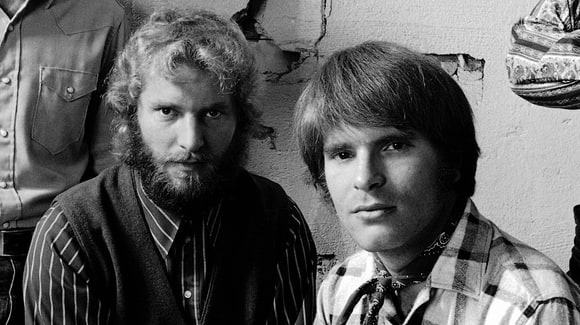 Tom Fogerty with brother John in their CCR days together
On this day the 7th of September
ITCHING FOR A TOP 10 HIT
On this day the 7th of September back in 1959 'Poison Ivy' by The Coasters entered the Billboard Top 40 Singles Chart in the USA. Itching for a top 10 hit, 'Poison Ivy' unfortunately was their last one, peaking at No 7.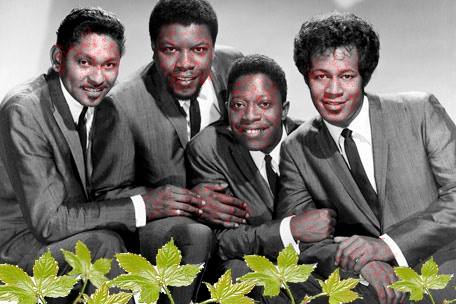 The Coasters

A FULL MOON NO LONGER RISING!
On this day back in 1978, Keith Moon, drummer with The Who, died of a overdose of heminevrin prescribed to combat alcoholism. A post-mortem confirmed there were 23 tablets in his system, most of which were undissolved. Moon had attended a party the night before organised by Paul McCartney for the launch of the 'The Buddy Holly Story' movie. He played on all The Who albums from their debut, 1965's My Generation, to 1978's Who Are You, which was released two weeks before his death. Well at least Keith didn't die of alcoholism! The Coroner thought that Keith may have misread the label "take 2 - 3 tablets daily".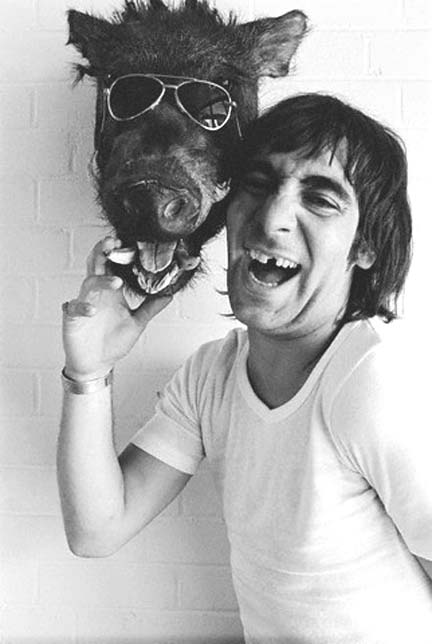 Photo caption: That's Keith on the right without his reading glasses.

EXCITABLE BOY EXITS
Warren Zevon known for his song "Werewolves of London" and his farewell album "The Wind"
died on this day the 7th of September in 2003. Age at Death: 56. Cause of Death: A Silver Bullet!
On this day the 8th of September
On this day the 8th of September back in 1954 RCA Records in the USA announced that the 78rpm record format is shortly to be scrapped, due to the success of the more convenient and durable 45rpm discs.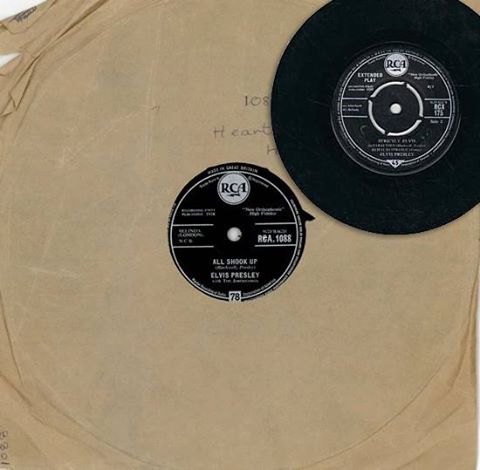 Scrapped by RCA but not by Joe! Down in the basement of Joe Bussard's Maryland home is a vast treasure trove of 78's from the 1920s and '30s. Old-time songs, hillbilly hoe-downs, hot jazz, country blues, jug band music, sanctified singing and a whole lot more. For over 50 years, Joe has been building a world-class collection of 78 rpm records- more than 25,000 in all.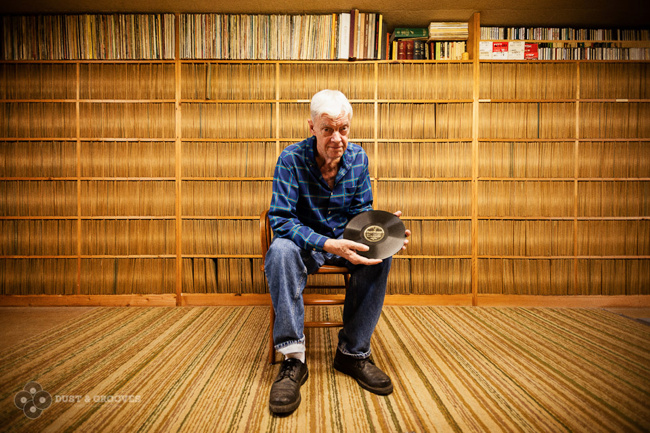 Photo caption: "Now if I could only remember where this disk goes!".
Jerome Douvendahns like many baby boomers has gone through the process of scrapping his 45rpm collection in favour of the 33rpm record album which in turn was scrapped in favour of the compact disc which in turn has been neglected because of the convienience of MP3s. He is now contemplating reinstating the record player and digging up the boxes of vinyl from the garage.

1897, Born on this day, Jimmie Rodgers singer, songwriter, the first country music star. Sold over 12 million records and was the first person to be elected into the Country Music Hall Of Fame. Rodgers died on 26th May 1933.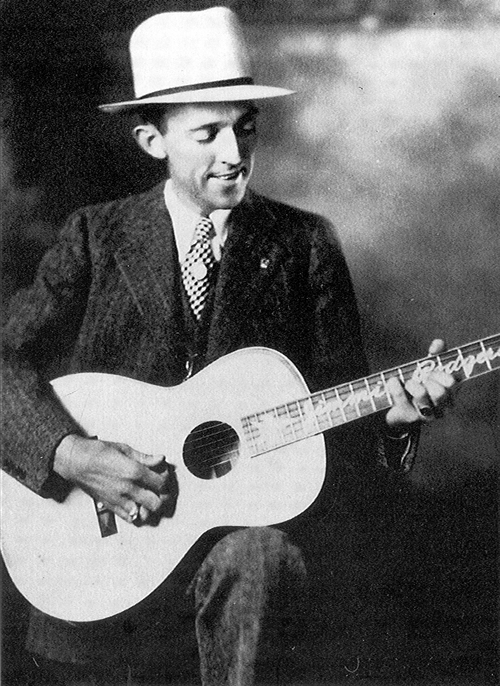 1932, Born on this day in Winchester, Virginia, was Patsy Cline, country music singer. Her hits began in 1957 with Donn Hecht's and Alan Block's 'Walkin' After Midnight', Hank Cochran's and Harlan Howard's 'I Fall to Pieces', Willie Nelson's 'Crazy' and ended in 1963 with Don Gibson's 'Sweet Dreams'. She died aged 30 on 5 March 1963 at the height of her career in a plane crash.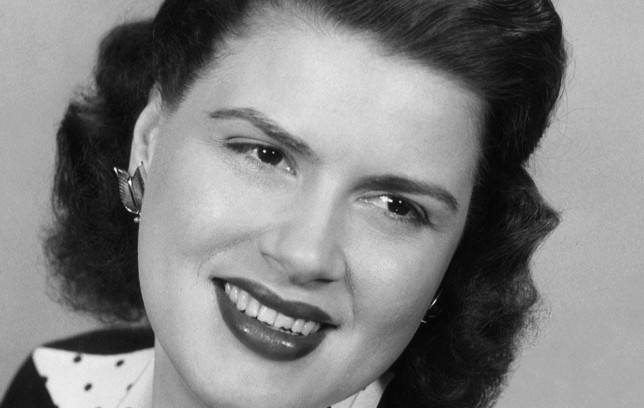 Billboard number-one rhythm and blues hit on this day:
1945 September 8: "The Honeydripper" (Parts 1 & 2) by Joe Liggins and His Honeydrippers.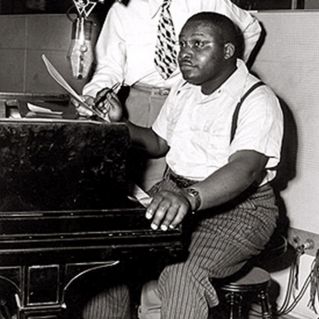 Joe Liggins
On this day the 9th of September
JUG STOMPING AND MATRESS SLEEPING TAKES ITS TOLL ON GUS
On this day the 9th of September back in 1928 Gus Cannon's Jug Stompers recorded 'Feather Bed' in Memphis, Tennessee, USA, for Victor Records. After year's of stomping on jugs and sleeping in too many feathered beds poor Gus's posture suffered severely.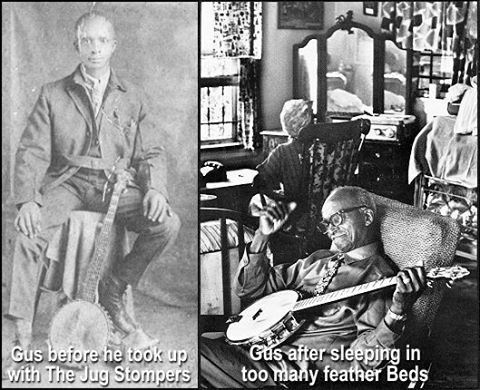 Photo caption: Gus before he took up with The Jug Stompers and after sleeping in too many feather Beds

Billboard number-one rhythm and blues hit on this day:
1950 September 9: "Blue Light Boogie" (Parts 1 & 2) by Louis Jordan and His Tympany Five.
1957 September 9: "Whole Lot Of Shakin' Going On" by Jerry Lee Lewis.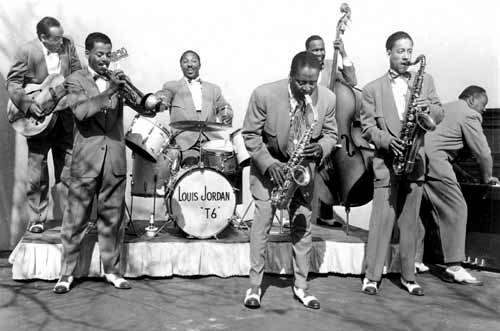 Louis Jordan and His Tympany Five +1!
On this day the 10th of September
EVERYBODY MESS AROUND
On this day the 10th of September back in 1926 Alberta Hunter recorded 'Everybody Mess Around' and 'Wasn't It Nice' for Okeh Records in New York City, USA. It wasn't a nice session for poor Alberta 'cause it made one hell of a mess of her.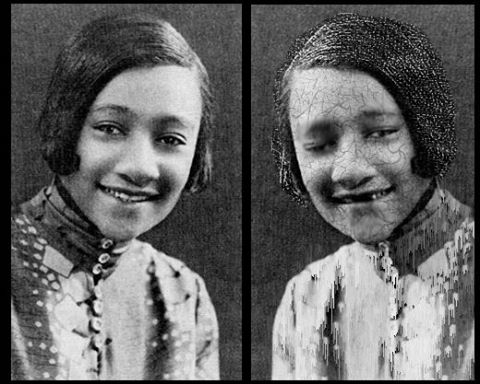 Photo caption: Alberta before and after everybody messed around!

Born on this day in 1941, Otis Redding US soul singer, (1968 single 'Sittin' On The Dock Of The Bay'). Redding was killed in a plane crash on 10th December 1967.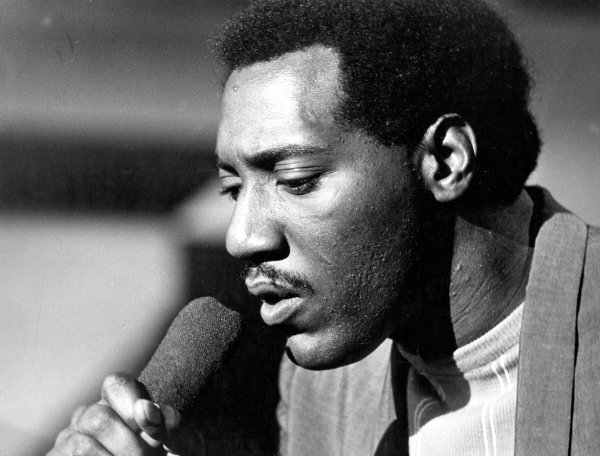 Otis Redding
On this day the 11th of September
RARE, MEDIUM OR WELL DONE?
On this day the 11th of September back in 1902 Robert Hicks was born in Walnut Grove, Georgia, USA. He would find flame as blues singer, guitarist and recording artist Barbecue Bob. His nickname came from the fact that he was a cook in a barbecue restaurant. This photograph of Bob shows him playing his guitar while wearing a full length white apron and cook's hat. Bob liked his blues raw and his meat well done!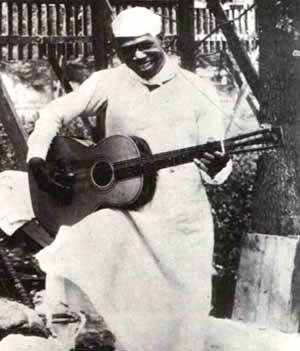 BBQ Bob
ROBBERY DRUG RELATED?
1987, founder member of The Wailers, Peter Tosh was shot dead at his home in Kingston Jamaica by armed robbers. Police thought it may have been drug related until they discovered that Tosh's house was not the only one on the street loaded with a whole heap of hash.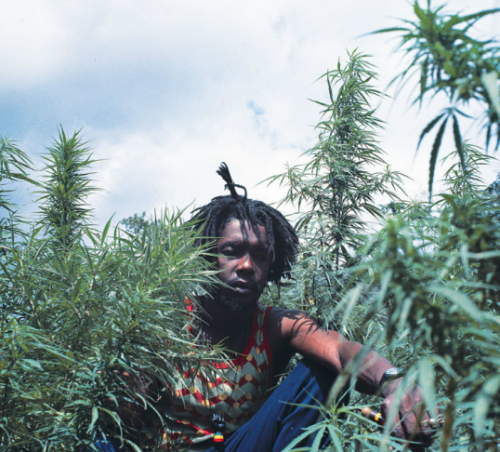 Peter checks his herb garden for weeds.
LOOK-A-LIKE CONTROVERSY
1964, The London Evening News reported that a 16 year-old Eltham Collage boy, introduced as Laurie Yarham, was everyone's idea of a winner in a Mick Jagger look-a-like competition. Laurie looked like Mick Jagger and seemed to know his every action and the audience at Greenwich Town Hall were delighted, until the winner turned out to be Mick's younger brother Chris Jagger. The Greenwich Town Hall later held a Chris Jagger look-a-like competition and prhibited Mick from entering.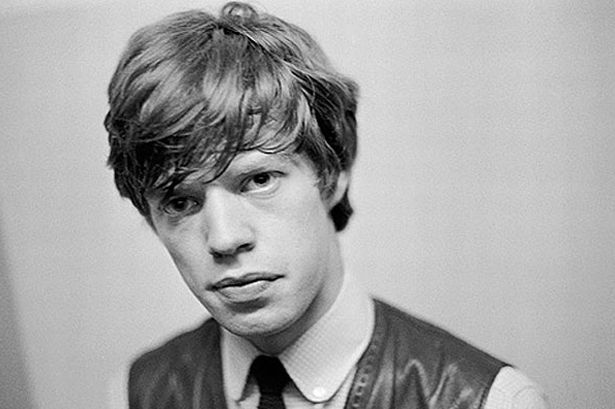 It's Mick! Hang on, no it's Chris. It's Chris as Mick!
On this day the 12th of September
WHIP CRACK AWAY
On this day the 12th of September back in 1929 Minstrel show musician Emmett Miller accompanied by his Georgia Crackers, recorded 'Sweet Mama, Papa's Getting Mad', 'The Pickaninnies Paradise' and 'The Blues Singer' [From Alabam'], for Okeh Records in New York City, USA.Miller's sole ambition from an early age was to join a minstrel show; those travelling musical/comedy revues intended to entertain through an 'authentic' portrayal of black life, largely performed by whites adorned in burnt cork. Miller discovered black face when one of the Georgia Crackers exploded in his face. 'Cracker' was also the name slaves gave to whites who were quick to use the whip. Miller developed his characteristic falsetto bleat yodelling style when he tried a whip for the first time and cracked his nether regions! This also spawned the phrase 'whip crack away'! Emmett's yodel soon became the trademark of Jimmie Rodgers, Hank Williams and Merle Haggard.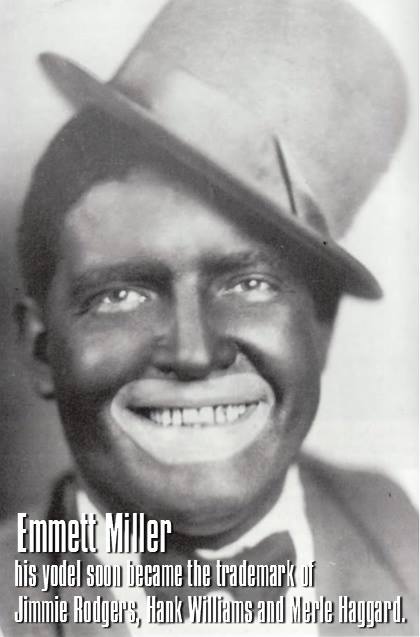 Emmett Miller
On this day the 13th of September
September 13, 1947
T-Bone Walker Goes Electric
Bluesman T-Bone Walker plays electric guitar on the recording of his standard "Call it Stormy Monday." Black & White Records released "Call It Stormy Monday (But Tuesday Is Just as Bad)" in November 1947.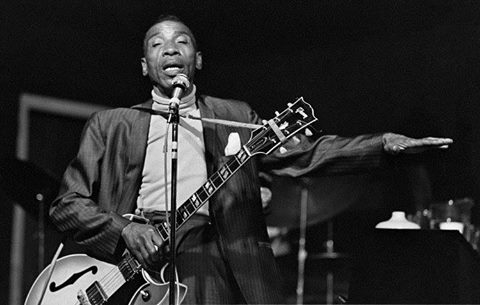 PIONEER OF GOOGLE GLASSES
On this day the 13th of September back in 1931 Joseph 'Rock My Soul' Augustus was born in New Orleans, Louisiana, USA. He would make a name for himself as an r'n'b shouter in the 1950s. Joe toyed with the idea of calling himself Joe September, even Joe July but for some obscure reason settled on the stage name of 'Joe Google Eyes August'.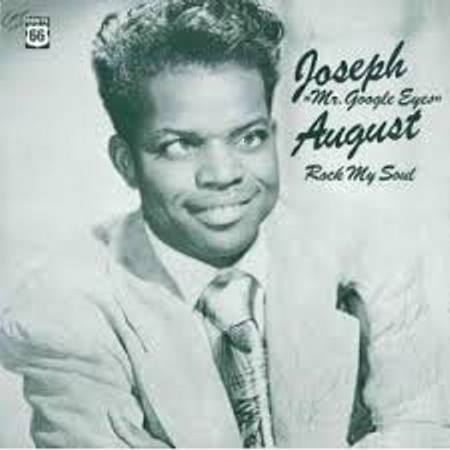 Joseph 'Rock My Soul' Augustus
On this day the 14th of September
GROSS DOMINO
On this day the 14th of September back in 1912 Leon T. Gross was born in New Orleans, Louisiana, USA. Under the stage names of Archie Boy and Archibald, he became a popular r'n'b singer/pianist in the 1940s. He had a major hit with "Stack-O-Lee". Gross was a major influence on many great piano players including Dr. John, James Booker and Huey Piano Smith. Archibald was such an influence on Antoine "Fats" Domino Jr. that was he originally was going to call himself "Gross" Domino ...but settled on "Fats" instead.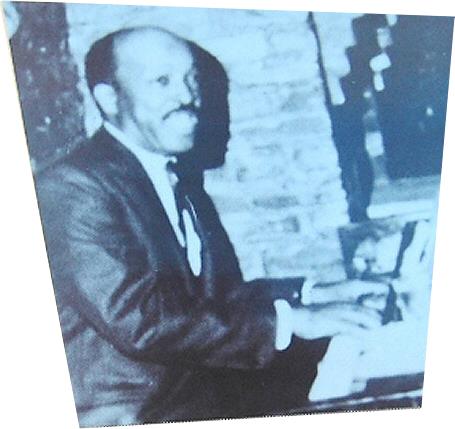 Leon T. Gross
September 14th 2014. While travelling through Italy, Jerome Douvendahns meets up with Pablo Picasso in Florence.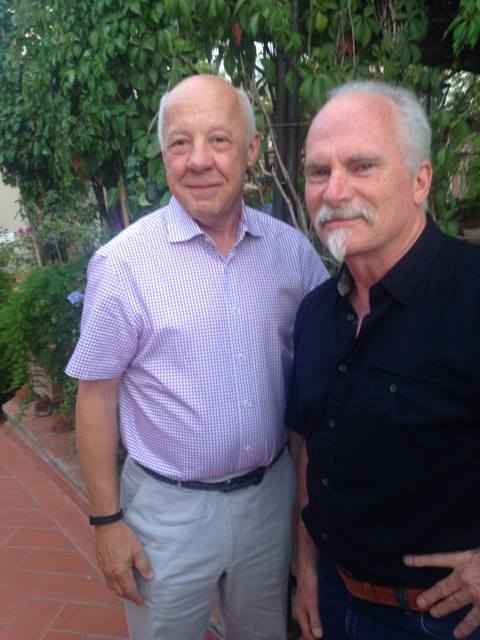 Jerome and Pablo

On this day in 1970, Bob Dylan joined Joan Baez, Pete Seeger and Arlo Guthrie at the Woody Guthrie Memorial Concert held at the Hollywood Bowl in Los Angeles, California.1970, Bob Dylan joined Joan Baez, Pete Seeger and Arlo Guthrie at the Woody Guthrie Memorial Concert held at the Hollywood Bowl in Los Angeles, California.
Woody Guthrie
On this day the 15th of September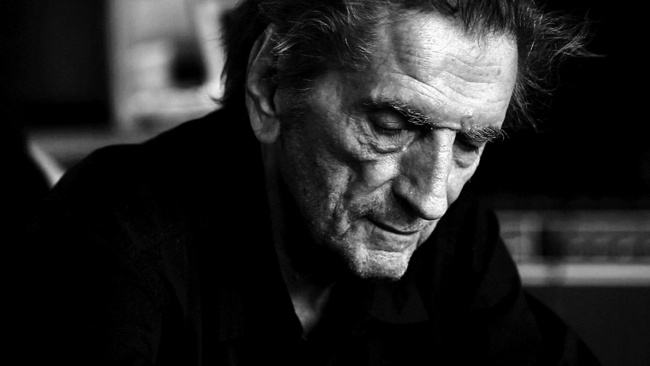 Harry Dean Stanton (b July 14, 1926) died on this day the 15tyh of September 2017 (aged 91) in Los Angeles, California. Stanton appeared in indie and cult films as well as many mainstream Hollywood productions. He also occasionally toured nightclubs as a singer and guitarist, playing mostly country-inflected cover tunes. He appeared in the Dwight Yoakam music video for "Sorry You Asked", portrayed a cantina owner in a Ry Cooder video for "Get Rhythm", and participated in the video for Bob Dylan's "Dreamin' of You". He worked with a number of musical artists, Dylan, Art Garfunkel, and Kris Kristofferson among them, and played harmonica on The Call's 1989 album Let the Day Begin.
Billboard magazine's number-one rhythm and blues hit of 1956 on September 1 was "Hound Dog"/"Don't Be Cruel" by Elvis Presley

BIG BILL BROONZY IN CONCERT WITH GRAEME BELL AND HIS AUSTRALIAN JAZZ BAND
On this day the 15th of September back in 1951 Big Bill Broonzy, with Graeme Bell And His Australian Jazz Band played a concert at the Robert Schumann Saal in Dusseldorf, Germany. The performance was recorded and released as the LP Big Bill Broonzy in Concert with Graeme Bell And His Australian Jazz Band. Big Bill Broonzy (William Lee Conley Broonzy) was born in Lake Dick, Arkansas. Born in a lake! 26th June 1893 was the date of birth Big Bill often gave but according to Bill's twin sister Laney, it may have been in 1898. Laney like many women wanted to be 5 years younger! They both learnt to swim at an early age. Bill was one of seventeen children. Bill's father Frank Broonzy (Bradley) and his mother, Mittie Belcher were hard working folk.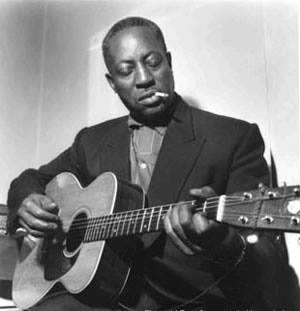 Big Bill
On this day back in 1979 Bob Dylan released the album "Slow Train Coming." It was his first religiously themed album and it is hard to believe that it outsold "Blood on the Tracks"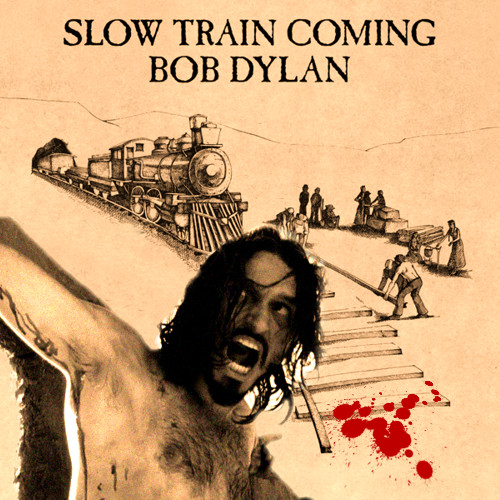 Slow Train Coming to cover Blood on the Tracks
>
On this day the 16th of September
On this day the 16th of September back in 1925 Riley King was born in Itta Bena, Mississippi, USA. He found fame as blues guitarist B.B.King. When I was visiting the impressive Gothic Cathedral in Cologne, Germany I viewed a large gilded and decorated triple sarcophagus that was placed behind the high altar. It contained relics of the three Kings, Freddy, Albert and BB. I had no idea the Germans were that fond of the blues!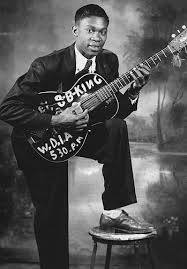 BB


T REX EXTINCT ON QUEEN'S RIDE STREET
Marc Bolan of T.Rex died September 16, 1977 He died in a car crash. His girlfriend, Gloria Jones was driving on their way back home from a restaurant. She hit a tree near Queen's Ride Street in London , killing Bolan instantly. It was believed that Jones was driving drunk. She never returned to England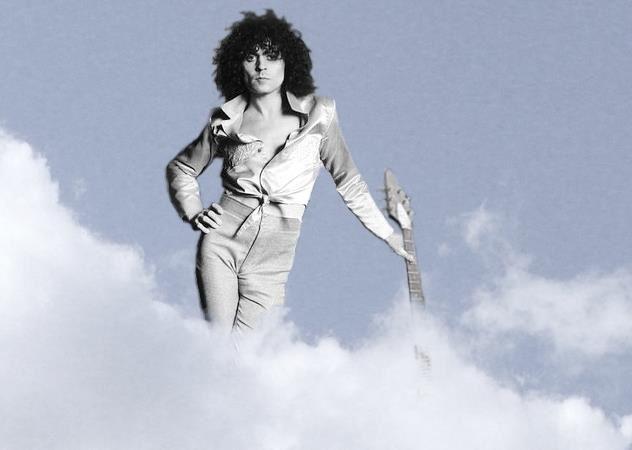 Once in heaven, Bolan still chose to dress on the left!
PYRAMIDS? WHAT PYRAMIDS?
On this day back in 1978 The Grateful Dead recorded a concert at the pyramids in Egypt.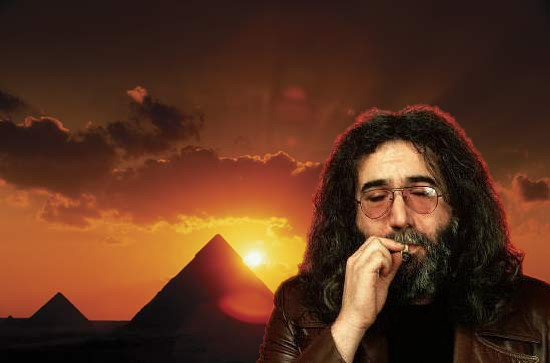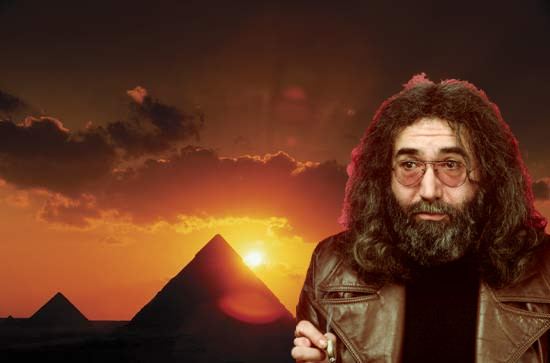 Pyramids? What pyramids?
On this day the 17th of September
SAFER ON TOP!
On this day the 17th of September backin 1954 Big Joe Turner released a new single, 'Well All Right', on Atlantic Records in the USA. Turner's original recording of 'Shake, Rattle and Roll', cut for Atlantic Records in 1954, remains one of the cornerstones numbers of the rock and roll revolution. Turner was a huge man and began his career as a bartender, bouncer and singer. In 1946, he had his first R&B hit, 'My Gal's a Jockey'. Being such a big heavy dude, his petite little gal thought it was always safer on top!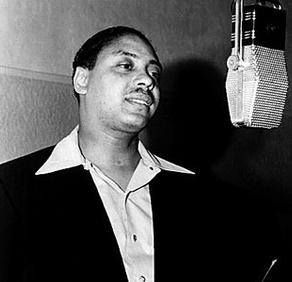 Big Joe not in top form!
PETE NOT FLASH AFTER EXPLOSION
On this day back in 1967 The Who appeared on The Smothers Brothers Comedy Hour. An incident occurred with flash explosions that damaged Pete Townshend's ears. Pete's partial deafness after that was overcome by the band playing one hell of a lot LOUDER!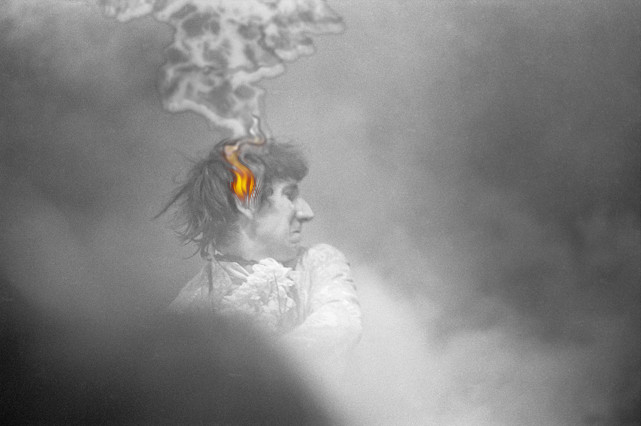 Talking ...no YELLING about My G...G...G...G Generation!
Billboard number-one rhythm and blues hit on this day:
1949 September 17: "Tell Me So" by The Orioles.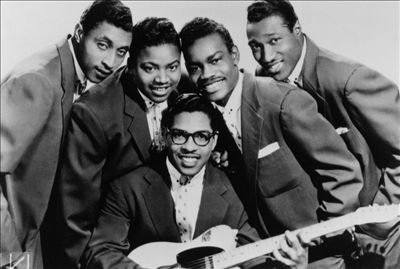 The Orioles

On this day the 18th September
On this day the 18th of September back in 1945 blues singer and guitarist Blind Willie Johnson died aged 48 in Beaumont, Texas, USA.
Cause of death? Malaria exacerbated by syphilis!
'Now I told Willie not to go messin' with no mozzies'!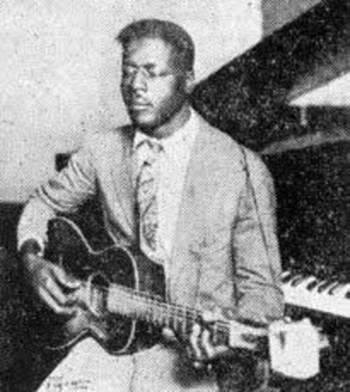 Blind Willie Johnson

'SKUSE ME WHILE I KISS THE SKY
On this day back in 1970 James Marshall "Jimi" Hendrix died in his London apartment at the age of 27. The death was from an overdose of sleeping pills.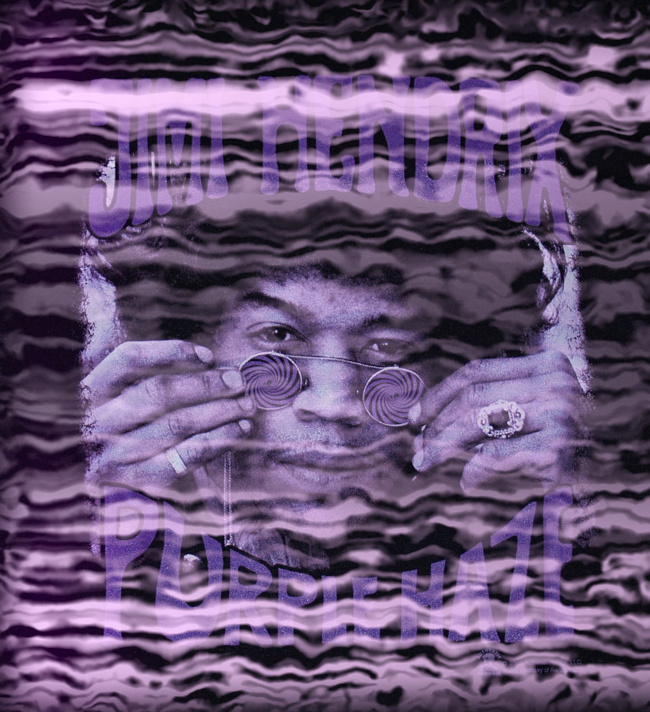 Billboard number-one rhythm and blues hit on this day:
1948 September 18: "Pretty Mama Blues" by Ivory Joe Hunter.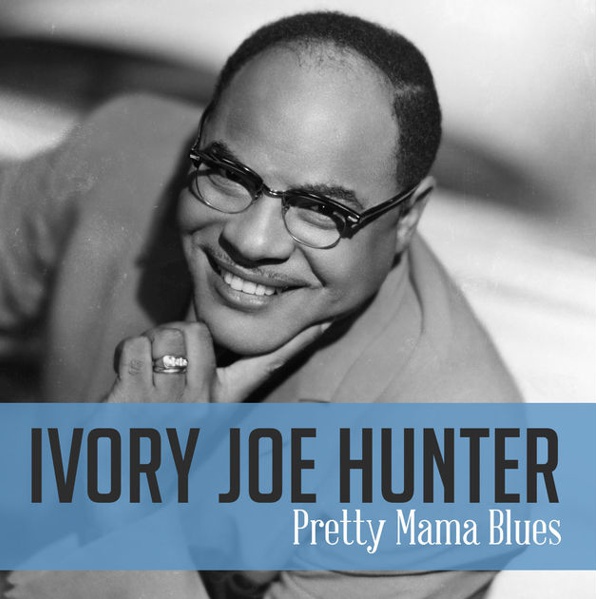 On this day the 19th of September
On this day the 19th of September back in 1933 Blind Willie McTell recorded "Love Makin' Mama" for Columbia Records in New York City, USA. If he was was singing about his cosy companion Ruthy Kate Williams (pictured) then all I can say is it was a good thing ol' Willie was blind!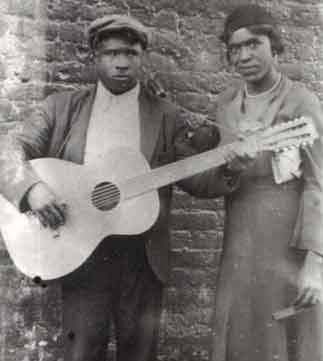 Blind Willie McTell and Ruthy Kate Williams
PRICKLY DEATH IN JOSHUA TREE
September 19, 1973 Gram Parsons died after several days of partying at the Joshua Tree Inn in Joshua Tree, California, he died of drug toxicity brought on by extreme drug use over several days, and weeks worth of multiple drug use. Odd circumstances ensued, with his body/coffin being stolen by friends, who burned them up near Cap Rock in the Joshua Tree National Monument. Eventually, his remains were returned to New Orleans , Louisiana .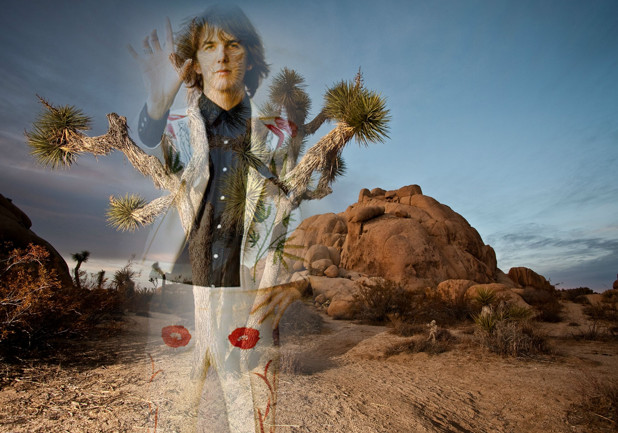 Gram's toxic mix!
On this day the 20th of September
CONCUSSED!
On this day the 20th of September back in 1954 T-Bone Walker played the forth night in a two-week stay at The Flame Show Bar, Detroit, Michigan, USA. T-Bone's performances were raw at first but man he was cookin' when he discovered The Bar's specialty was Tanqueray Gin with flame grilled T-Bone. Things were going really well with the floor show until he was concussed by a flying pussy!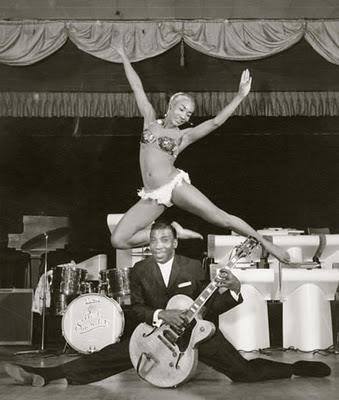 Back in 2014 Jerome Douvendahns was nearly arrested in Lake Como, Italy!
While taking an exquisite photo of the lake with a swan in the fore-ground hewas confronted by the Carabinieri because they thought heshould be using the public toilet!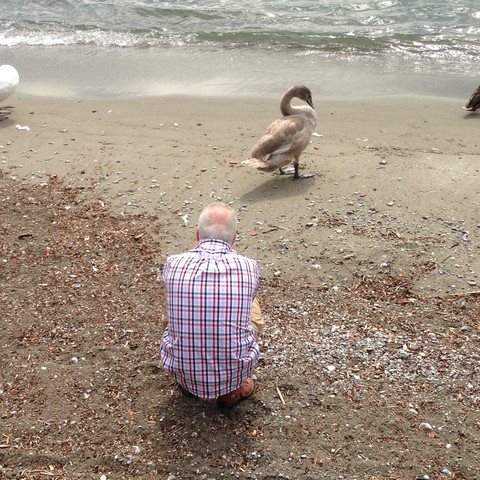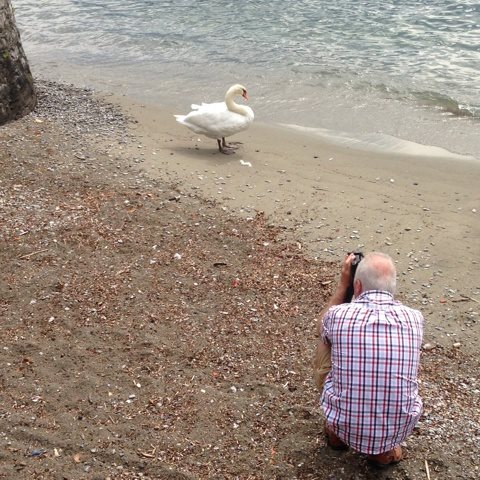 1973, On his way to perform his second concert of the day, US singer, songwriter Jim Croce was killed with five others when his chartered aircraft hit a tree on take off in Louisiana.
On this day the 21st of September
CRUTCH CRAMP STRIKES
On this day the 21st of September back in 1954 T-Bone Walker managed to play the fifth night of a two-week stay at The Flame Show Bar, Detroit, Michigan, USA. After recovering from being concussed by a flying pussy the night before he was on this night unfortunately struck down with a severe cramp of the crutch ...never to rise again!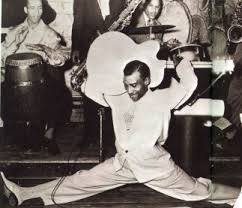 1980, During a North American tour, Bob Marley collapsed while jogging in New York's Central Park. After hospital tests he was diagnosed as having cancer. Marley played his last ever concert two nights later at the Stanley Theater in Pittsburgh, Pennsylvania.
Billboard number-one rhythm and blues hit on this day:
1959 September 21: "I Want to Walk You Home" by Fats Domino.

On this day the 22nd of September
On this day the 22nd of September back in 1954 T-Bone Walker remarkably managed to play the sixth night of a two-week engagement at The Flame Show Bar, Detroit, Michigan, USA. Concussed by a flying pussy, crippled by crutch cramp and on third night unceremoniously kneed in the crutch by a patron, all was not going well for poor T-Bone!
After this serious mishap T-Bone was known for awhile as No-Boner Walker.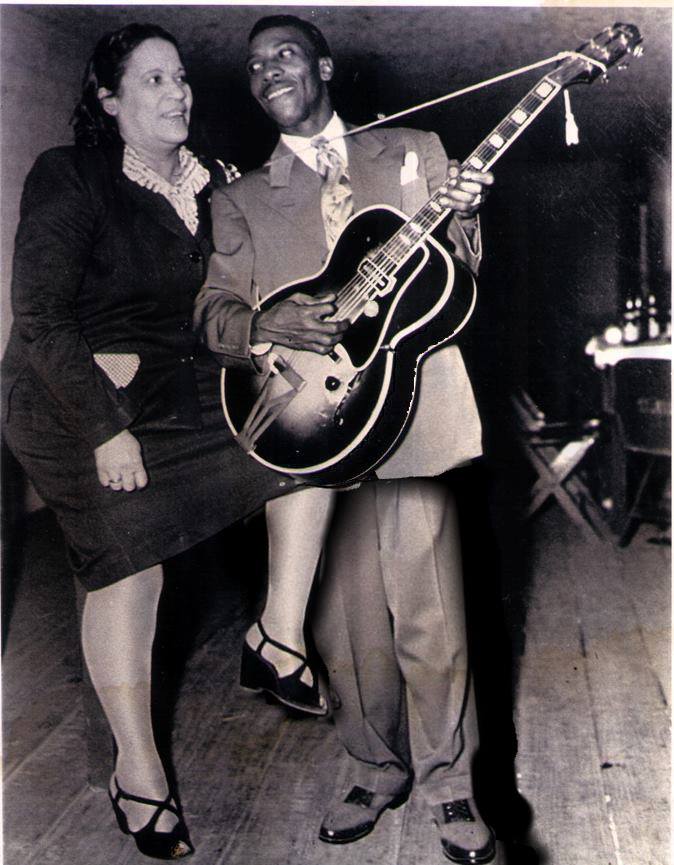 1969, The Band released their self-titled album, which peaked at No.9 on the US chart, and included Rag Mama Rag, Up on Cripple Creek and The Night They Drove Old Dixie Down. In 2009, the album was preserved into the National Recording Registry because the album was 'culturally, historically, or aesthetically important, and reflects life in the United States.'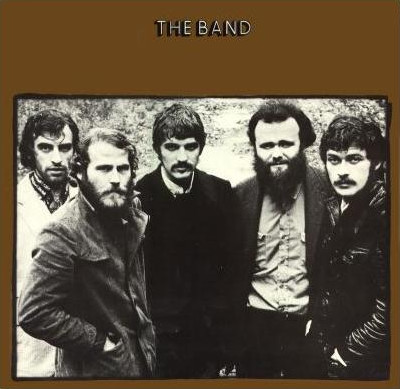 On this day the 23rd of September
Back in 1998 Elvis Presley, once rejected by the Grand Old Opry, was posthumously inducted into Nashville's Country Music Hall of Fame. Elvis couldn't make it to the Induction Ceremony.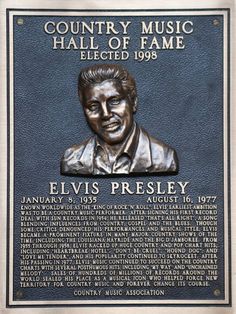 On this day back in 1967, Traffic made their live debut when they appeared at Saville Theatre in London, featuring Steve Winwood.
On this day the 24th of September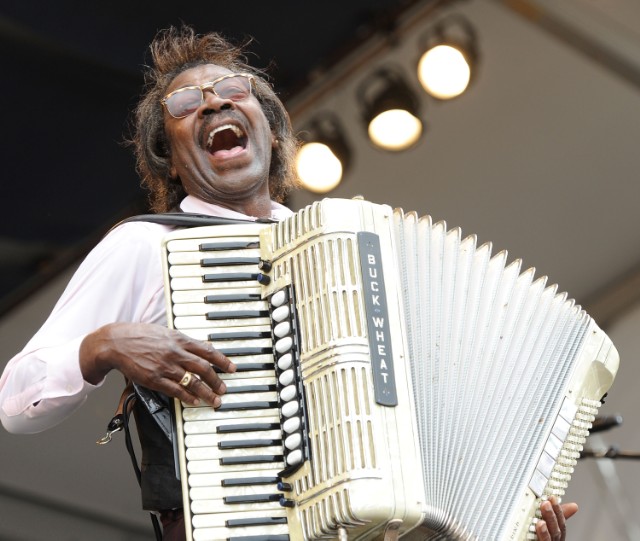 On this day September 24, 2016 Stanley Dural, the famed Louisiana accordionist better known as Buckwheat Zydeco, died of lung cancer. According to a statement from his manager, "He died at 1:32 AM Louisiana time, keeping musician's hours right to the bitter end." He was 68.
Born in 1947 in Lafayette, Louisiana, Buckwheat was interested in music from an early age. His father was a traditional Creole accordion player, but Buckwheat chose the organ, playing in several funk and R&B bands before picking up the accordion and returning to his zydeco roots in 1978. After forming his own band and signing to Island Records in 1986, he became zydeco's biggest star, crossing over to mainstream success with performances at President Bill Clinton's inaugurations and the closing ceremony of the 1996 Olympics in Atlanta and shows with Eric Clapton and Lyle Lovett. In 2009, he won a Grammy for his album Lay Your Burden Down.
Buckwheat is survived by his wife, Bernite Dural, and five children: Stanley Paul Dural III, April Germain Dural, Stacie Durham, Tomorrow Lynn Dural, and Sir Reginald M. Dural, who played in his band on rubboard and keyboards.
Born on this day back in 1893 Blind Lemon Jefferson.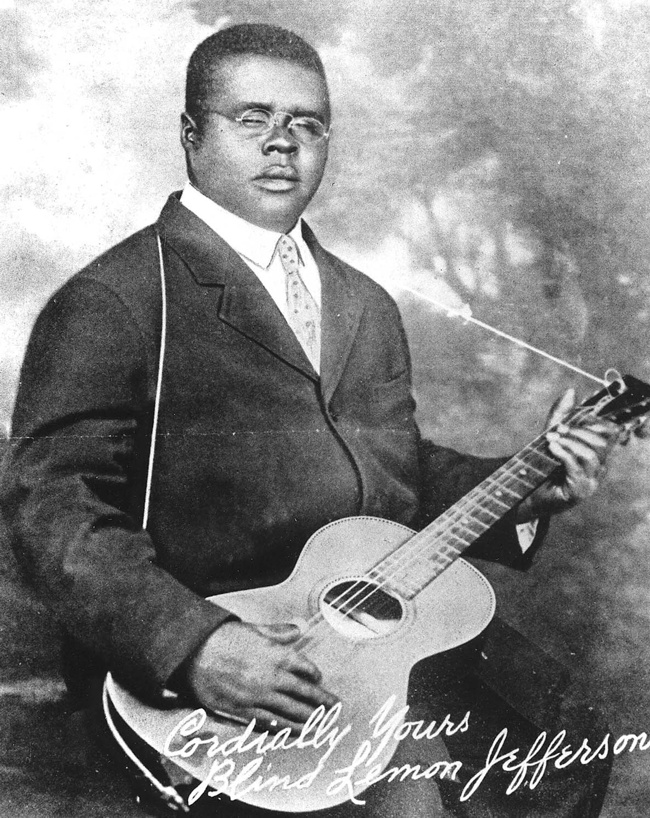 Back in 1999 Hank Williams was the subject of the first-ever country music symposium at the Smithsonian Institution in Washington, D.C. "A Tribute To Hank Williams" began with Lucinda Williams, Kim Richey, Kathy Mattea, and Steve Earle performing the works of the late country music godfather.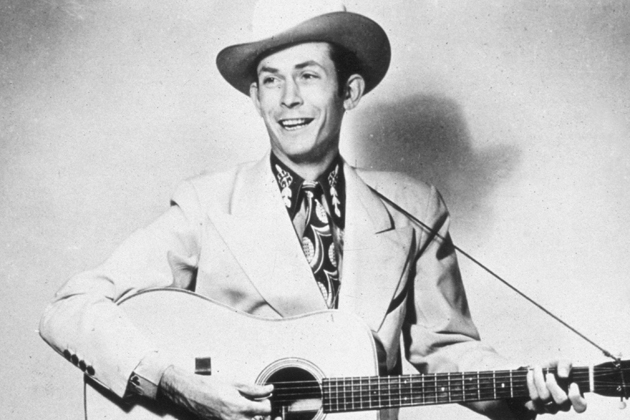 PAPA NEEDS A BRAND NEW BAG
Back in 1988 James Brown led police on an hour-long, two-state car chase starting in Augusta, Georgia. Brown was arrested and eventually served two years for a variety of charges.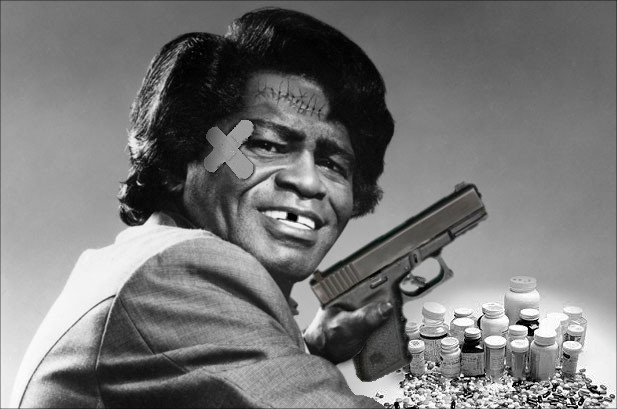 Papa needs a brand new bag!
On this day the 25th of September
BOTTOMS UP! THROWS UP! PEGS OUT!
Back in 1980 Led Zeppelin drummer John Bonham died at age 32 of asphyxiation from vomiting after a night of heavy drinking. Tired after putting out all the empties, the band decided to break up.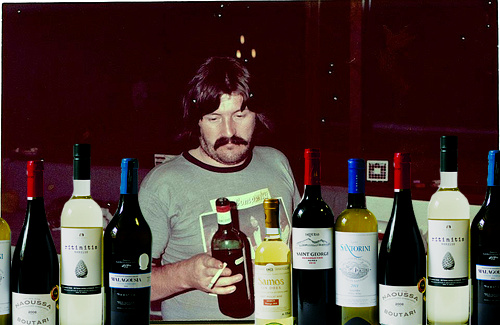 John with the drinks ahead of him!

MY HEART IS CRYING
1975, Jackie Wilson had a heart attack while performing live on stage at the Latin Casino, New Jersey. Wilson collapsed into a coma suffering severe brain damage. Ironically, he was in the middle of singing one of his biggest hits, 'Lonely Teardrops' and was two words into the line, "....my heart is crying" when he collapsed to the stage, striking his head heavily.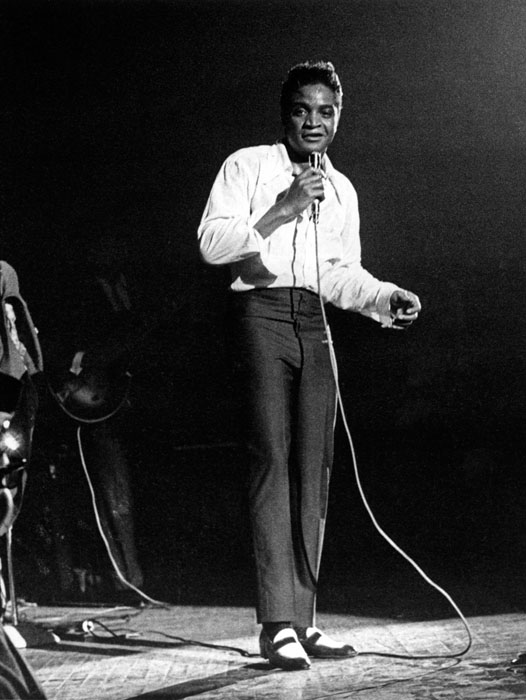 "Lonely Teardrops. My heart is ..."
.

On this day the 26th of September
On this day the 26th of September, Robert Palmer the British singer known especially for his videos for the songs "Addicted to Love" and "Simply Irresistible" featuring identically dressed models as his backup "band" died from a heart attack at the age of 54.
Cause of Death: A MAN CAN ONLY TAKE SO MUCH!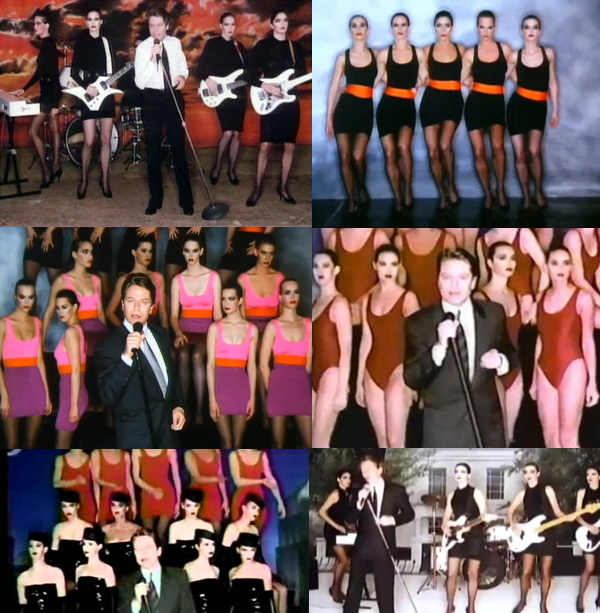 On this day the 26th of September back in 1954 T-Bone Walker played the tenth night of a two-week stay at The Flame Show Bar, Detroit, Michigan, USA. Aaron Thibeaux Walker was born in Linden, Texas, of African-American and Cherokee descent. Walker's parents, Movelia Jimerson and Rance Walker, were both musicians. T-Bone's name was a corruption of his middle name 'Thibeaux'. Walker's career began to wind down after he suffered a stroke in 1974. He died of bronchial pneumonia following another stroke in March 1975, at the age of 64.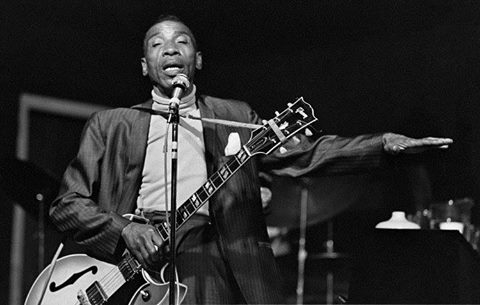 2007: Phil Spector's first trial in the murder case of Lana Clarkson in 2003 ends in a hung jury, with 10 guilty votes and two not guilty. A retrial begins the next year, and he is eventually found guilty.

LUCKY PUNCH LANDED BY BAND
1965: At the end of a European tour Roger Daltry knocked out Keith Moon and the singer was sacked from The Who. The band were playing two shows in one night in Denmark, when an argument broke about between all four band members. Daltrey was reinstated the following day.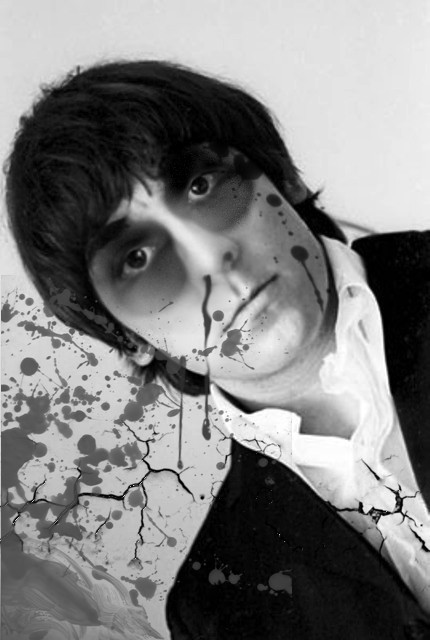 Keith checks in the mirror after Daltrey's lucky punch.

>
On this daythe 27th of September
SPECTOR CREATES WALL OF BLOOD
Back in 2004 Legendary nutter and rock producer Phil Spector, best known for creating the "Wall Of Sound" on hits like The Ronettes' "Be My Baby" and The Righteous Brothers' "You've Lost That Lovin' Feelin'," was indicted for the February 2003 murder of actress Lana Clarkson at his estate in Alhambra, California.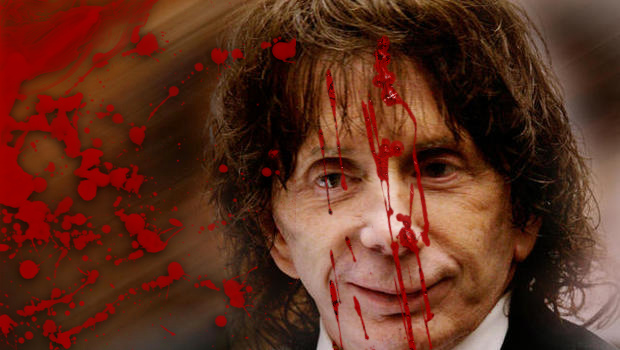 Photo caption: "I think I killed someone."
27!
An unlucky number for the "27 Club". The fact that many influential talents in rock history died at the age of 27 is bizarre.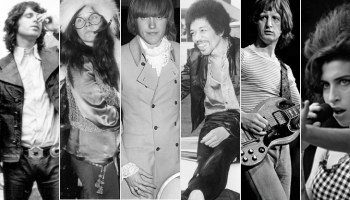 RORY NO LONGER KICKING UP A STORM
1972, Rory Storm singer from UK 60's group Rory Storm and the Hurricanes died aged 32 after taking an overdose of sleeping pills in a suicide pact with his mother. Ringo Starr played drums with Storm before joining The Beatles.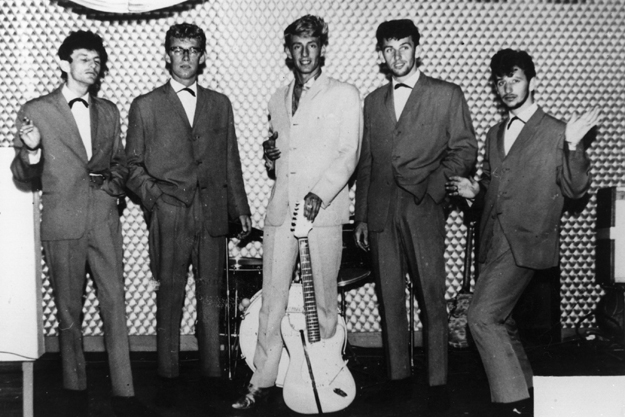 Billboard number-one rhythm and blues hit on this day:
1952 September 27: "My Song" by Johnny Ace and "Juke" by Little Walter.
On this day the 28th of September
Born on this day back in 1935: Koko Taylor, [Cora Walton], US vocalist (Queen of the Blues)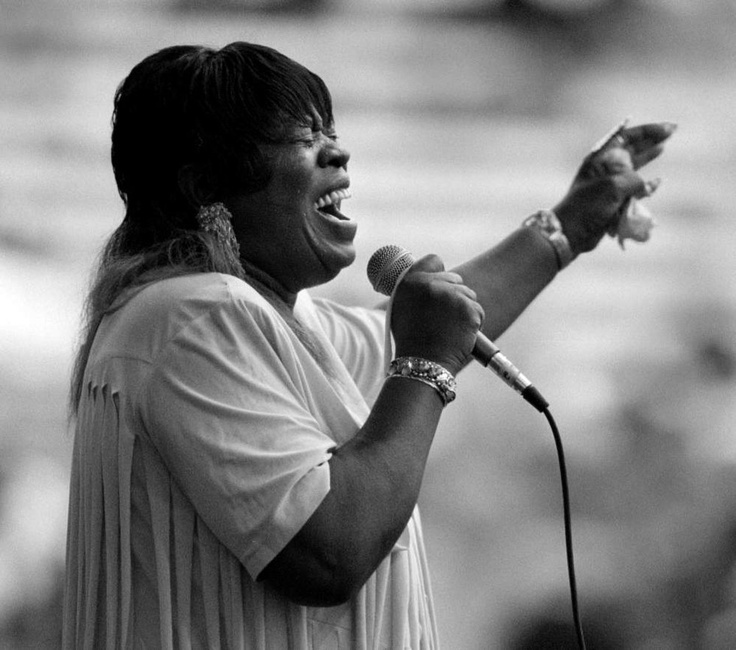 Back in 1997 The 103rd convention of the Audio Engineering Society (AES), featured the official US debut of the DVD audio format, was held in New York. DVD-Audio is a format for delivering high fidelity audio content on a DVD. It offers many channel configuration options (from mono to 5.1 surround sound) at various sampling frequencies (up to 24-bits/192 kHz versus CDDA's 16-bits/44.1 kHz). Compared with the CD format, the much higher-capacity DVD format enables the inclusion of considerably more music (with respect to total running time and quantity of songs) and/or far higher audio quality (reflected by higher sampling rates and greater sample resolution, and/or additional channels for spatial sound reproduction).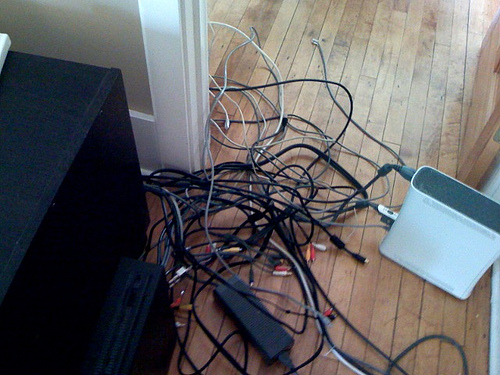 Bottom line? A lot more speakers to setup and a lot more wiring to contend with!
1991, American jazz trumpeter, bandleader, and composer Miles Davis died of a stroke and pneumonia. His 1959 album 'Kind of Blue', is a major influence on jazz music. Davis is considered one of the most influential musicians of the 20th century.
On this day the 29th of September
MISSED ...BOTH TIMES!
Back in 1976 at his 41st birthday party, a drunk Jerry Lee Lewis attempts to shoot a soda bottle with his .357 Magnum and instead hits his bass player, Norman Owens, twice in the chest. Missed both times! Owens made a full recovery and vowed never to carry a soda bottle again.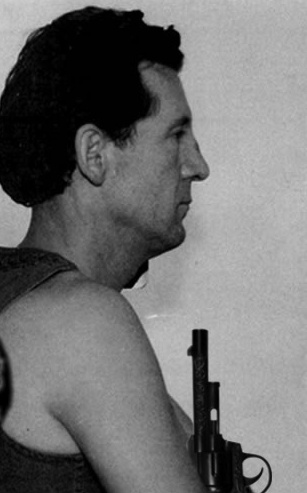 On this day the 30th of September
On this day the 30th of September back in 1955 James Dean died in a car accident at age 24. He would show up in the lyrics to many songs, including Don McLean's "American Pie." The Eagles even released a song called "James Dean."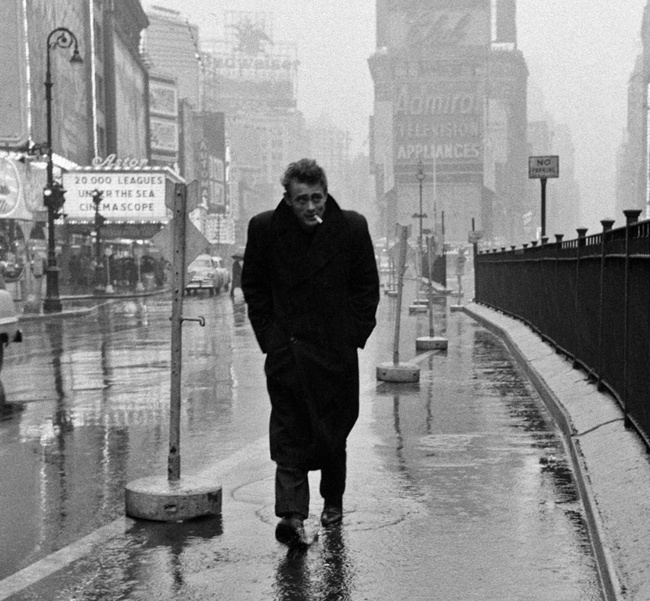 Jimmy after viewing the latest Disney film.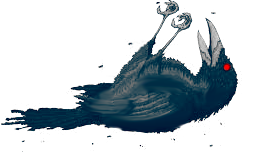 AFL Grand Final 2017
Crows slugged by 48 points!