BLUES TIME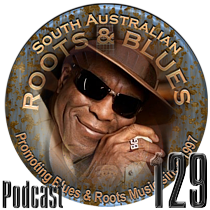 Press Play
Podcast 129 from SA Roots and Blues
ARTIST | ALBUM | TRACK
1 Buddy Guy - Living Proof - Living Proof.
2 Lloyd Spiegel - Tangled Brew - Rock and a hard place.
3 Brother Dege - Folk Songs Of The - Too Old to Die Young.
4 Nick Moss and The Fliptops - Privileged - Georgia Redsnake.
5 Jay Gaunt - Harmonicopia - Rattlesnake Shake
6 Tribute to Big Joe Williams - Cal williams Jr - Highway 49 Blues.
7 Cyndi Lauper - Rollin and tumblin - Memphis Blues.
8 Little Axe - Bought for a dollar Sold for a dime - Another friend is gone.
9 Don Morrison - Random Notes - Some Blues.
10 Delta Moon - Hellbound Train - Hellbound Train.
11 Moreland and Arbuckle - Flood - Hate To See You Go.
12 Sweet Baby James and Rob Eyers - Double Voodoo Blues - T. alkin me down.
13 Janiva Magness - The devil is an angel too - Homewrecker.
14 Seasick Steve - Songs for Elizabeth - Dr. Jekyll and Mr. Hyde.
15 The Holmes Brothers - Feed my soul - Rounding Third.,
16 Kirk Special - The fewer the facts the stronger the opinion - Arkansas.
17 The Derek Trucks Band - Roadsongs - Down In The Flood.
Audio Stream Quality: MP3.
Bitrate:56kb/s. Sample Rate: 22050Hz. Channels: Stereo.

Thanks to the musicians, promoters and distributors
who have allowed us to present their music.
Subscribe to SA Roots& Blues
(It's FREE) and obtain your 'user name' and 'password' to the 'Subscribers' page and download the latest quality MP3 (MP3PRO VBR of 95-150 kbps)podcasts to your Player!
'Blues Time' comes your way once a month. It draws its play list from the genres of acoustic and electric blues. Each podcast highlights new and recent releases. Duration is about an hour.

'SA Roots and Blues' is a non profit organisation. Our aim is to promote roots and blues music to an ever increasing patronage.