The Roots and Blues Hour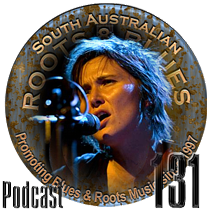 Press Play
Podcast 131 from SA Roots and Blues
Roots Highlights of 2010 Pt2.
ARTIST | ALBUM | TRACK
1 Annie Keating - Water Tower View - Scene of the crime.
2 Ray Lamontagne - God Willin´ and The Creek Don´t Rise - New York City is killing me.
3 The Steel Wheels - Redwing - Long Way To Go.
4 Dirtmusic - BKO - If We Run.
5 Alejandro Escovedo - Street Songs of Love - Anchor.
6 Basia Bulat - Heart of my Own - Go On.
7 Natalie Merchant - Leave Your Sleep - Nursery Rhyme Of Innocence And Experience.
8 Drive-By Truckers - The Big To-Do - After The Scene Dies.
9 Angus And Julia Stone - Down The Way - Black Crow.
10 Julia Stone - Catastrophe - Caheso.
11 Ropckit 88 Band - Sweet Sugar Cane - Sweet Sugar Cane.
12 Carrie Rodriguez - Love And Circumstance - Lover's Prayer.
13 The Reverend Peyton's Big Damn Band - The Wages - Clap Your Hands.
14 The Washers - Devil's Name - Too Late for Love.
Audio Stream Quality: MP3.
Bitrate:56kb/s. Sample Rate: 22050Hz. Channels: Stereo.

Thanks to the musicians, promoters and distributors
who have allowed us to present their music.
Subscribe to SA Roots& Blues
(It's FREE) and obtain your 'user name' and 'password' to the 'Subscribers' page and download the latest quality MP3 (MP3PRO VBR of 95-150 kbps)podcasts to your Player!
'The Roots and Blues Hour' once a month presents a rich mature selection from the genres of roots, alt. country, blues, folk and indie alt. rock. Each podcast highlights new and recent releases from these genres. Podcast duration is about an hour.

'SA Roots and Blues' is a non profit organisation. Our aim is to promote roots and blues music to an ever increasing patronage.