BLUES TIME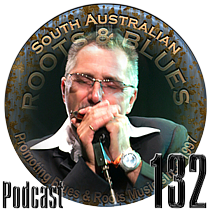 Press Play
Podcast 132 from SA Roots and Blues
ARTIST | ALBUM | TRACK
1 Jules Boult - Mark my words - Mark my words.
2 Paul Lamb and The King Snakes* - Mind Games - Come To The Conclusion.
3 The Delta Flyers - Sixteen Bars - Baby Jane.
4 Retro Deluxe - Watermelon Tea - What in the devil did I do last night.
5 Belmont Playboys - Complicated life - Bad Man.
6 Rockit 88 Band - Sweet Sugar Cane - I Never Knew The Blues.
7 Eli Paperboy Reed - Come and get it - Tell me what I wanna hear.
8 Grand Marquis - Hold on to me - Saint James Infirmary Blues.
9 Jesse Deane-Freeman Trio - Introducing - Funny.
10 Tas Cru - Jus' Desserts - Dat maybe.
11 Trouble and Strife - Trouble and Strife - Millie's blues.
12 Mick Kidd - Quick 6 pack attack -You dont know.
13 Blues International - Sooth and Slippery at Atlantis - Smooth or slippery.
14 Joe Pitts - Ten Shades Of Blue - I'm Worried.
15 Dave Riley and Bob Corritore - Lucky To Be Living - Sharecropper Blues.
Audio Stream Quality: MP3.
Bitrate:56kb/s. Sample Rate: 22050Hz. Channels: Stereo.

Thanks to the musicians, promoters and distributors
who have allowed us to present their music.
Subscribe to SA Roots& Blues
(It's FREE) and obtain your 'user name' and 'password' to the 'Subscribers' page and download the latest quality MP3 (MP3PRO VBR of 95-150 kbps)podcasts to your Player!
'Blues Time' comes your way once a month. It draws its play list from the genres of acoustic and electric blues. Each podcast highlights new and recent releases. Duration is about an hour.

'SA Roots and Blues' is a non profit organisation. Our aim is to promote roots and blues music to an ever increasing patronage.