The Roots and Blues Hour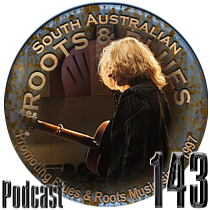 Press Play
Podcast 143 from SA Roots and Blues
ARTIST | ALBUM | TRACK
1 Marisa Yeaman - Roadmap Heart - Dirty Hands.
2 54-40 - Northern Soul - One Hundred Songs.
3 Ghost Trains - Sniffing aropund LA - Liar.
4 Chris Altmann - Que Paso - Who Knows Where.
5 Susan Cattaneo - Heaven to Heartache - Gotta Get Gone.
6 David Mayfield - The David Mayfield Parade - I Just Might Pray.
7 Amanda Shires - Carrying Lightning - Swimmer.
8 Carmen Townesend - Waitin' and Seein' - Start All Over.
9 Jeff Talmadge - Kind of Everything - If It Wasn't For the Wind.
10 Matraca Berg - The Dreaming Fields - If I Had Wings.
11 Jeffrey Foucault - Horse Latitudes - Starlight And Static.
12 Emma Hill and Her Gentlemen Callers - Meet Me At The Moon - Meet Me At The Moon.
13 Leroy Lee - Leroy Lee - Sweet Lady Sugarcane.
14 The Mahones - The Black Irish - Give It All Ya Got.
15 Nadia Kazmi - The Songs of Leonard Cohen - Why Don't You Try.
16 Ken Whiteley - Another Day's Journey - Another Day's Journey.
17 Marisa Yeaman - Voices from the Underground - Roadcase Blues.
Audio Stream Quality: MP3.
Bitrate:56kb/s. Sample Rate: 22050Hz. Channels: Stereo.

Thanks to the musicians, promoters and distributors
who have allowed us to present their music.
Subscribe to SA Roots& Blues
(It's FREE) and obtain your 'user name' and 'password' to the 'Subscribers' page and download the latest quality MP3 (MP3PRO VBR of 95-150 kbps)podcasts to your Player!
'The Roots and Blues Hour' once a month presents a rich mature selection from the genres of roots, alt. country, blues, folk and indie alt. rock. Each podcast highlights new and recent releases from these genres. Podcast duration is about an hour.

'SA Roots and Blues' is a non profit organisation. Our aim is to promote roots and blues music to an ever increasing patronage.