The Roots and Blues Hour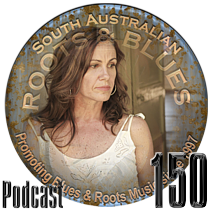 Press Play
Podcast 150
from
SA Roots and Blues
ARTIST | ALBUM | TRACK
1 Sara Tindley - Time - Yellow Moonlight.
2 The Deep Dark Woods - The Place I Left Behind - The Place I Left Behind.
3 Amy Lashley - Travels of a homebody - Homebody blues.
4 Joe Henry - Reverie - Dark Tears.
5 Kami Thompson - Love Lies - Don't Bother Me.
6 Lucie Thorne - Bonfires in Silver City - Great Wave.
7 Red Molly - Light in the Sky - Come On In My Kitchen.
8 Lanie Lane - To the Horses - Like Me Meaner.
9 Davidson Brothers - Here to Stay - Victoria.
10 Gory Bateson - Is That Viral Enuf 4 U - Road Rage.
11 Great White Caps - Sting Of Death - Sting Of Death.
12 Fred Eaglesmith - 6 Volts - Cemetery Road.
13 BlacktopGYPSY - Whirlwind - Too Far From Texas.
14 Nathan Bell - Black Crow Blue - American crow.
15 Cowboy Junkies - Sing in My Meadow - Sing in My Meadow.
16 Katherine Maclellan - Silhoutte - Stealin'.
17 Bravo, Max! - Dog's Light Here - Dog's Light.
Audio Stream Quality: MP3.
Bitrate:56kb/s. Sample Rate: 22050Hz. Channels: Stereo.

Thanks to the musicians, promoters and distributors
who have allowed us to present their music.
Subscribe to SA Roots& Blues
(It's FREE) and obtain your 'user name' and 'password' to the 'Subscribers' page and download the latest quality MP3 podcasts to your Player!
'The Roots and Blues Hour' once a month presents a rich mature selection from the genres of roots, alt. country, blues, folk and indie alt. rock. Each podcast highlights new and recent releases from these genres. Podcast duration is about an hour.

'SA Roots and Blues' is a non profit organisation. Our aim is to promote roots and blues music to an ever increasing patronage.