BLUES TIME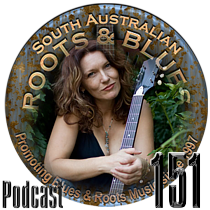 Press Play
Podcast 151 from SA Roots and Blues
ARTIST | ALBUM | TRACK
1 Lisa Mills - Tempered with fire - Why do I still love you.
2 Spectrum - Breathing space as well - Soul man
3 Shaun Kirk - Thank You For Giving Me The Blues - Steam Train.
4 Ash Grunwald - Give Signs - Skywriter.
5 Hat Fitz & Cara Robinson - Beauty & the Beast - Black Cat Bone.
6 The Backsliders - Starvation Box - Shotgun Blues.
7 Gus McKay - Roadrunner Blues - Hustle.
8 Bert Deivert - Kid man blues - Rob and Steal.
9 Niecie - Beyond the surface - Skin To Skin.
10 Savoy Brown - Voodoo Moon - Natural Man.
11 Scott Elllison - Walkin' through the fire - Walkin' through the fire.
12 Claudette King - We're Onto Something - We're Onto Something.
13 Dennis Coffey - Dennis Coffey - Somebody's Been Sleeping.
14 Hadden Sayers - Hard Dollar - All I Want Is You.
15 Jim Armstrong - Junction Road - One day at a time.
16 Matt Andersen - Coal Mining Blues - Heartbreaker.
17 RB Stone - Lonesome Travellers Blues - Fairweather Friends Blues.
18 Mark Robinson - Quit your job play guitar - I Know You'll Be Mine.
19 Terry Quiett Band - Just My Luck - Signs of Decline.
20 Tommy Lee Cook - Outside Looking In - What You Gone Do.
21 Jim Allchin - Overclocked - Overclocked.
22 Lloyd Jones - Highway Bound - Travellin' On.
Audio Stream Quality: MP3.
Bitrate:56kb/s. Sample Rate: 22050Hz. Channels: Stereo.

Thanks to the musicians, promoters and distributors
who have allowed us to present their music.
Subscribe to SA Roots& Blues
(It's FREE) and obtain your 'user name' and 'password' to the 'Subscribers' page and download the latest quality MP3 (MP3PRO VBR of 95-150 kbps)podcasts to your Player!
'Blues Time' comes your way once a month. It draws its play list from the genres of acoustic and electric blues. Each podcast highlights new and recent releases. Duration is about an hour.

'SA Roots and Blues' is a non profit organisation. Our aim is to promote roots and blues music to an ever increasing patronage.