The Roots and Blues Hour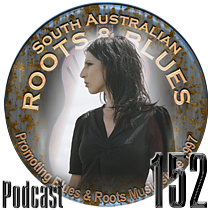 Press Play
Podcast 152
from
SA Roots and Blues
ARTIST | ALBUM | TRACK
1 Bruce Peninsula - Small Town Murder Songs - Rosie.
2 John Hiatt - Dirty Jeans and Mudslide Hymns - Damn This Town.
3 Nikki Lane - Walf of shame - Gone Gone Gone.
4 The Wailin' Jennys - Bright Morning Stars - Storm Comin'.
5 Sun Theory - Sun Theory - Remedies.
6 The Gourds - Old Mad Joy - I Want It So Bad.
7 Kami Thompson - Love Lies - Little Boy Blue.
8 Los Fabulocos feat. Kid Ramos - Dos - Everything Will Turn Out Alright.
9 Sarah Jarosz - Follow Me Down - Annabelle Lee.
10 Andrew Winton - Happy - Excitable Boy.
11 Don Gallardo - Sweetheart Radio Revolution - Before The Devil Knows Your Dead.
12 Kathleen Edwards - Voyageur - Mint.
13 Hotels and Highways - Lost River - Train Whistle.
14 The Woodpickers - Down The Line - Paradise Road.
15 Daniel Levi Goans - Brother Stranger - Brother Stranger.
16 Adalita - Adalita - The Repairer.
17 Viva Voce - The Future Will Destroy You - Analog Woodland Song.
18 Indigo Girls - Beauty Queen Sister - Beauty Queen Sister.
19 Michael on Fire - Always yes - Eat the rich.
20 Nigel Wearne - Sweetest Delusion - Suzie.
21 Bruce Peninsula - Open Flames - As Long As I Live.
22 Viva Voce - The Future Will Destroy You - Plastic Radio.
Audio Stream Quality: MP3.
Bitrate:56kb/s. Sample Rate: 22050Hz. Channels: Stereo.

Thanks to the musicians, promoters and distributors
who have allowed us to present their music.
Subscribe to SA Roots& Blues
(It's FREE) and obtain your 'user name' and 'password' to the 'Subscribers' page and download the latest quality MP3 podcasts to your Player!
'The Roots and Blues Hour' once a month presents a rich mature selection from the genres of roots, alt. country, blues, folk and indie alt. rock. Each podcast highlights new and recent releases from these genres. Podcast duration is about an hour.

'SA Roots and Blues' is a non profit organisation. Our aim is to promote roots and blues music to an ever increasing patronage.