The Roots and Blues Hour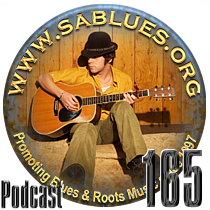 Press Play
Podcast 165
from
SA Roots and Blues
ARTIST | ALBUM | TRACK
1 Langhorne Slim* and the Law - The Way We Move - Fire.
2 Bo Deans - American Made - All the World.
3 Shawn Colvin- All Fall Down - All Fall Down.
4 Little Feat - Rooster Rag - Church Falling Down.
5 Anais Mitchell - Young Man in America - Young Man in America.
6 Brandi Carlile - Bear Creek - Raise Hell.
7 Goldstein - The Forgotten Ones - The Battler.
8 The Gords - Pick - Old Dreams Die Hard.
9 Hannah and Maggie - Muscle and Bone - Muscle and Bone.
10 The Honeycutters - When Bitter Met Sweet - Penny.
11 The JD Edwards Band - Roads and Roads - Singin all the Way Home.
12 Thompson Square - Thompson Square - Getaway Car.
13 The Washers - Tired Eyes - Bag of Bones.
14 Jerry Douglas - Traveler - On A Monday.
15 Langhorne Slim and the Law - The Way We Move - Someday.
16 Langhorne Slim - Be set free - Yer Wrong.
*
pictured
Audio Stream Quality: MP3.
Bitrate:56kb/s. Sample Rate: 22050Hz. Channels: Stereo.

Thanks to the musicians, promoters and distributors
who have allowed us to present their music.
Subscribe to SA Roots& Blues
(It's FREE) and obtain your 'user name' and 'password' to the 'Subscribers' page and download the latest quality MP3 podcasts to your Player!
'The Roots and Blues Hour'
Once a month Jerome Douvendahns presents a rich mature selection from the genres of roots, alt. country, blues, folk and indie alt. rock. Each podcast highlights new and recent releases from these genres. Podcast duration is about an hour.