Podcast 180.
March 2013's Blues Time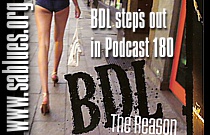 March 2013's BLUES TIME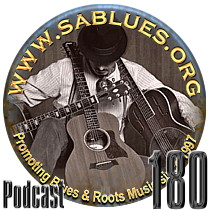 Press Play
Podcast 180 from SA Roots and Blues
ARTIST | ALBUM | TRACK
1 Big Daddy Lee - The Reason - Going Out Tonight.
2 Jack Derwin* - Covered All in Blue - Room to Move.
3 Mark Robinson - Have Axe Will Groove - Blue Moon Howl.
4 Iron Mike Norton - Bad Monkey - Got'dem Moves.
5 Heart Attack Alley - Living in Hell - Living in Hell.
6 Sugarcane Collins - Downunder the Blues - Downunder the Blues.
7 The Reverend Peyton's Big Damn Band - Between The Ditches - The Money Goes.
8 Mia Dyson - When the moment comes - When the moment comes.
9 4Jacks - Deal with it - She Ain't Worth A Dime.
10 Dennis Gruenling - Rockin' All Day - Rockin' All Day.
11 Big Bill Morganfield - Blues With A Mood - Feel Alright.
12 Juke Joint Jonny - Pure and Simple - Going To Mississippi.
13 Arthur 'Big Boy' Crudup - The Blues - Mean Ol' Frisco.
14 Teeny Tucker - Voodoo To Do You - Love Spell.
15 Michael Colton - EP - Stones in my Passway
16 Nick Waterhouse - Time s all gone - Say I Wanna Know.
17 Blues Blend - One More Turn - Let s Sleep In Late.
* pictured
Audio Stream Quality: MP3.
Bitrate:56kb/s. Sample Rate: 22050Hz. Channels: Stereo.

Thanks to the musicians, promoters and distributors
who have allowed us to present their music.
Subscribe to SA Roots& Blues
(It's FREE) and obtain your 'user name' and 'password' to the 'Subscribers' page and download the latest quality MP3 podcasts to your Player!
'Blues Time' comes your way once a month. It draws its play list from the genres of acoustic and electric blues. Each podcast highlights new and recent releases. Duration is about an hour.

'SA Roots and Blues' is a non profit organisation. Our aim is to promote roots and blues music to an ever increasing patronage.