Podcast 186.
June 2013's Blues Time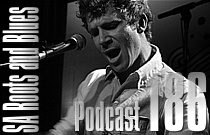 featuring Owen Campbell.
June 2013's BLUES TIME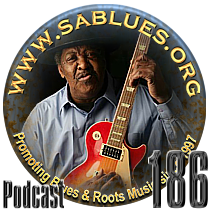 Press Play
Podcast 186 from SA Roots and Blues
ARTIST | ALBUM | TRACK
1 Owen Campbell - The Pilgrim - Wreckin Ball.
2 Charlie Patton's War - Charlie Patton's War - Git Gone.
3 Randall Bramblett - The Bright Spot - Roll.
4 Magic Slim* & The Teardrops - Bad Boy - Bad Boy.
5 Seasick Steve - Hubcap Music - The Way I Do.
6 The Duke Robillard Band - Independently Blue - Laurene.
7 The James Hunter Six - Minute By Minute - Minute By Minute.
8 James Cotton - Cotton Mouth Man - Cotton Mouth Man.
9 Chris Cotton - I Watched the Devil Die - Blues for Big Bill.
10 Keith Hall and Pat Dow - Blues Hall - Going Home.
11 Shaun Kirk - The Wick Swessions - Am I Wrong.
12 The Five Blind Boys of Alabama - Platinum Gospel - It's Alright.
13 Rich Mahan - Blame Bobby Bare - Loose Lucy (Single).
14 DownTown Mystic - No Exceptions (Single).
15. Mannish Boys - Double Dynamite - Mannish Boy.
16 Tinsley Ellis - Get It! - Anthem for a Fallen Hero.
* pictured
Audio Stream Quality: MP3.
Bitrate:56kb/s. Sample Rate: 22050Hz. Channels: Stereo.

Thanks to the musicians, promoters and distributors
who have allowed us to present their music.
Subscribe to SA Roots& Blues
(It's FREE) and obtain your 'user name' and 'password' to the 'Subscribers' page and download the latest quality MP3 podcasts to your Player!
'Blues Time' comes your way once a month. It draws its play list from the genres of acoustic and electric blues. Each podcast highlights new and recent releases. Duration is about an hour.

'SA Roots and Blues' is a non profit organisation. Our aim is to promote roots and blues music to an ever increasing patronage.