Podcast 201.
Jan 2014's Blues Time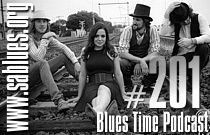 featuring Blue Eyes Cry.
Feb 2014's BLUES TIME
Press Play
Podcast 201 from SA Roots and Blues
1 Oklahoma Johnny Blue - No Separation EP - Hole in the head.
2 Dixie Peach - Blues with Friends - Too Much Trouble.
3 Blue Eyes Cry - Sleepin' Alone - Fed Up.
4 Jason Vivone and The Billybats - Eddie Ate Dynamite - Cut those apron strings.
5 Paul Rodgers - The Royal Sessions - Born Under A Bad Sign.
6 Sharon Jones and The Dap-Kings - Give The People What They Want - Get Up and Get Out.
7 JJ Thames - Tell You What I Know - Souled Out.
8 Ben Harper with Charlie Musselwhite - Get Up - Im In Im Out and Im Gone.
9 Steve Howell and The Mighty Men - Yes, I Believe I Will - Country Blues.
10 Brothers Dege - How to kill a horse - Judgment Day.
11 Adrianna and her Goovecutters - Double Crossing Blues - Is You Is or Is You Ain't My Baby.
12 Terri Lyne Carrington - Monkey Jungle - Backward Country Boy Blues.
13 Tangle Eye - Dream Wall - Doctor Man.
14 Virgil and The Accelerators - The Radium - Working Man.
15 Illya Szwec* – Introducing - Lafayette Railroad.
*pictured
Audio Stream Quality: MP3.
Bitrate:56kb/s. Sample Rate: 22050Hz. Channels: Stereo.

Thanks to the musicians, promoters and distributors
who have allowed us to present their music.
Subscribe to SA Roots& Blues
(It's FREE) and obtain your 'user name' and 'password' to the 'Subscribers' page and download the latest quality MP3 podcasts to your Player!
'Blues Time' comes your way once a month. It draws its play list from the genres of acoustic and electric blues. Each podcast highlights new and recent releases. Duration is about an hour.

'SA Roots and Blues' is a non profit organisation. Our aim is to promote roots and blues music to an ever increasing patronage.