Podcast 216.
August 2014's Roots and Blues Hour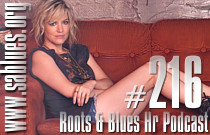 Featuring: Jenny Queen
The Roots and Blues Hour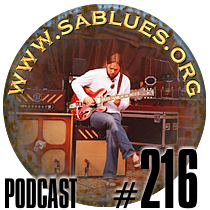 Press Play
Podcast 216 from SA Roots and Blues
ARTIST | ALBUM | TRACK
1 Jenny Queen - Small Town Misfits - Let Her Go
2 Black Sorrows - Certified Blue - Roaring Town.
3 The Delines - Colfax - State line.
4 Rich Robinson* - The Ceaseless Sight - I Know You.
5 Corb Lund - Counterfeiters' Blues - Counterfeiters' Blues.
6 Guy Forsyth Band - The Pleaser - Time To Move.
7 Beachwood Sparks - Desert Skies - This Is What It Feels Like.
8 Kris Delmhorst - Blood Test - Saw it All.
9 Lynne Hanson - River of Sand - River of Sand.
10 The Bloody Jug Band - Murder of Crows EP - Murder of Crows.
11 Shelley King - Building A Fire - When I Go Away
12 Jon Allen - Deep River - All the Money's Gone.
13 John Fullbright - Songs - Never Cry Again.
14 Robyn Ludwick - Little rain – Heartache.
15 The Devil Makes Three - I'm a Stranger Here - Goodbye Old Friend.
16 The Duhks - Beyoond The Blue - Burn.
17 Adrian Raso & Fanfare Ciocarlia - Devil's Tale - Leezard's Lament.
*pictured

Audio Stream Quality: MP3.
Bitrate:56kb/s. Sample Rate: 22050Hz. Channels: Stereo.

Thanks to the musicians, promoters and distributors
who have allowed us to present their music.
Subscribe to SA Roots& Blues
(It's FREE) and obtain your 'user name' and 'password' to the 'Subscribers' page and download the latest quality MP3 podcasts to your Player!
'The Roots and Blues Hour'
Once a month Jerome Douvendahns presents a rich mature selection from the genres of roots, alt. country, blues, folk and indie alt. rock. Each podcast highlights new and recent releases from these genres. Podcast duration is about an hour.