Podcast 222.
Dec. 2014's Roots and Blues Hour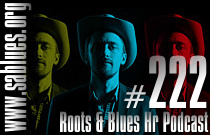 Featuring: Steve Tallis
The Roots and Blues Hour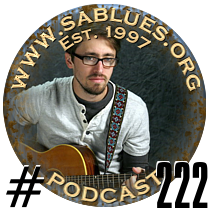 Podcast 222 from www.sablues.org
ARTIST | ALBUM | TRACK
1 Hayward Williams - The Reef - Out On The Reef.
2 Thorbjorn Risager & The Black Tornado - Too Many Roads – Drowning.
3 Jon Allen - Deep River - Get What's Mine.
4 Dulcie Taylor - Only Worn Once - Dug a Hole.
5 Nick Waterhouse - Holly - This Is A Game.
6 Elliot Brood - Work and Love – Taken.
7 Jess Klein - Learning Faith - Long Way Down.
8 Audrey Auld - Hey warden – Walls.
9 Kris Pohlmann - Taylor Road - One Good Reason.
10 Angaleena Presley - American Middle Class - Ain't No Man.
11 Peggy Seeger - Everything Changes - Swim to the Star.
12 Lucinda Williams - Where the Spirit Meets the Bone - Walk On.
13 Maggie Bjorklund - Shaken - The Unlucky.
14 Jean-Louis Murat - Babel - Chacun vendrait des grives.
15 The Hired Guns - Golden Home – Troubadours.
16 Bela Fleck and Abigail Washburn – Railroad.
17 Andrea Schroeder - Where the wild oceans end – Helden.
18 The Delines - Colfax - I won't slip up.
19 Bill Frisell - Guitar in the Space Age – Rumble.
*pictured

DOWNLOAD to your mobile media device.


Thanks to the musicians, promoters and distributors
who have allowed us to present their music.
Subscribe to SA Roots& Blues
(It's FREE) and obtain your 'user name' and 'password' to the 'Subscribers' page and download the latest quality MP3 podcasts to your Player!
'The Roots and Blues Hour'
Once a month Jerome Douvendahns presents a rich mature selection from the genres of roots, alt. country, blues, folk and indie alt. rock. Each podcast highlights new and recent releases from these genres. Podcast duration is about an hour.