January 2015's BLUES TIME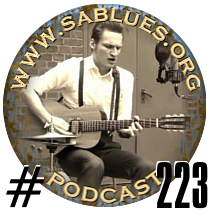 Podcast 223 from www.sablues.org
1 Bror Gunnar Jansson* - Moan Snake Moan - He Had A Knife In His Hand.
2 Kyle Jester - After All This - Drive It Home.
3 Tom Feldmann - Delta Blues & Spirituals - Aberdeen Mississippi Blues.
4 Steve Hill - Solo Recordings Volume 2 - Never is Such a Long Time.
5 RC and the Moonpie Band - Individually Wrapped - Hope in a Hopeless World.
6 The Reverend Shawn Amos - Tells It - Sometimes I wonder.
7 Paul Kelly Presents - The Merri Soul Sessions - What You Want.
8 Thorbjørn Risager And The Black Tornado - Too Many Roads – Paradise.
9 The Halley Devestern Band - Fabbo Boffo Smasho - Code 9.
10 Donna Jean Godchaux Band - Back Around - Don't Ask Me Why.
11 Mark Nomad - A Real Fine Day - New Day Dawning.
12 Charlie Musselwhite - Juke Joint Chapel - Gone Too Long.
13 The Kirby Sewell Band - Girl with a New Tattoo - Carry Me Home.
14 The Mojo Slide - Bad In Every Bone.
15 Black Diamond Roots Band - Black Diamond Roots Band - The Way It Is.
16 Exeter Blues - The Road and the Rail - White Line Fever.
17 Little Axe - Slow Fuse - Going Down Slow.
*pictured
Audio Stream Quality: MP3.
Bitrate:56kb/s. Sample Rate: 22050Hz. Channels: Stereo.

Thanks to the musicians, promoters and distributors
who have allowed us to present their music.

Podcast 223.
January 2015's Blues Time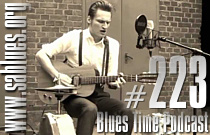 Featuring Bror Gunnar Jansson, a one-man band from Sweden. Here is some blues with a primal beat and absorbing lo-fi guitar riffs.
http://brorgunnar.bandcamp.com/
Bror Gunnar Jansson - Ain't No Grave (Gonna Hold My Body Down)
https://www.youtube.com/watch?v=35WYzr7B4bY
Subscribe to SA Roots& Blues
(It's FREE) and obtain your 'user name' and 'password' to the 'Subscribers' page and download the latest quality MP3 podcasts to your Player!
'Blues Time' comes your way once a month. It draws its play list from the genres of acoustic and electric blues. Each podcast highlights new and recent releases. Duration is about an hour.

'SA Roots and Blues' is a non profit organisation. Our aim is to promote roots and blues music to an ever increasing patronage.