March 2015's BLUES TIME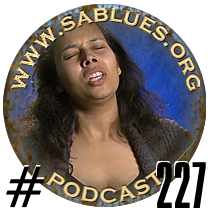 Podcast 227 from www.sablues.org
1 The Reverend Peyton's Big Damn Band - So Delicious! - Let's Jump A Train.
2 Li'l Chuck The One Man Skiffle Machine - Blues in Full Swing - Love Train.
3 Eden Brent - Jigsaw Heart – Locomotive.
4 Eliza Neals - Breaking and Entering - Detroit Drive.
5 Colin James - Hearts On Fire - Just A Little Love.
6 Rhiannon Giddens* - Tomorrow Is My Turn - Up Above My Head.
7 Sophie Reed - Red Hen - These Blues.
8 Steve Earl - Terraplane - Acquainted with the wind.
9 MNO – Freedom and Dreams - Brush Up Against You.
10 JJ Grey & Mofro - Ol' Glory - Every Minute.
11 Uncle Sinner - Let the Devil In - Blow, Gabriel.
12 Screamin Jay Hawkins - I Put a Spell on You.
13 Nina Simone - I Put A Spell On You.
14 Creedence Clearwater Revival - Put A Spell On You.
15 Annie Lennox - Nostalgia - I Put a Spell On You.
16 Robert "Wolfman" Belfour – Live.
*pictured
Audio Stream Quality: MP3 CBR 44100Hz 320kbps.
DOWNLOAD
to your mobile media device.

Thanks to the musicians, promoters and distributors
who have allowed us to present their music.

Podcast 227.
March 2015's Blues Time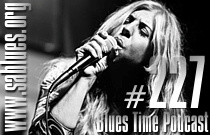 Featuring Detroit Diva, Eliza Neals.
Subscribe to SA Roots& Blues
(It's FREE) and obtain your 'user name' and 'password' to the 'Subscribers' page and download the latest quality MP3 podcasts to your Player!
'Blues Time' comes your way once a month. It draws its play list from the genres of acoustic and electric blues. Each podcast highlights new and recent releases. Duration is about an hour.

'SA Roots and Blues' is a non profit organisation. Our aim is to promote roots and blues music to an ever increasing patronage.