The Roots and Blues Hour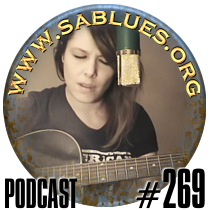 Podcast 269
from
www.sablues.org
PLAYLIST: ARTIST - ALBUM - TRACK.
1 Becky Warren* - War Surplus - Call Me Sometime.
2 Ryan Adams - Prisoner - To Be Without You.
3 Chelle Rose - Blue Ridge Blood - Laid Me Down.
4 Rayna Gellert - Workin's Too Hard - Workin's Too Hard.
5 John Richard - Lost in Dublin – Can't help it.
6 Driftwood - A Rock Roll Heart - The Working Moms Anthem.
7 Tift Merritt - Stitch of the World - Love Soldiers On.
8 Paul Thorn - The Best of Paul Thorn - Burndown the Trailer Park.
9 Kate Campbell - The K.O.A. Tapes (Vol. 1) - Greensboro.
10 The Meltdown - Colours In The Sky - Colours In The Sky.
11 Ellie Zwart - Toward Home - Back when I belonged.
12 Norah Jones - Day Breaks - Don't Be Denied.
13 Melbourne Ska Orchestra - Saturn Return - You Never Know.
14 Miss Chain and the Broken Heels - Standing the Night.
15 Lucy and the Rats - Melody.
16 Los Straitjackets - Cruel To Be Kind.
17 Dubioza Kolektiv - Happy Machine - The Pirate Bay Song.
*pictured
Audio Stream Quality: MP3 CBR 44100Hz 320kbps.
DOWNLOAD
to your mobile media device.

Subscribe to SA Roots& Blues
(It's FREE) and obtain your 'user name' and 'password' to the 'Subscribers' page and download the latest quality MP3 podcasts to your Player!
'The Roots and Blues Hour'
Once a month Jerome Douvendahns presents a rich mature selection from the genres of roots, alt. country, blues, folk and indie alt. rock. Each podcast highlights new and recent releases from these genres. Podcast duration is about an hour.
Thanks to the musicians, promoters and distributors
who have allowed us to present their music.

Fantastic! Thank you.
Becky Warren
Awesome! Thanks SO much Jerome for the inclusion! Hello to everyone down there.
Peace.
Kate Campbell
Thank you!! <3
Miss Chain & The Broken Heels
Thanks for the heads up! :)
Rayna Gellert
Terrific! Thank you!
Ellie Zwart